So macarons have been on my to-make list for years. I've put off trying to make them for so long because I heard so many baking horror stories and the major fails people can have with them. Plus, I've tried a few macarons here & there over the years, and while I thought they tasted okay, I never loved them (like the way I love this skillet cookie, which I could make & eat every day of my life if my hips would allow for it!! 😳) Recently though, I stopped in at The Village Bakery, and tried their macarons and thought, hey, maybe I just haven't been eating good enough macarons all along, because these are goooood! Macarons also happen to be one of Caitlin's favorite treats, so I knew I needed to put on my big girl pants and attempt to make some! And eggnog just also happens to be a favorite thing of Caitlin's, (well, really of all us around here!) so why not go all out and make eggnog macarons! A little early Christmas gift for her! 😉
As you can tell from these photos, I was able to successfully make some macarons – hooray! And it wasn't even a terrible experience. I was pretty happy with how they turned out (these macarons are the first batch I ever made, so it's possible folks, it's possible! 😉 ) and think I'll even attempt more in the future. While I still think I have some things to keep working on and improving in my macaron making, these are delicious and I thought worth sharing! Caitlin even said they were one of the best macarons she's had – wahoo!!
A couple things I thought were helpful: Using a silpat liner
 on an AirBake cookie sheet
. I tried different combinations of making them using a silpat liner/parchment paper/AirBake tray/regular cookie sheet and found that the best looking ones came from the silpat liner on an AirBake tray. (I'm not saying you can't use parchment paper and a regular cookie sheet, this is just what gave me the best looking ones. My not so great looking shells tasted just as yummy as the "perfect" ones!)  You will also definitely need a kitchen scale
, the ingredients need to be weighed! I also found this tutorial over on Annie's Eats with step photos helpful.
Eggnog Macarons
212 grams almond meal
212 grams powdered sugar
1/4 teaspoon ground nutmeg
82 and 90 grams egg whites, divided
236 grams granulated sugar, plus a pinch
158 grams water
Preheat oven to 350ºF. Line baking sheets with parchment paper or Silpat mats (see above for what I used) . In a large mixing bowl, whisk together the almond meal, powdered sugar, and nutmeg; breaking up any clumps. Add in the 82 grams of egg whites and stir together until thoroughly mixed in. Batter will be thick. Set aside bowl.
In a small saucepan set over medium-high heat, combine sugar and water. Using a candy thermometer, bring syrup to 248ºF. When the syrup is about 200º, start the next step (keep the mixture heating until it reaches 248º).
In the bowl of an electric mixer fitted with the whisk attachment, combine the 90 grams of egg whites with a pinch of sugar and beat on medium-low speed until soft peaks form. (If soft peaks form before the syrup reaches 248º, turn the mixer down to low and keep whites moving, but don't over-beat them).
Once syrup reaches 248ºF, remove from heat. Increase the speed of the mixer to medium and slowly pour the syrup into the egg whites until fully mixed in. Increase speed to medium-high and beat until stiff peaks form.
Gently fold in the meringue mixture to the almond mixture, a little at a time. You may not need all of the meringue mixture – you want the batter to be smooth and slightly thick, but able to run off the spatula when you lift it. Add the batter to a pastry bag fitted with a round tip (I used a Wilton 12 tip), and pipe circles about 1-1/4 inches round on your liner. The tiny peak in the center of the circle should smooth out if your batter is the right consistency (if they don't, the batter is probably too thick, and if the batter is too thin, it will spread a lot further).
Place the tray in the oven and immediately turn the temperature down to 325ºF. Bake for 10-12 minutes, until the top is smooth, and the bottom "feet" have formed. You want to make sure they're fully set, without over-baking, so keep a close eye on it! Let cool on the pan for 5-10 minutes. If everything worked right, they should easily remove from the liner. (A few of mine did stick here & there). Repeat with remaining batter, adjusting the oven temperature with each batch. Store shells in an airtight container, they can be made ahead a few days, I recommend filling them on the day you plan to serve them.
Eggnog Buttercream Filling
1/2 cup unsalted butter, room temperature
3 cups powdered sugar
1/4 teaspoon of nutmeg
3-5 tablespoons eggnog
cinnamon for sprinkling – optional
Beat the butter until smooth and creamy. Add powdered sugar, nutmeg and eggnog, mixing until light & fluffy (if it's too thick, add a little bit more eggnog until desired consistency is reached; or if it's too thin, add more powdered sugar).
Use a pastry bag fitted with a round tip to fill each cookie.
Macaron recipe slightly adapted from Annie's Eats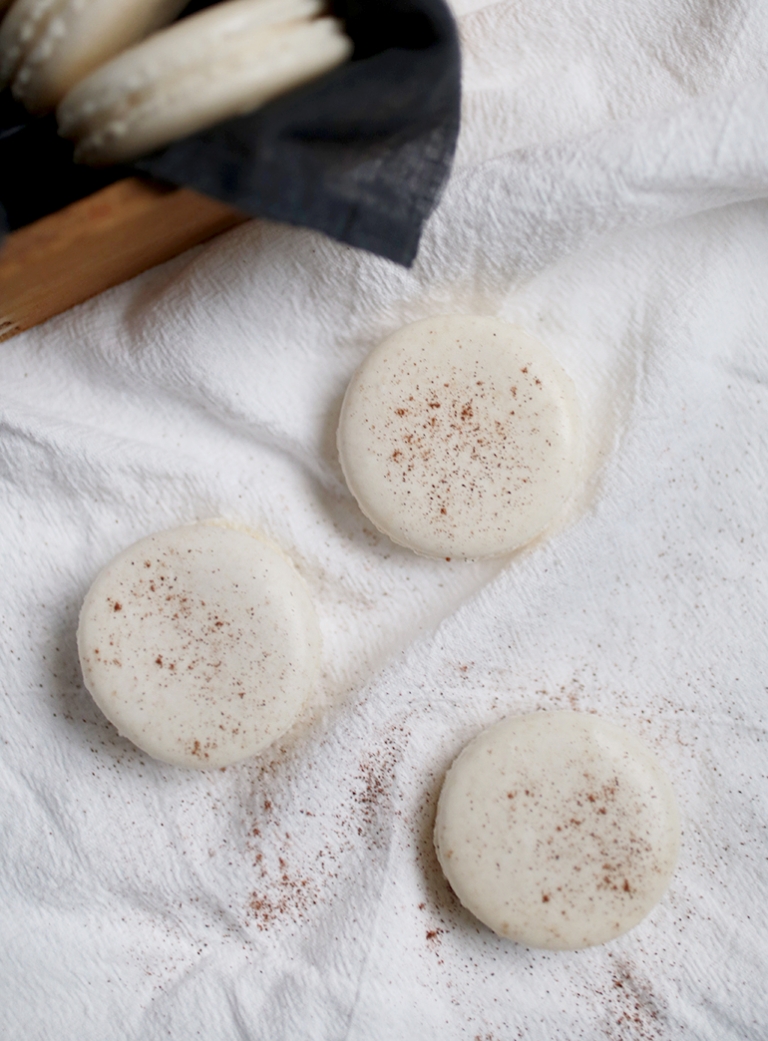 So any bakers out there have any great tips for making macarons? And are you a fan of macarons – if so, what's your favorite flavor? I loved the chai one I tried at Village Bakery!
And maybe if attempting to make your own macarons isn't high on your to-try list, but you love the idea of pretty macarons with a homemade touch, you should definitely check out Ashley's, from Sugar & Cloth, DIY Macarons – she's got some gorgeous & fun ways to take your macarons to the next level!
-Manda