It's Pi day! So we're celebrating with one of my favorite kinds of pie, peanut butter! (Big surprise there, right?! 😏) Pies usually don't rank really high on my list of favorite desserts (give me cookies, cheesecake or ice cream first please!), but there's a few that I absolutely love. My brother-in-law's Pecan Pie might top the list for favorites. And I love strawberry rhubarb (especially when my niece makes it). And the classic apple. Which I guess is good that it ranks high on my list because it's Mike's favorite. And peanut butter. Because well, ya know, me &
peanut butter
.
This recipe is another from the
family cookbook
, shared by another one of my mom's cousins. I adapted this one a bit because I wanted to have a nutter butter cookie crust, something I tried before and loved. The crust is really good, without being too peanut buttery, even though it's made with pb cookies. And the rest of the pie, oh man, this pie! It really is a favorite. It's rich and creamy and peanut buttery and it's topped with my favorite, hot fudge. So yea, I'm all about this pie!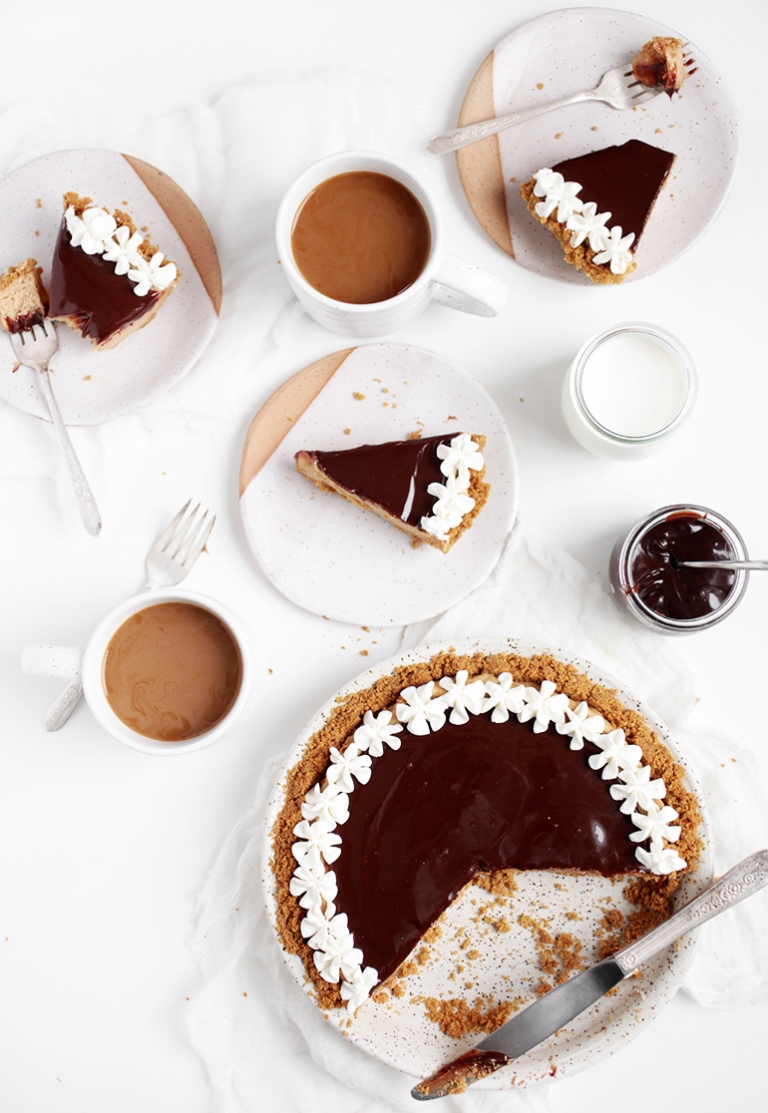 Creamy Peanut Butter Pie with Nutter Butter Crust
Crust:
20 nutter butter cookies
5 tablespoons salted butter, melted
Pre-heat oven to 350ºF. Blend cookies (filling & all) into fine crumbs in a food processor. Stir cookie crumbs and melted butter together until thoroughly mixed. Press crumbs onto bottom and sides of 9" pie plate. Bake for 10 minutes, until crust is golden brown. Remove and let cool.
Filling:
1 – 8 oz package cream cheese, softened
1 cup creamy peanut butter
1 cup powdered sugar
Beat together the cream cheese and peanut butter until smooth & creamy. Add powdered sugar and mix until combined. Set aside.
Whipped Cream:
1 cup heavy cream
3 tablespoons powdered sugar
1 teaspoon vanilla extract
In the bowl of an electric mixer fitted with whisk attachment, whip heavy cream, powdered sugar and vanilla extract on medium high speed, just until firm peaks form.
Fold 1 cup of the whipped cream into peanut butter mixture.
Spoon peanut butter filling into crust. Cover & chill for about 2 hours.
Topping:
1/2 cup hot fudge
remaining 1 cup whipped cream
Spread hot fudge over pie, leaving 1" edge. Pipe remaining whipped cream around border of pie. Chill for another hour or until set. Serve & enjoy. Keep pie refrigerated.
What's your favorite kind of pie?
-Manda