If we were friends 10-15 years ago, you most likely ate at Don Pablos with me.  (In fact, I think the first restaurant Mike & I went to together was DP's…I could barely eat, I was so nervous.  Hmm, would be nice to have that problem now. 😉 ).  I loved that restaurant – unfortunately for me, they've closed all the ones around our area. (I still can't find queso I like as much as I liked theirs…mmm, I daydream about that queso!). They also served a delicious side dish of cornbread pudding that I really liked.  When I first tried this recipe at my sister-in-laws, I thought this tasted just like it…maybe even better (everything homemade just seems to be better, right?  Except for queso…can't seem to top that!).  She so kindly shared her recipe with me and it's become a family favorite.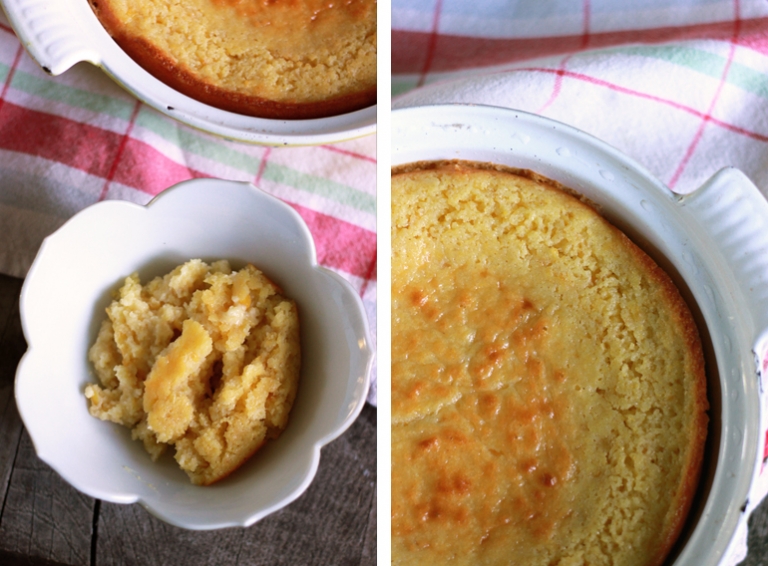 Not only does it taste super yummy, it's quick & simple to throw together (the longest part is waiting for it to bake). This recipe makes a lot – but it's easy to cut in half, I usually make a half recipe for just our family and we have some leftover. (Note: half of a box of corn muffin mix is about 3/4 cup).


This makes a great side dish for so many different meals – my favorite of course is served with a mexican entrée (perfect for a fiesta or to celebrate Cinco de Mayo). But it's great for big holiday dinners too.  Or just to have on a plain old Wednesday with your plain old chicken.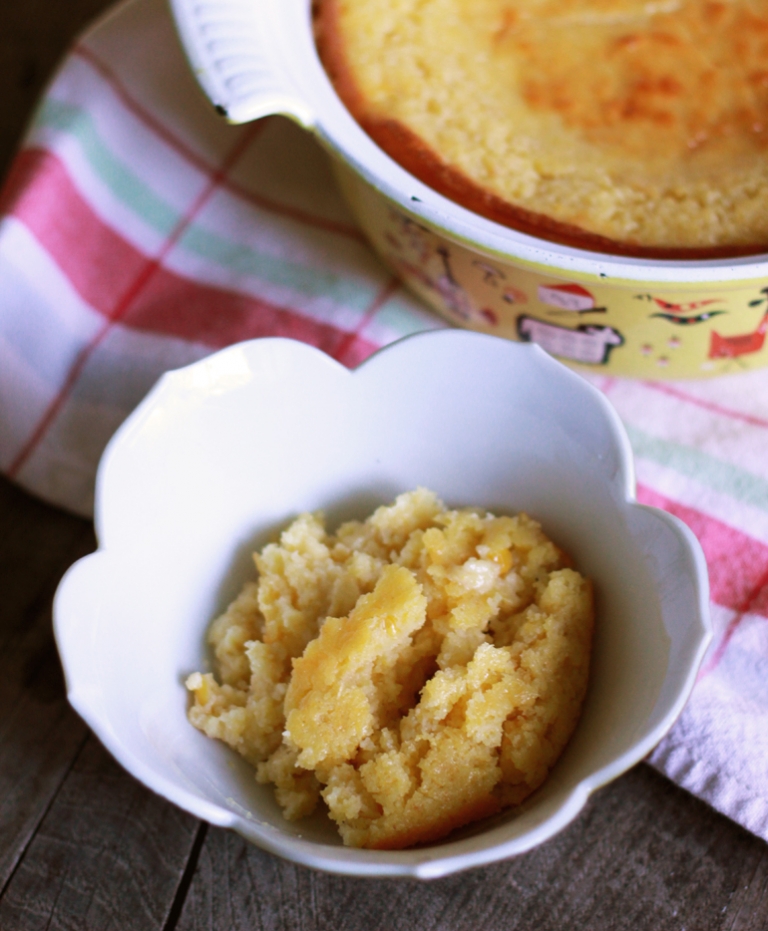 CORNBREAD PUDDING
1/2 cup butter, softened
1/2 cup sugar
2 eggs
1 cup sour cream
1 package corn muffin mix (8.5 oz box)
1/2 cup milk
2 cans cream style corn (15 oz each)
Preheat oven to 325º. Grease a 3-quart size baking dish, set aside.   In a large mixing bowl, cream together butter and sugar, 2-3 minutes. Add eggs, beating well. Beat in sour cream. Gradually alternate muffin mix and milk into mixture. Fold in the two cans of cream style corn. Pour into prepared dish. Bake for 50 minutes or until edges are golden brown and center is almost set.

Enjoy! Manda