These white chocolate covered pretzels are perfect for the holidays! Dipped in white chocolate and then drizzled with red chocolate candy melts – delicious and festive!
One of my favorite things about Christmas time are the yummy treats everyone is making and sharing!  I love stopping by the dessert table at holiday parties and enjoying the pretty display of all the sweets – and of course to sample a few!  Chocolate covered pretzels are always a favorite and a really easy treat to add to your dessert table. (They can be made ahead too – always a plus!).
These white chocolate covered pretzels with red stripes makes it festive while keeping it simple. Make sure to use good quality white chocolate for a better taste. I use red candy melts for the red stripes, and I buy them from Michaels.  
To display, find a nice platter or piece of wood, and add a few small pine branches, wild rose hips, and pinecones.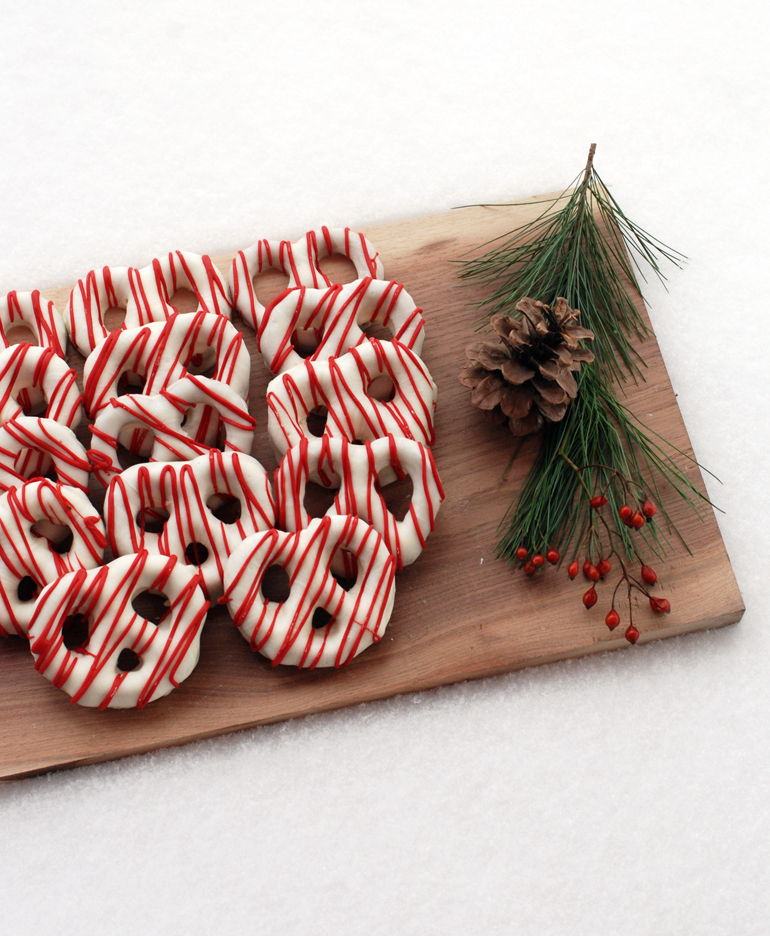 White Chocolate Covered Pretzels – Christmas Style
(all measurements are an approximation – doesn't need to be exact)
Ingredients
pretzels,

bigger are easier/quicker to dip

1

cup

white chocolate chips

1

teaspoon

vegetable oil

1/4-1/2

cup

red candy melts

(I get mine at Michaels)
Instructions
Put white chocolate chips in a microwaveable bowl. Drizzle about a teaspoon of vegetable oil over the chips and stir to coat. Microwave on medium high for one minute. Stir. Continue heating in 30 second increments, stirring every 30 seconds, until the chocolate can be stirred smooth. Make sure not to overheat it – that can cause it to clump. When the chips are all just about melted, but you can still see some unmelted chips, keep stirring and the few unmelted ones should melt while you stir.

Dip pretzels into melted white chocolate (using two forks to do the dipping is helpful as the excess chocolate can drip off easier) and lay flat on a piece of wax paper to harden.

Once the chocolate has hardened, pour about 1/4-1/2 cup of the red candy melts in a microwavable bowl and heat on medium high for 45 seconds. Stir. Continue heating in 20 second increments, stirring every 20 seconds, until the candy melts can be stirred smooth. (Same as the white chocolate steps above).

Pour melted red candy melts into a small ziploc baggie, squeeze the air out, and seal the top. Snip off a very small bit of the bottom corner of the baggie and drizzle red candy over the hardened white chocolate.  Allow to harden.

Store in a cool place (mine are fine on the counter) in an airtight container for up to 2 days.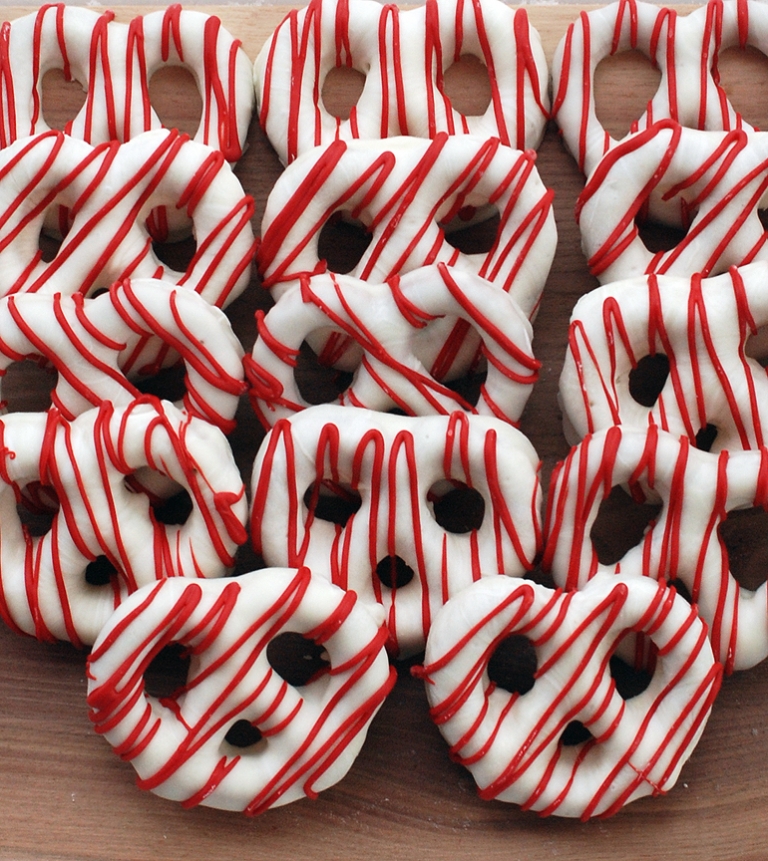 Have you noticed the snowy backdrops in our pictures recently? We've had so much snow around here the last week! So lovely, but we're freezing our fingers off while shooting – today feels warm because it's back into the 20's….
Happy pretzel dipping!
-Manda