Ever since Caitlin's trip to Nashville where she was lucky enough to get to eat at Mas Tacos, she's been dying to have some good tacos. Seeing how our family's menu consists mainly of Mexican food inspired meals – I really could eat Mexican food every single night, I was willing to help the girl out.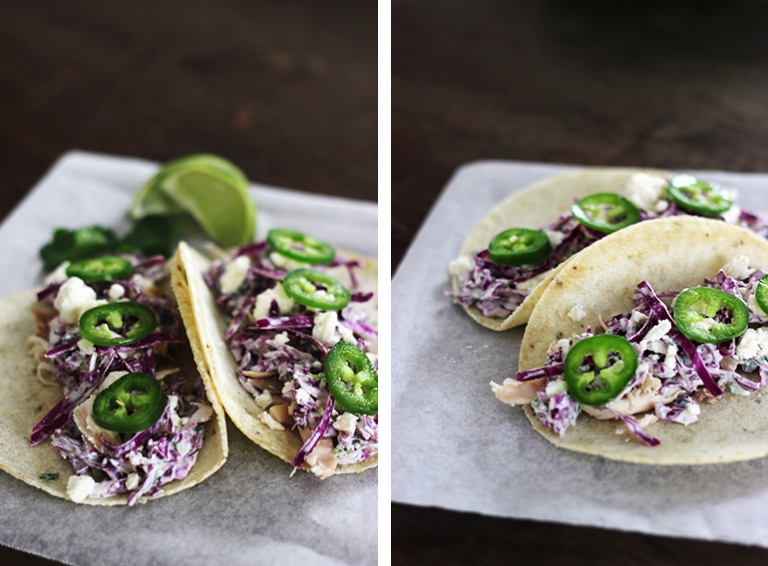 These tacos were delicious!  So, so delicious.  And if you've jumped on the trying to eat a little better this year band wagon – these tacos are perfect for you.  You can sub out the sour cream with reduced fat sour cream or even greek yogurt (it really is pretty similar to sour cream) for a lighter version. And double up on your cabbage to get more veggies in!
Chicken + Cabbage Tacos with Cilantro Cream
3/4 cup cilantro leaves
3/4 cup sour cream (try reduced fat or greek yogurt for a lighter version)
juice from 1/2 large lime
1 tablespoon olive oil
salt and freshly ground pepper
10 oz. red cabbage, shredded
1 jalapeño (more or less – depending on how hot you like it), finely diced
1/2 onion, finely diced
1 small clove garlic, minced
1 small rotisserie chicken, meat shredded, skin and bones discarded
Warm corn or flour tortillas, for serving
Queso Fresco cheese (or Feta cheese), for serving
Lime Wedges, for serving
Avocados, optional, for serving
In a food processor or blender, puree the cilantro with the sour cream, lime juice and olive oil until smooth. Season with salt and pepper.
In a large bowl, toss the red cabbage with the jalapeño, onion, garlic and the cilantro cream*. Let stand for about 15 minutes.

Assemble tacos by layering chicken, cabbage mixture, and cheese on a warm tortilla. Squeeze juice from lime wedge on taco. Add extra cilantro cream, avocado slices and jalapeño to the taco if desired.
*You may want to keep a little bowl of the cilantro cream on the side to add to the tacos. Or make a little extra

Adapted from Food & Wine
Enjoy!
xo. Manda & Caitlin