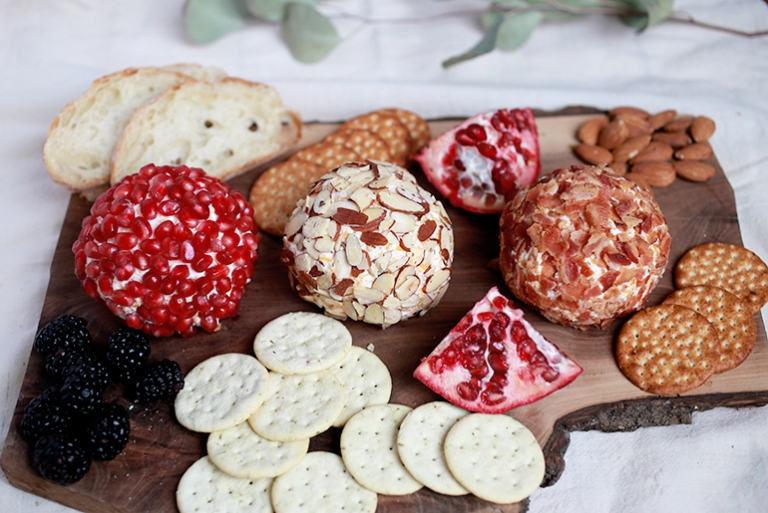 Are you guys ready for Super Food Sunday?! Or I guess as it's better known, Super Bowl Sunday. But we all know it's all about the food!  I cannot wait to enjoy some good appetizers & desserts!  I always host a mini gathering here with my family and we make way too much food and miss a lot of the game because we're too busy eating & chatting. (Except for my uncle, he's a big football fan and keeps us somewhat attuned to what's going on…).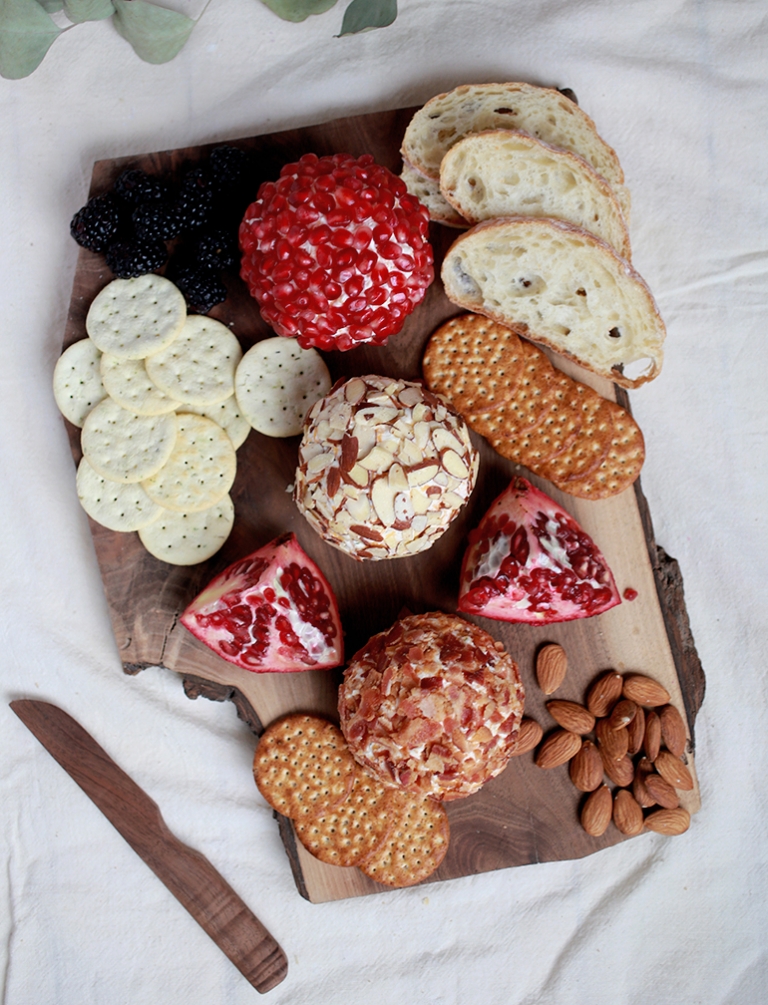 Just in case you need another appetizer to add to your menu this Sunday (and really you should add this!), I'm sharing this quick & easy cheese ball. My niece, Tori, has been making this for family get togethers for quite a while and I decided I had to share it because it's one of my favorites.  Seriously, give me a cheese ball, some crackers and a bottle of sparkling grape juice and I'm in heaven! And it's the easiest thing to throw together.  I decided to fancy them up a bit by rolling them in a few different coatings.  This cheese ball is good even without a coating if you're really in a hurry. But the coatings are nice because they give each cheese ball a slightly different flavor.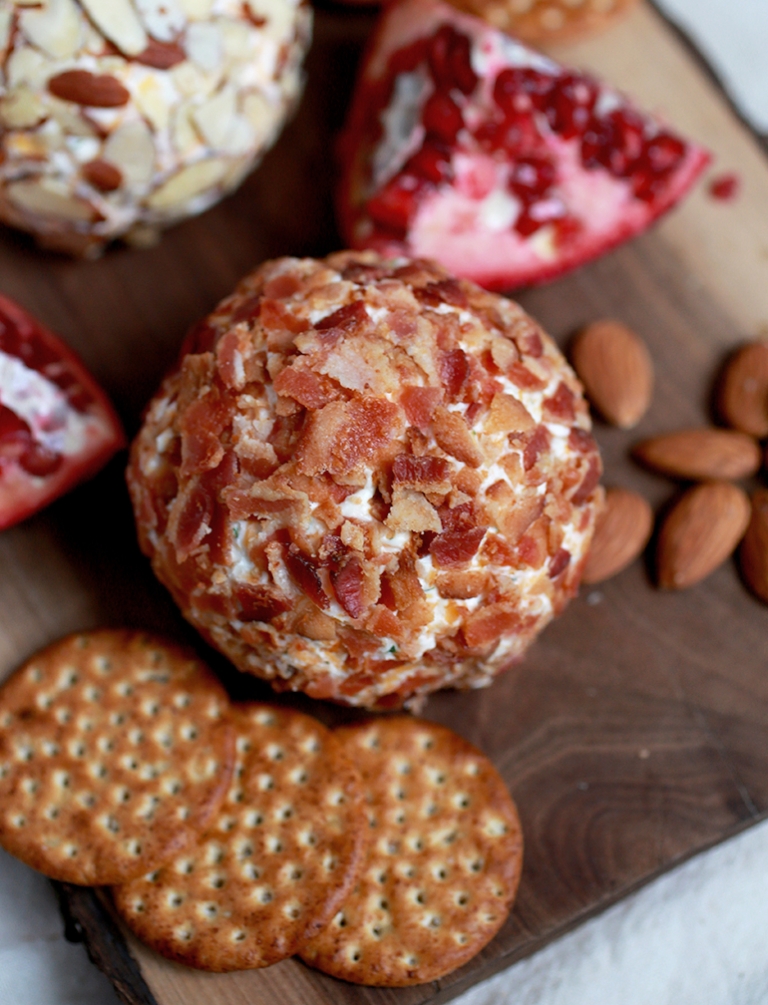 Cheese Ball – Three Ways
2 (8 ounce) packages cream cheese, softened
1 (1 ounce) package ranch dressing mix (make sure it's the dressing mix & not the dip mix)
3 cups shredded cheddar cheese
For the coating:
approximately 3/4 cup sliced almonds
approximately 3/4 cup pomegranate seeds
approximately 3/4 cup crumbled bacon (cooked)
In a medium bowl, stir softened cream cheese until smooth. Add in the ranch mix and stir until blended. Mix in the shredded cheese until combined. Form mixture into a ball. (If it's too soft, stick it in the fridge for about 10 minutes). You can serve the cheese ball as is, without a coating or immediately roll it into a coating or coatings desired (the cheese ball needs to be at room temp for the coating to stick). I divided the ball into thirds, rolled those into balls, and then rolled each one. Serve right away, or wrap with plastic wrap and keep in the refrigerator till ready to serve.
Tips for rolling: Place coating on a sheet of wax paper, roll ball around on coating. Once most of it is covered, start just sticking the coating on where needed till it's completely covered.
Adapted from All Recipes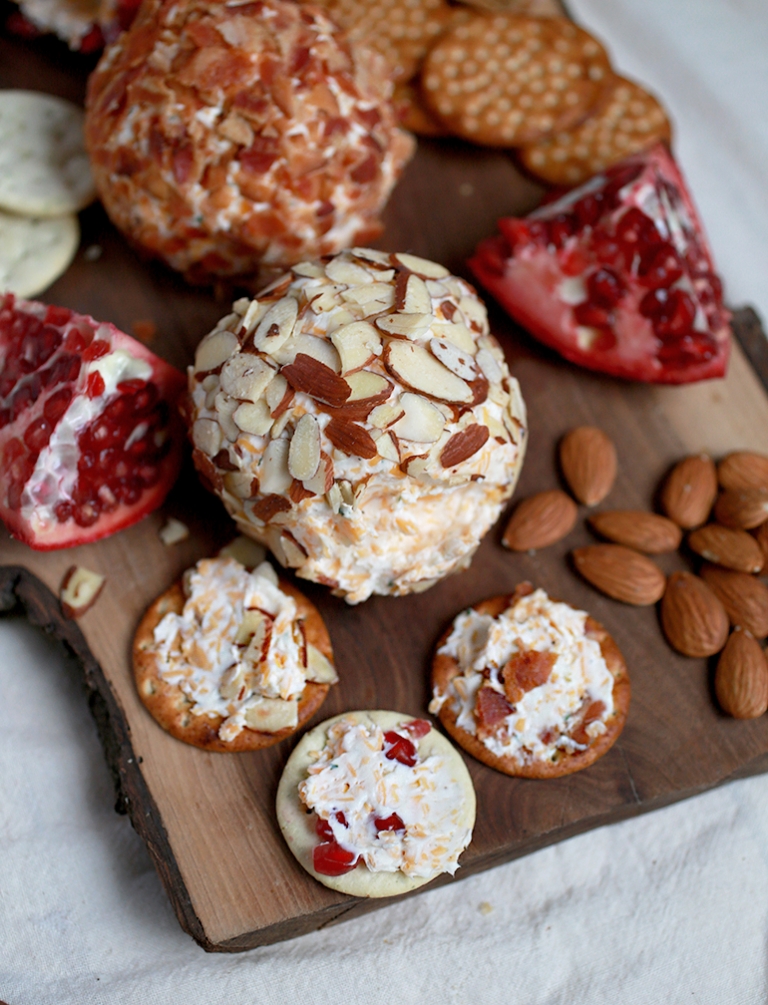 What's your favorite food to eat on Super Bowl Sunday?
-Manda