Brace yourself for a little bit of food controversy. It's been almost 9 years since we started this blog. 😳 In those 9 years, I've never shared my buffalo chicken dip recipe; even though it's probably our family's #1 appetizer. The reason? I just assumed that this dip was already on the internet a million and one times, I didn't need to make it a million and two.
I've gotten so many requests for my buffalo chicken dip recipe; and my family & friends are always a little shocked I don't have the recipe on here. So I thought, I guess I can put it up, who cares that it's an oldie that's been done a million times. I started doing a little research then, actually looking at the recipes that are out there….and I was so dismayed at what I saw. No one is making this correctly!!
I've had person after person tell me that my buffalo chicken dip was the best they've ever had. I didn't realize the reason for that was because so many people were making wrong versions of this! I guess 9 years ago I should have looked at other recipes; could have saved a lot of people from making bad buffalo chicken dip for so many years! 😂
The first mistake I saw happening in other recipes: using canned chicken in the dip. Friends, don't use canned chicken. It's not the same thing, not even close to the real thing. It's basically tuna. If you use that, you're pretty much just making buffalo tuna dip. Nobody wants that.
Use good chicken. I like to use rotisserie chicken, because it's quick and easy. It also seems to get the best reviews when I use that. But you can just use plain old cooked, shredded chicken breasts. I often use leftover chicken in this, and grilled chicken is a good option too!
The second mistake I saw happening in other recipes: using ranch dressing in the dip. Don't get me wrong, I love ranch dressing; but it's not made to go with chicken wings. I live near Buffalo, where chicken wings were invented. We don't get a side of ranch with our wings, we get blue cheese!! I've had sooo many people tell me they hate blue cheese, and so they don't want to use it. Then they try my dip, love it and their lives are forever changed. 😂 Trust me, this dip needs blue cheese dressing.
The blue cheese dressing doesn't have to be a fancy kind. I use Wegmans brand (off the shelf, not the refrigerated kind). Usually those dressings tend to be a little more mild, so for those that are not fans of blue cheese, that's your best option.
It does not need blue cheese crumbles, like in my photos. I did that just for fun for this photoshoot, I never include that in my usual dip. I actually like blue cheese, so I think the crumbles are good, but only use those if you're a blue cheese lover.
One more thing, I've never measured out my ingredients for this (other than the cream cheese). I've always just made it in the pan, adding what looked right. I did come up with specific measurements for this (below), but feel free to use a little more or a little less of each ingredient, if that's what looks right to you as you're making it! 😁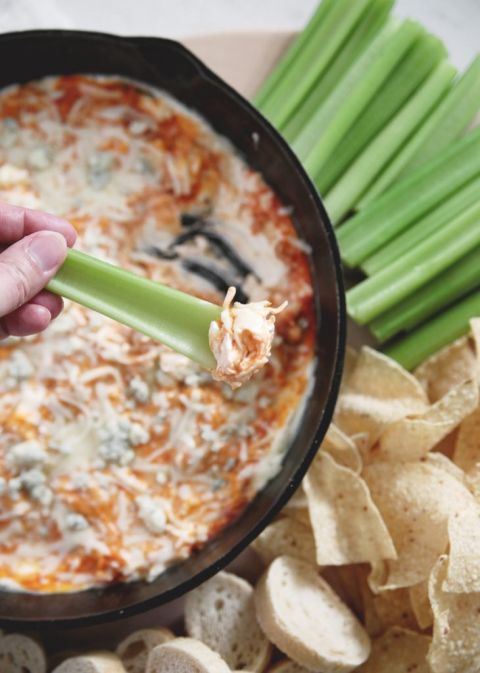 Buffalo Chicken Dip
Ingredients
12

ounces

cream cheese, softened

1-1/2 – 2

cups

cooked shredded chicken*

1/4 cup + 2

tablespoons

Frank's RedHot Original Hot Sauce

1/4

cup

blue cheese dressing

3/4

cup

shredded mozzarella cheese

blue cheese crumbles, optional**
Instructions
In a 9×13 pan, spread softened cream cheese into even layer. (You can also use a 10-inch cast iron skillet).

Top with cooked shredded chicken.

Drizzle RedHot and blue cheese dressing over the chicken. (You can see what it looks like at this step in the photo below).

At this point, you can mix together everything by stirring it right in the pan (if so, add the mozzarella now too). Or if you want a more layered dip, just use the back of a spoon to gently mix the RedHot and dressing together (those taste best when slightly mixed together!).

Top with shredded mozzarella.

Bake for about 15 minutes or until cheese is melted and dip is bubbling around the edge.

Top with blue cheese crumbles if desired. Serve with tortilla chips, celery, or baguette slices.
Recipe Notes
*the amount of chicken you use just depends on your personal taste, I like mine with a little less. Feel free to adjust to suit your taste! 
**I usually don't include the crumbles with my dip, I liked it for the photoshoot. I personally do like them, but I know they are not for everyone, so I recommend only using if you're making this for blue cheese lovers. 
If you love buffalo chicken, be sure to try out our Air Fryer Buffalo Cauliflower recipe and our Healthy Buffalo Chicken Celery recipe. And we've got lots of yummy appetizers, you can find them here.
-Manda