This pie is Mike's favorite dessert. I guess I lied last year when I shared that his favorite was
apple crisp
. I mean, they're pretty much the same thing, give or take a crust and few extra spices. (So if you're looking for an even easier apple dessert, check out the
crisp
!). But as I was sitting here editing photos, I asked which he liked better and he picked this pie. I've been working hard at perfecting all my apple desserts since they're his fav, and I've been tweaking this recipe over the last year. Maybe that's what put it in first place, all that fine tuning over the last year. And now that apple season is here, bring on all the apple desserts!
Crumble pies are perfect for those that like more filling to crust ratio with their pies. It's why it's Mike favorite, more brown sugar! With a brown sugar crumb topping, sweet, spiced apples, and a flaky crust, this pie is sure to be a favorite all season long. And be sure to serve it with some vanilla ice cream and some
salted caramel sauce
doesn't hurt either!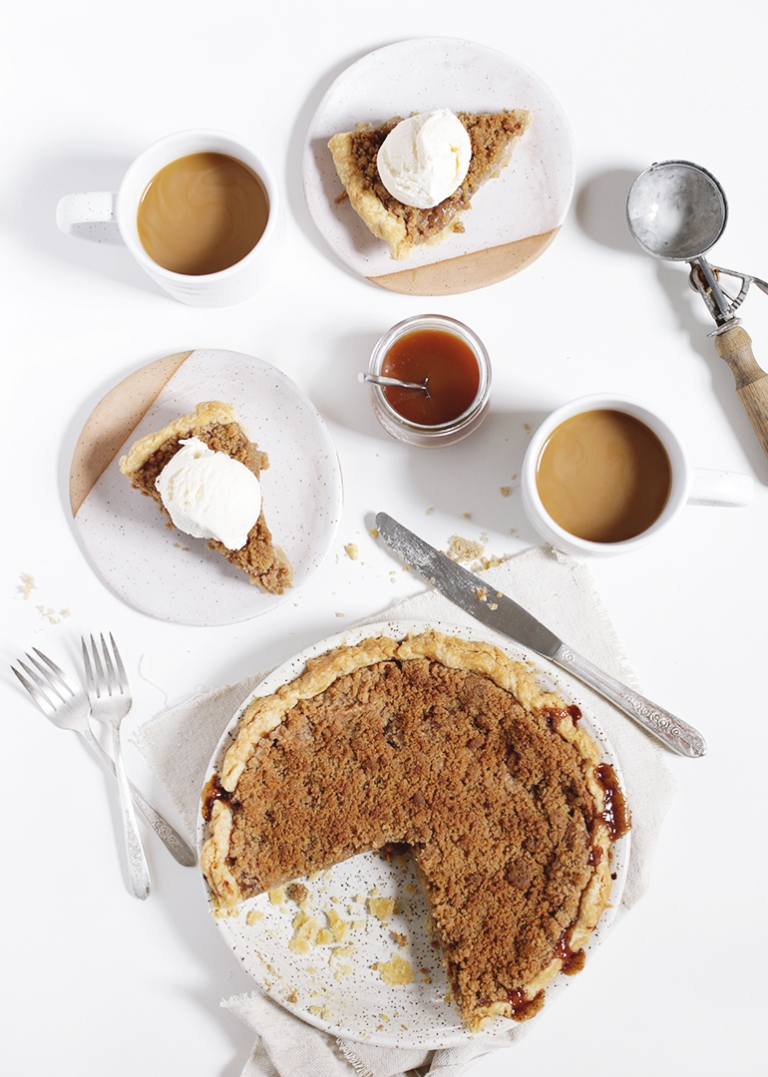 Apple Crumble Pie
Preheat oven to 375º.
Crust
1 cup flour
1/2 cup butter flavor shortening
1/4 cup water
Stir flour & salt together. Add shortening and blend with pastry blender, until dough is crumbly, but don't overwork it. Add water a little at a time until dough sticks together (you may not need all of it) and you can form a ball. Roll ball out to fit 9-inch pie plate, it should be about 1/4″ thick. Place crust in pie plate, trim edges, shaping crust as desired.
Filling
5 cups apples, peeled, cored & thinly sliced (I like to use a mix of varieties, with at least one being a tart apple, like Granny Smith)
1/2 cup brown sugar
2 tablespoons flour
1/2 teaspoon cinnamon
1/4 teaspoon nutmeg
1/4 teaspoon salt
Stir together brown sugar, flour, cinnamon, nutmeg and salt. Add in peeled, sliced apples and stir until apples are coated with mixture. Pour into prepared pie crust.
Topping
1/2 cup brown sugar
3/4 cup flour
1 teaspoon cinnamon
1/4 teaspoon salt
1/3 cup unsalted butter, softened
In a medium bowl stir together brown sugar, flour, cinnamon & salt. With a pastry blender, cut in butter until mixture is crumbly. Spread topping over apples in an even layer.
Bake at 375º for about 50 minutes, until crust is golden and apple mixture is bubbling. Best served warm – with a scoop of vanilla ice cream and drizzled with salted caramel sauce!

What are some of your favorite fall desserts?
-Manda