A few weeks ago, I heard about the copycat Chick-fil-A sandwich that you could make with ingredients from Aldi! Apparently it was quite the hot topic on the internet. I think I was a little late hearing about this trend – but I really wanted to try it out. We rarely go to Chick-fil-A (there aren't any super close by), and one of my boys has been begging for it quite a lot recently. Since Aldi is a lot closer, and never has the line that we usually see in the drive-thru, this seemed like the perfect time to try out the copycat Chick-fil-A sandwich!
I also happened to have picked up a bottle of Chick-fil-A sauce at the store a few weeks earlier (did you know they sell it there now?); and my new oven came with an air fryer feature that I had yet to test out. So we were ready to go!
(Random side note about Aldi – around here, most people call it Aldi's…I had the hardest time not adding the "s" to it for this post – 😂. Do you call it Aldi or Aldi's? And if you call it by the correct name, Aldi, does it bug you to hear people call it Aldi's, apparently people can get pretty intense about it…don't hate on me! 😆)
Our verdict?
This makes for a delicious fried chicken sandwich! And it's very quick and easy to make. Overall, everyone in our family liked it – even those that aren't big fans of chicken sandwiches. I wasn't overly thrilled with the dill pickle chips from Aldi. If you have a favorite pickle brand, I would suggest just sticking with that. We liked our chicken sandwiches topped with the Chick-fil-A sauce, if you don't have any, there's a lot of copycat recipes out there as well. I'd say this is definitely worth giving a try!
Aldi Copycat Chick-fil-A Sandwich
A delicious copycat Chick-fil-A sandwich, all with ingredients from Aldi.
Ingredients
Kirkwood Breaded Chicken Breast Fillets (the Red Bag)

Specially Selected Brioche Buns

Great Gherkins Hamburger Dill Pickle Chips

Chick-fil-A sauce, optional
Instructions
Cook chicken according to instructions on bag. Or if you have an air fryer, use that and cook for about 10-12 minutes.

Butter the insides of the roll, and lightly toast. (not necessary, but it is delicious)

Add chicken and pickles to roll, top with sauce if desired.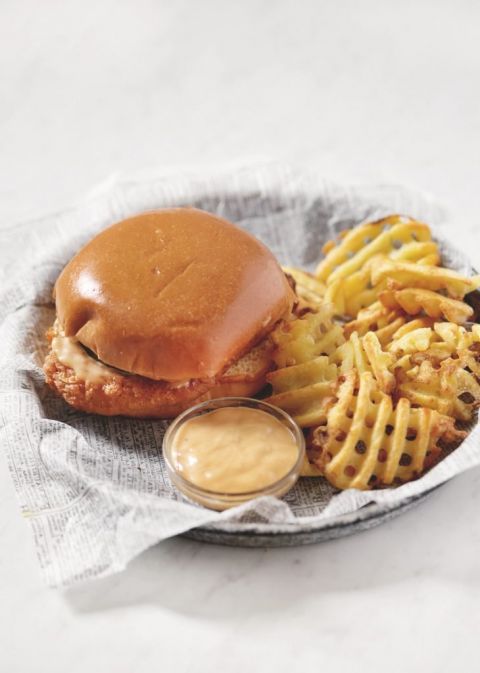 Have you made the copycat Chick-fil-A sandwich yet? What did you think?
And if you're craving chicken, here's some of our favorite chicken recipes – including this Chicken Bacon Avocado Sandwich, that's a bit healthier for a chicken sandwich! 😄
-Manda