Today we're joining in The Great American Pouf Tour! We're so excited to celebrate with Anne from Flax and Twine on the release of her book Knitting Without Needles. And even more excited about the projects we just can't wait to try from the book!  We consider ourselves non-knitters, and these projects, along with this method of knitting using your arms or fingers seem so doable and fun to try.
This gorgeous pouf that Anne sent over is one of the many amazing tutorials from her book, and we love it – it's perfectly comfy and adds a cozy touch to our room!


The book shares so many incredible projects like faux sheepskin, pillows, scarves, rugs, and wall decor. And all with no knitting needles for those of you like us that don't have any knitting experience. There are so many that we can't wait to try! Here's a few of our favorites from the book: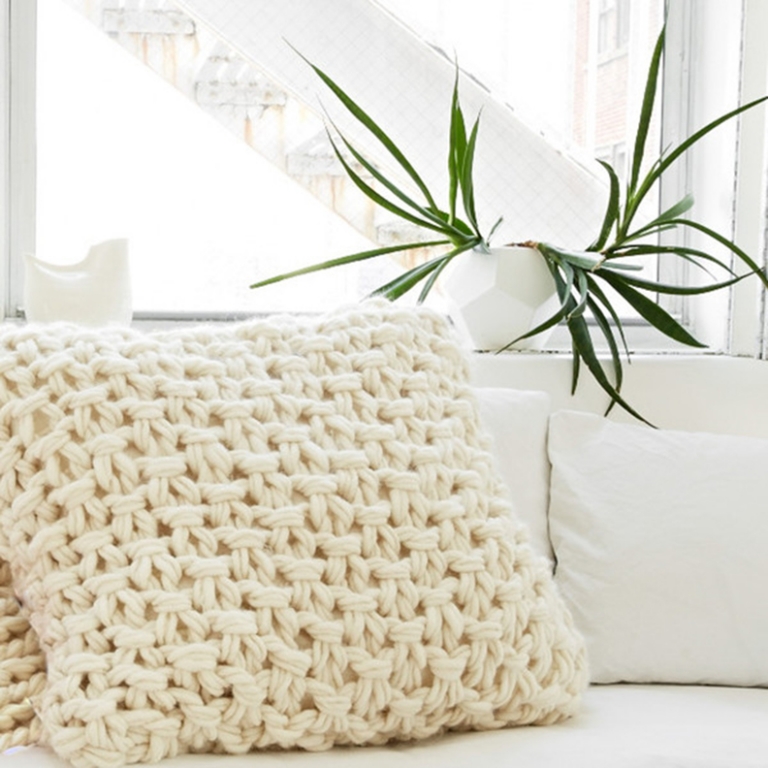 Have you ever tried finger or arm knitting? If you're looking to give it a try, be sure to pick a copy of Knitting Without Needles
– the projects are totally DIY-able with easy step-by-step photographs and how-to's. These would make great handmade gifts for the holidays (I'm thinking we'll need to make some of those sweet Finger Knit Baby Booties for my new niece!).

– Manda & Caitlin
PS – If you're interested in the hanging chair, you can see Caitlin's DIY for it here!
The book's yarn and all the yarn for this tour were graciously sponsored by Purl Soho. This fabulous floor pouf was made with Cascade Magnum yarn. Kits for the poufs or signed copies of Knitting Without Needles can be purchased at Anne's shop.