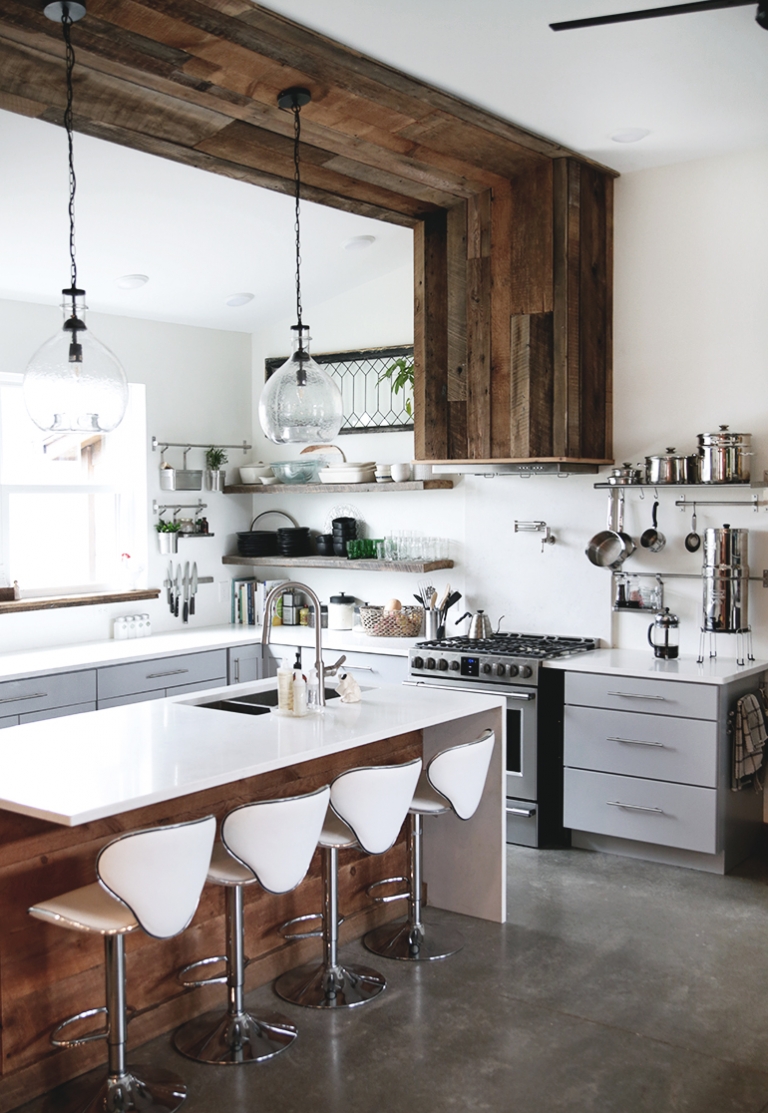 One of my biggest dreams for my house is getting a new kitchen. I constantly daydream about what I would do, what the best layout would be, and how amazing it would be to have some dreamy new appliances. My kitchen is my space and where I spend most of my time, so to upgrade my kitchen from the 1950's (no lie, my cabinets & countertops are circa 1950!), yea, big dream! (The pretty kitchen that you usually see on the blog is at Caitlin's house in case you're confused). I'm not sure if and when that dream will become reality, but until then, I love spending time looking at pretty kitchens on Pinterest. And it just so happens that I have a friend with a real life Pinterest-worthy kitchen! 😉 I've been admiring Charissa's kitchen since they remodeled it a year ago and when I asked her a couple months ago if I could photograph it & feature it on the blog, she graciously said yes! So today we're sharing a glimpse inside her gorgeous kitchen!
I love the style and vibe of the space – it's a nice mix of modern, industrial, rustic, a little farmhouse-ish, and features some amazing antique finds that they've gathered over the years. It's also worth noting that this remodel happened right after the birth of their fourth baby!! No big deal, having a newborn plus 3 littles and adding on a new kitchen! 😜 Charissa's husband, DJ, is a contractor and did most of the work himself with some help from friends. So you can only imagine the craziness of tackling a project like this at that time in their lives, but they did it so well! Charissa wanted to make sure that the space was not only useful and practical for their big family, but one they would love for years to come. Some of things they have in the kitchen, and throughout their home, have been collected and held on to for a few years, knowing that one day they'd have their "spot" in the house. She really wanted the space to be a reflection of what they love and what brings them joy, not just what's currently trendy.
One of my favorite elements in the space is the range hood, which Charissa designed and DJ built from reclaimed wood. I'm also quite envious of that huge fridge – it's a full size refrigerator and freezer, love it! Because Charissa had a newborn and was up all night and then running around after kiddos during the day, she sourced most of her things from Amazon. (Amazon for the win for moms with babies!). And I could just go on and on about every little thing I love, but I'll just let the pictures do their job of showing how amazing everything is…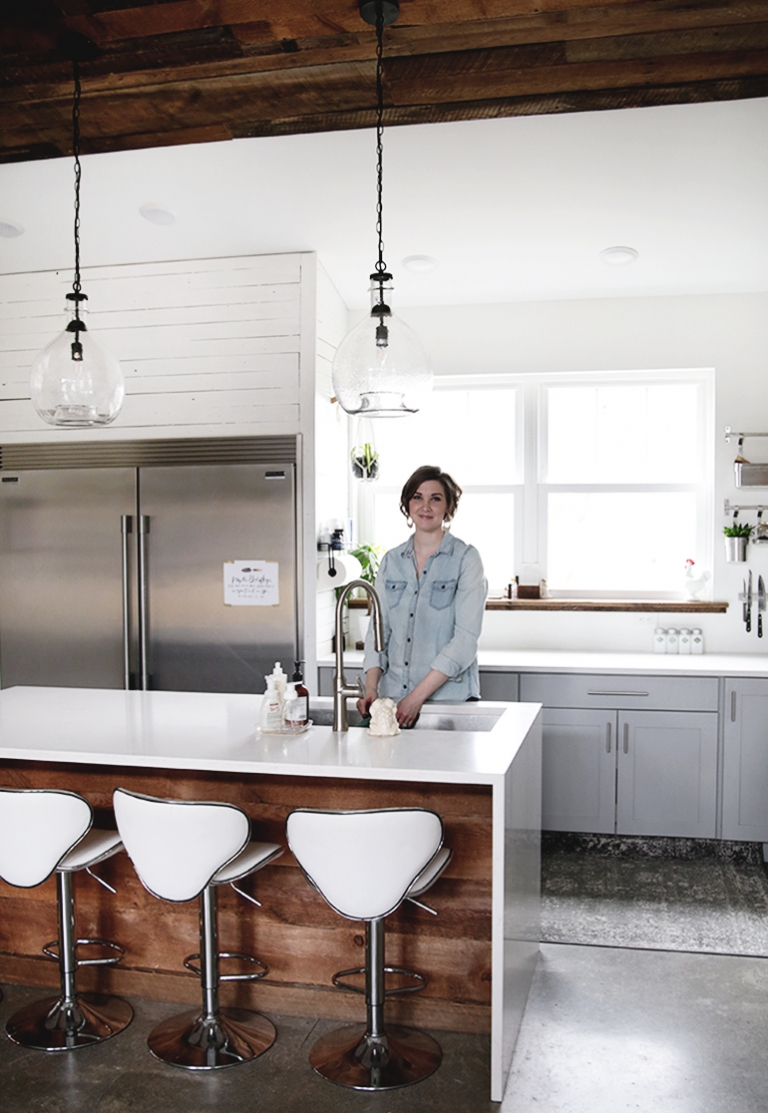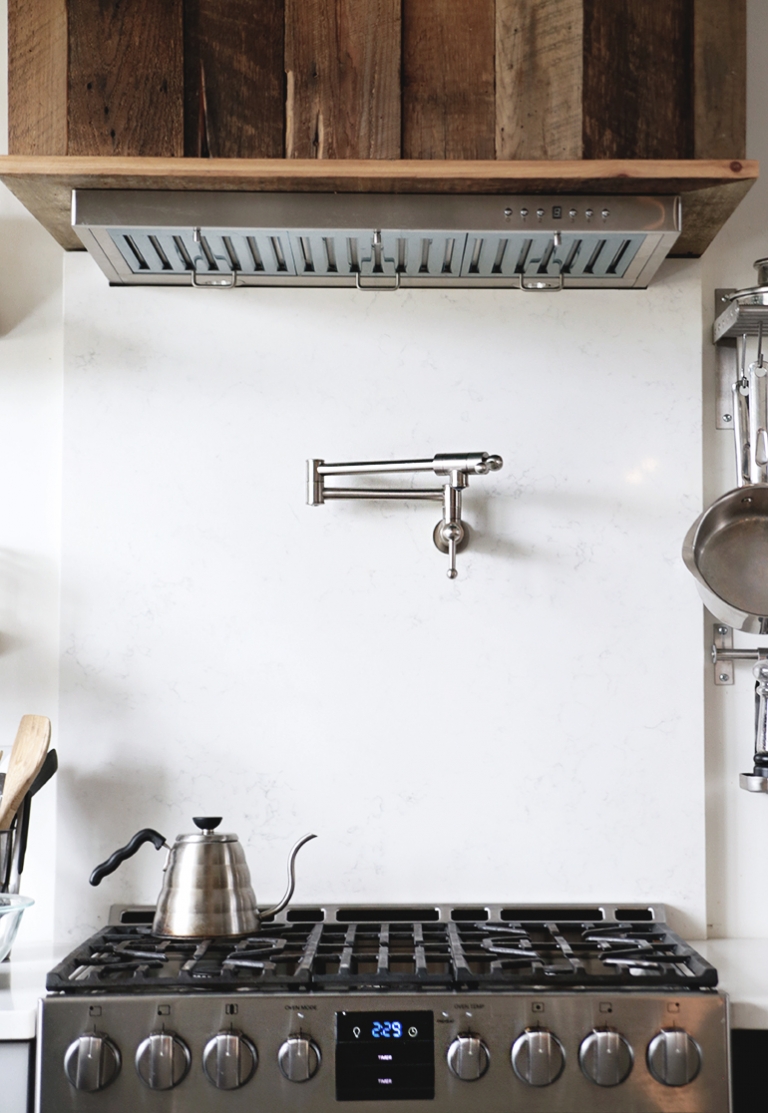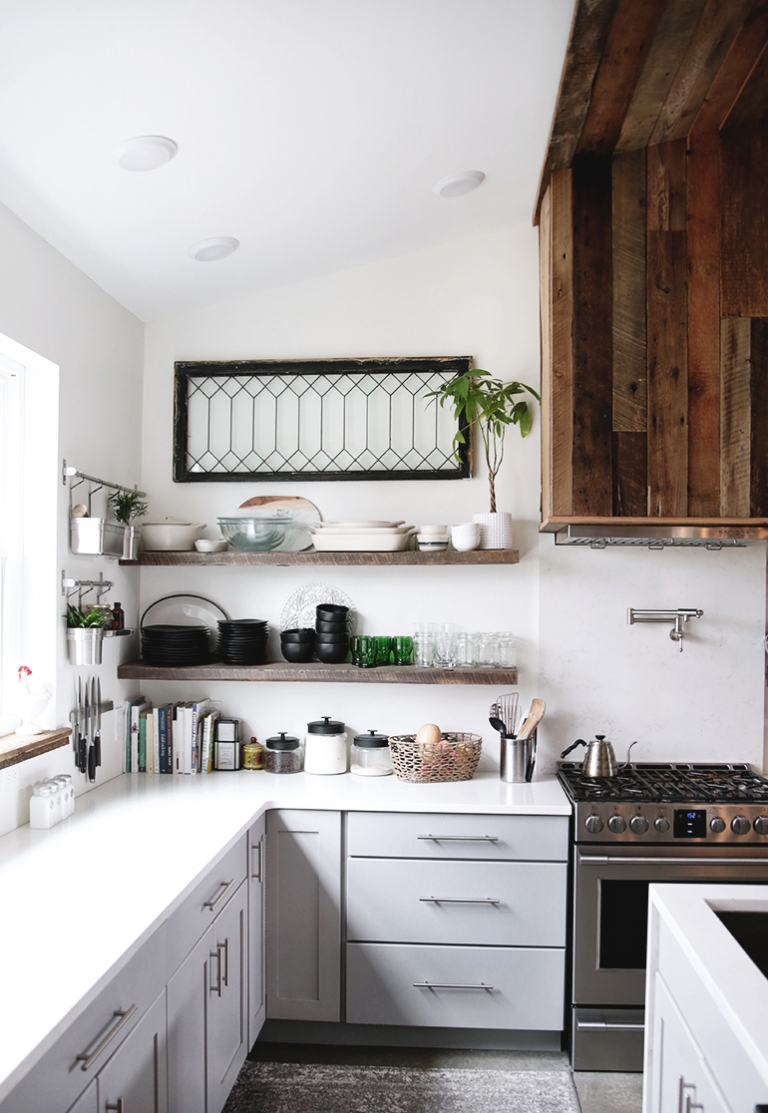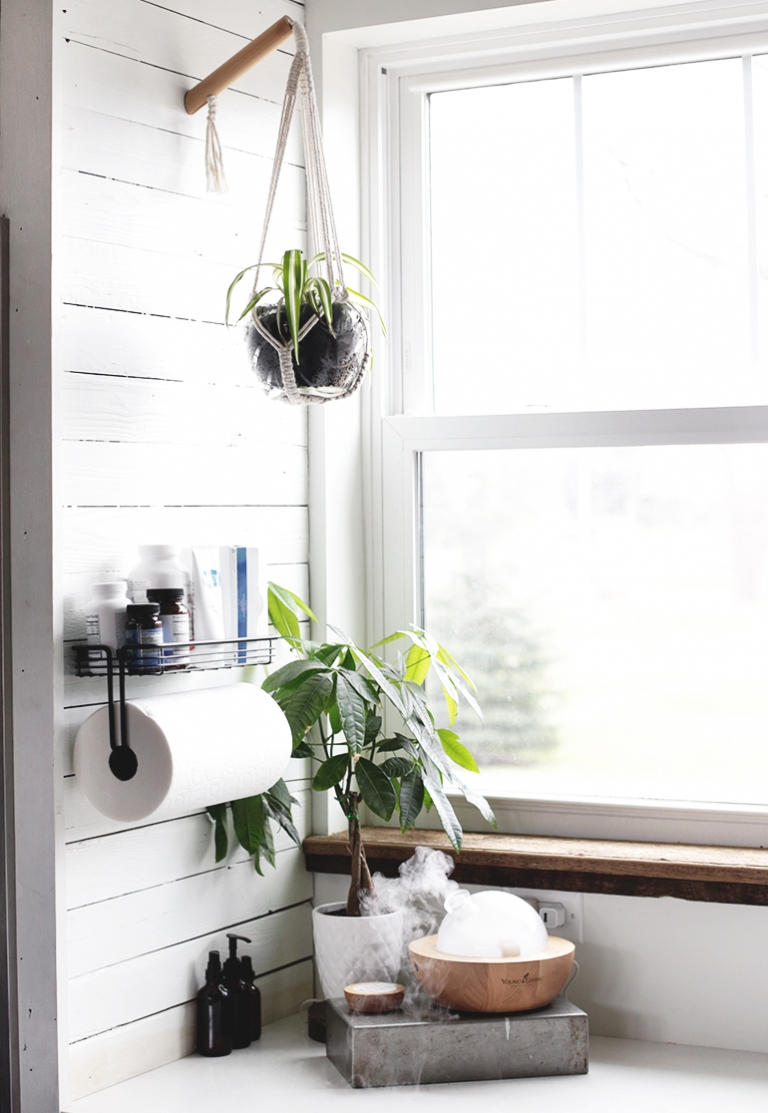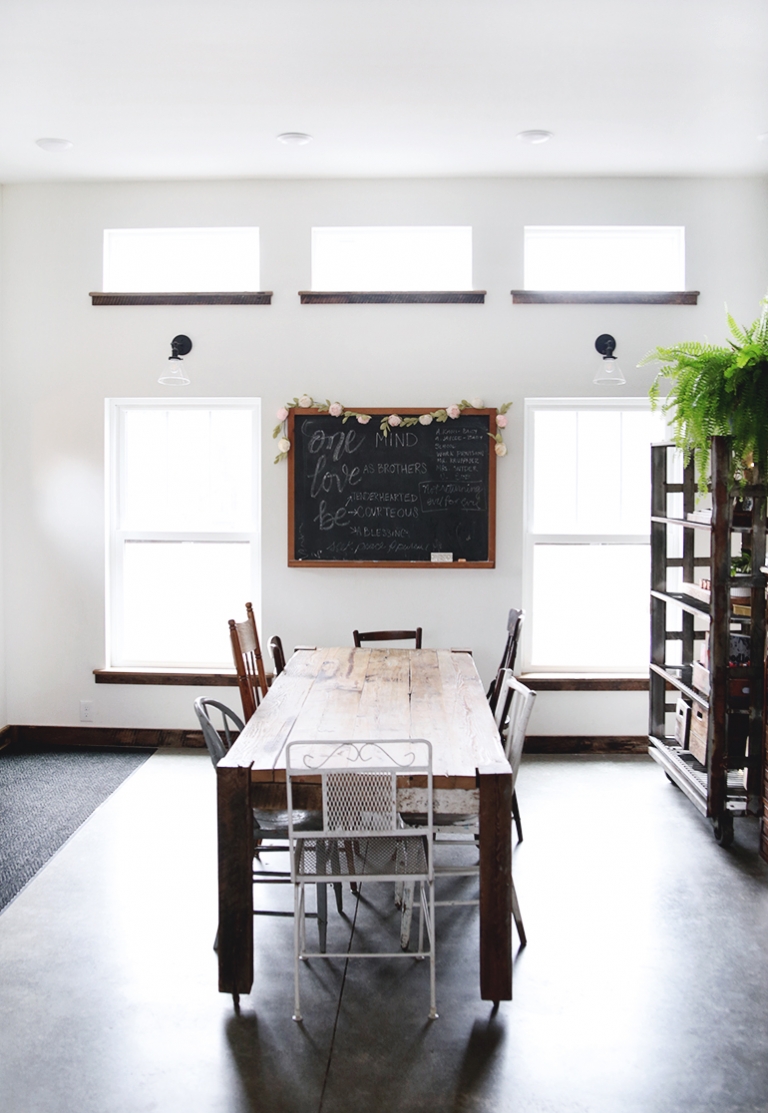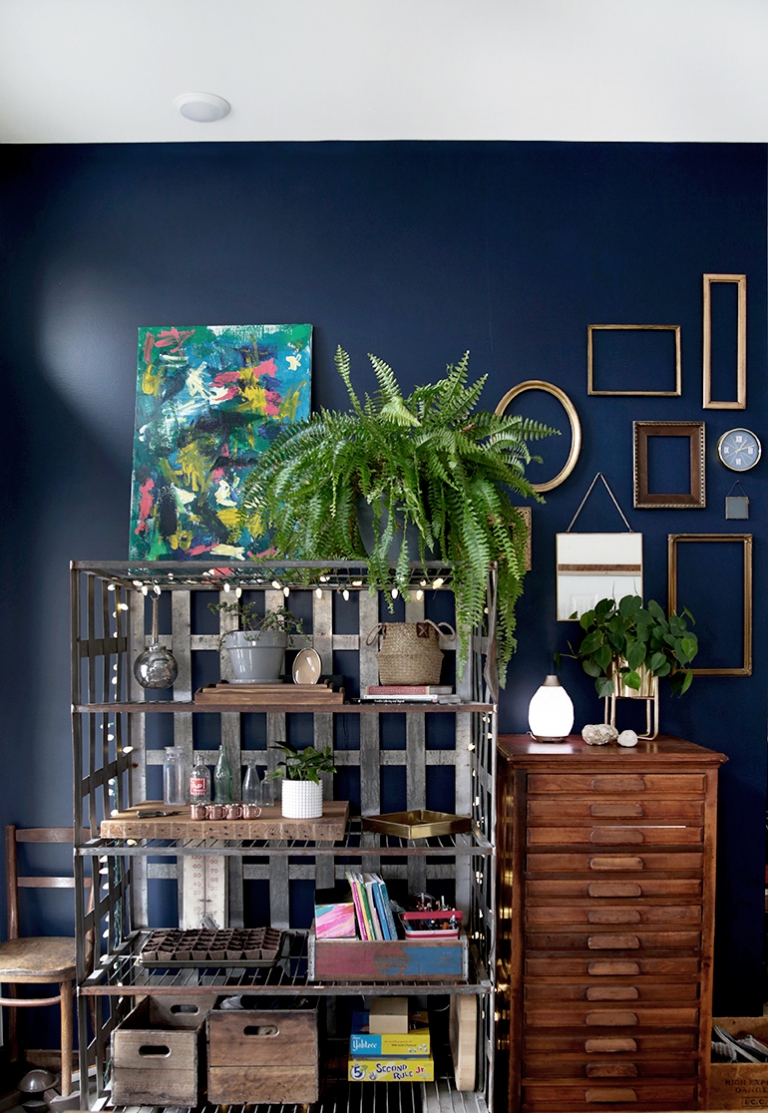 Pretty dreamy space, right?! I'm ready to move on in! Thanks so much to Charissa for letting us share her kitchen!
-Manda
Sources: Fridge – Amazon | Faucet – Amazon | Macrame Hanging Plant Holder – Amazon | Pendant Lights – Amazon | Steel Wall Shelf – IKEA via Amazon | Steel Hanging Container – IKEA via Amazon | Steel Rail – IKEA via Amazon | Ceramic Vases – Amazon | Range – Amazon | Range Hood – Amazon | Pot Filler – Amazon | Stools – Amazon | Clock – Target | Bakers Rack – vintage, found | Chalkboard – found in their barn when they moved in | Farmhouse Table – built by DJ | Wall Lamps – Amazon | Printers Chest – antique | Gold Planter – Target | Mirror – Target | Ceiling Fan – Amazon | Oil Diffuser – Young Living
Paint Color: In the Navy 9178 – Sherwin Williams