While I was back in NY last month, I decided to give one of the living rooms at my cousin's house a bit of a makeover. It has mostly sat unchanged since I lived there other than being filled with more plants and random items from other rooms in the house since this room isn't used as much as the other living room. But it's my favorite room because of all the light and plants! So I gave it a little bit of a makeover until I can move back and get a new couch and replace a few other things in the room.
I'm giving a few details of things that I changed and the before and afters if you keep scrolling!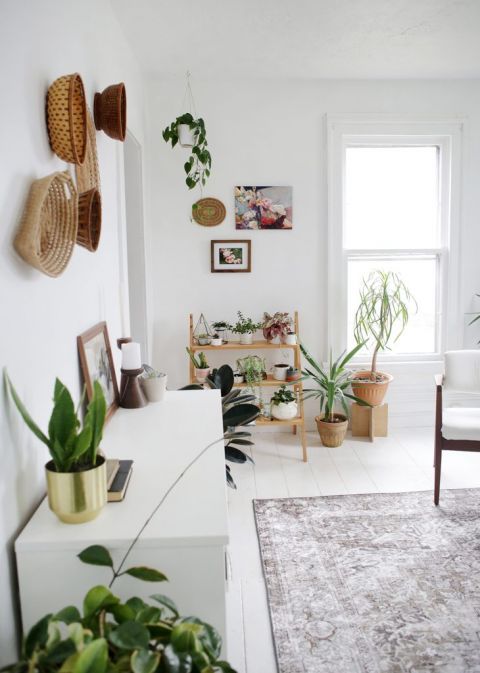 What I changed:
I used most of the pieces that I already had in the room but made a few changes that made a huge difference! 
I sanded down the old coffee table and restained it. The dark color matches so much better with the couch and chair and my old dresser that we brought into the room.
I got rid of a few pieces that had found their way into this room but just didn't fit.
Brought in a few pieces of floral art I bought from Kelly Maloney.
I switched out the overhead light for a similar one with one that I think matches this old house from the 1800's a bit better. It came in grey or blue so I just ended up spray painting the base.
The biggest change was swapping out for a new rug from Dalyn and I am in LOVE. It's the perfect piece to tie the whole room together and the brassy tone is delish. You can scoop one up here.