One donut is good but some days you just need a dozen donuts. And now you can eat a dozen donuts while you put together this sweet costume for Halloween! 😉
I was at the store with my little brother a couple weeks ago and we found a little kid's costume that was a dozen donuts and I could not get over how cute it was – and how sad it was that there wasn't one that fit me! I was thinking about it later in the day and spent some time trying to find one online. I could only find pictures of the same version that I had seen in the store but couldn't even find one of those that was actually for sale. So my DIY mind took over and I looked up how much of a process it would be to make a bunch of felt donuts and then I just went for it and made an adult sized one for meeee! The donuts are a bit time consuming but totally worth it! A warning though – you will be craving donuts
the. entire. time. 
you make this.
What you need:
-Felt
-Scissors
-Filling
-Hot Glue Gun
-Sewing Machine
-Puff Fabric Paint
-Cardboard Box
-White Spray Paint
-Exacto Knife
-Wide Elastic
-Heavy Duty Velcro
How to make it:
-I loosely followed this tutorial to make the bases of the donuts. I cut my original circles to 5″. Cut, sewed and stuffed all of the blank donuts.
-Cut out icing shapes to fit the donuts and use a small amount of hot glue to attach them. You can sew the icing on beforehand but this is much quicker if you're just using these for a costume.
-Add icing drizzle and sprinkles using puffy fabric paint.
-Take the lid of a large box (14.5″x 18″) and spray paint it white.
-Measure your waist and add a 6-10 inches then cut a piece of wide elastic to that length.
-Sew on velcro to each end of the elastic.
-Cut slits into the sides of the box and slide the elastic through. Use a few dabs of hot glue underneath the elastic that lays flat across the inside of the box.
-Arrange donuts and hot glue in place. If you want to reuse your donuts or let the kids play with them afterwards – you could attach them using velcro instead!
*If yours isn't staying well along your waist, you can add an extra strap from the top of the box that goes around your neck.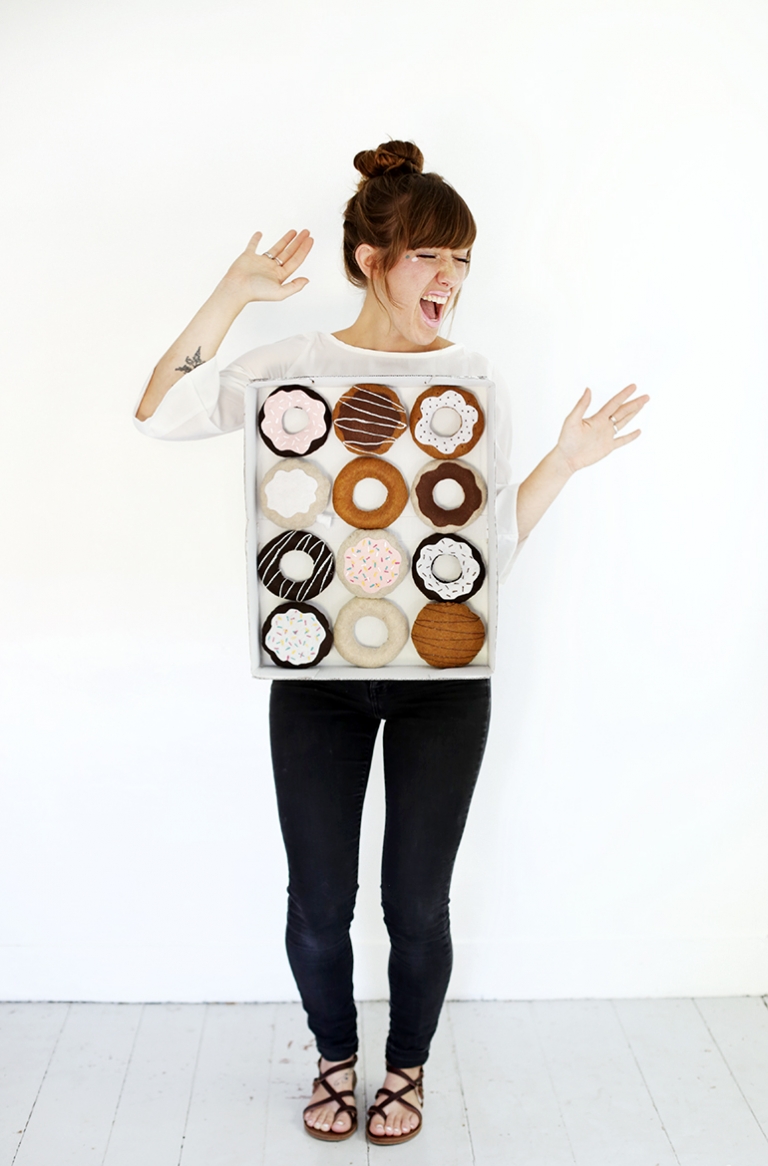 Please someone make this costume and share your photos with us! We love it!
xo. Caitlin