Since the
kitchen renovation
we had been in the habit of throwing our roll of paper towels haphazardly into our pantry most times after we use it because we couldn't decide where to put a paper towel bar. Lately our paper towel roll has been found out on the counter more often after use and I decided to whip together a simple stand for it so that it looks like it belongs out there. A little unfinished wood and leather (a few of my favoriteeee things) and our paper towels now have a home!
What you need:
-6″ round piece of wood – look for clock faces or flat plaques
-1″ dowel
-Hand saw
-Forstner bit
-Drill
-Wood glue
-Leather
-Scissors
-1/2″ brad nail
-Hammer
How to make it:
-Use your hand saw to cut your dowel to 15″ long.
-Use the saw along the top of the dowel to create an angled side along the top.
-Cut a 2.5″ long strip of leather and fold in half.
-Use the hammer & nail to secure the leather in place along the angled side of the dowel.
-Use a drill and a forstner bit the same width as the dowel to create a hole in the center of the 6″ round piece of wood. Drill most of the way through the wood but not completely.
-Use wood glue to secure the bottom of dowel into the drilled hole (making sure it is standing up straight) and let it dry.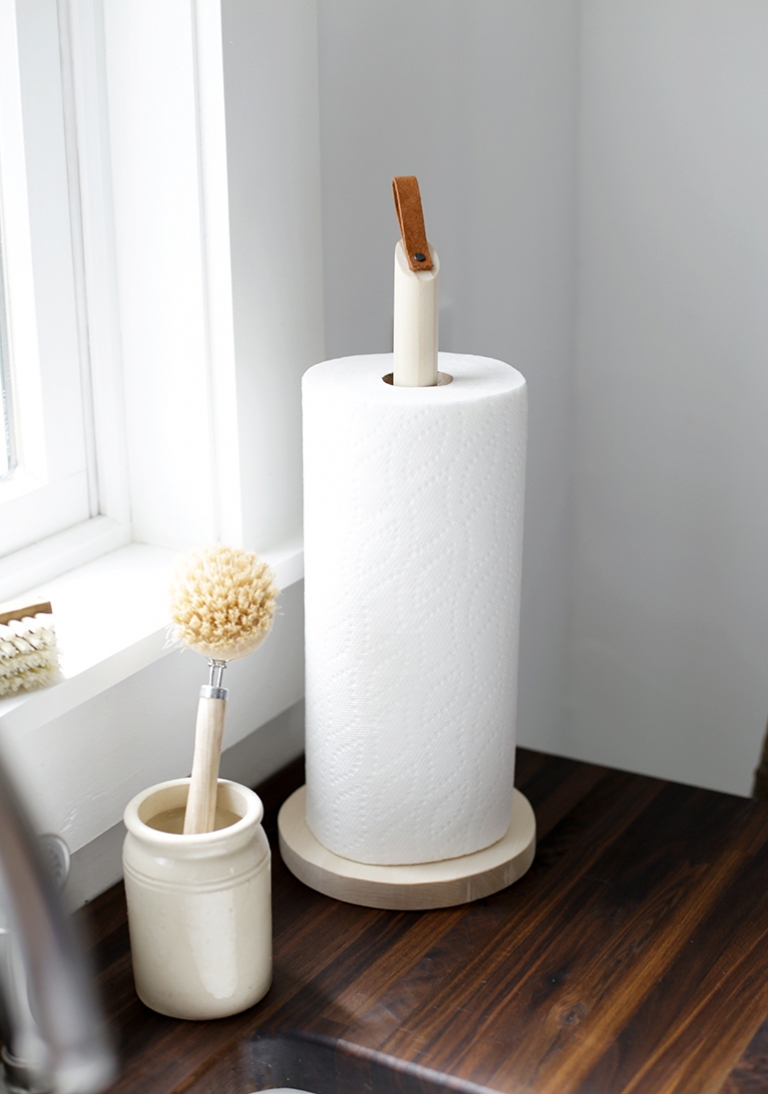 xo. Caitlin