I'm not a huge wine fan, but I have a lot of friends that love it! So I decided to try to put together a minimal, modern wine rack to gift to one of my wine-loving friends. I've been using tons of light plywood for projects recently so I decided to stick with that and, of course, add a little bit of leather. It's a pretty basic project for those of you that haven't done much woodworking. So give it a shot and show us how yours turns out!!

What you need:
-1/2″ x 12″ x 24″ Birch Plywood
-Scroll Saw
-Three 5/8″ Dowels
-Drill
-5/8″ Forstner Drill Bit
-Wood Glue
-Four 1″ x 20″ pieces of Leather
-Sewing Machine
How to make it:
-Draw line across the board at 11 5/8″ from one end (this gives an extra 3/8″ to the back side of the stand)
-Use the saw to cut along this line.
-On the top half, (the one with the extra 3/8″) measure 1.5″ down from the top and make a mark at the center of the board and then a mark at 1″ in from each side. Also mark 6 1/4″ down from the top at the center and 1″ in from each side. (These are for the dowels.)
-Drill a hole most of the way through the board at each mark.
-Cut six 12″ pieces of dowel.
-Screw the base piece of wood to the back of the stand.
-Glue dowels in place.
-Fold each piece of leather in half. Stitch across, giving enough room for dowel to fit through. About 1″
-Now fold about an inch on each end and sew along the edge.
-Slide the leather on the dowels once they are completely dry and fill it up with your favorite wine!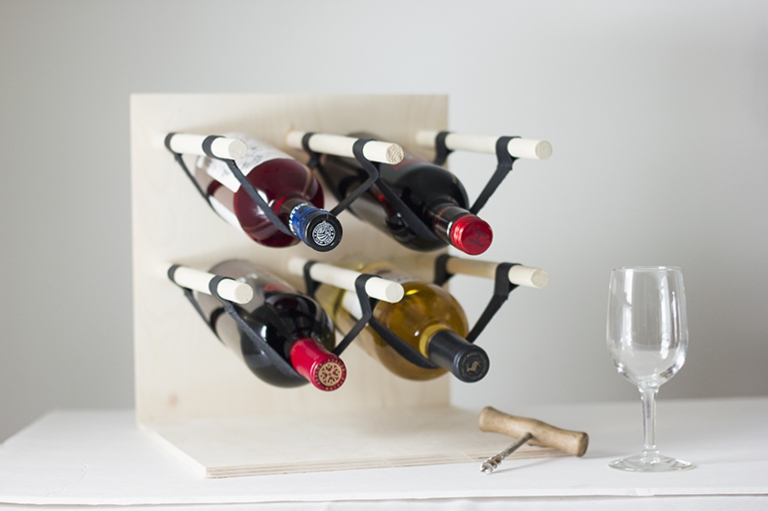 You can even make a sweet geometric wine stopper to go with your new wine rack!
xo. Caitlin