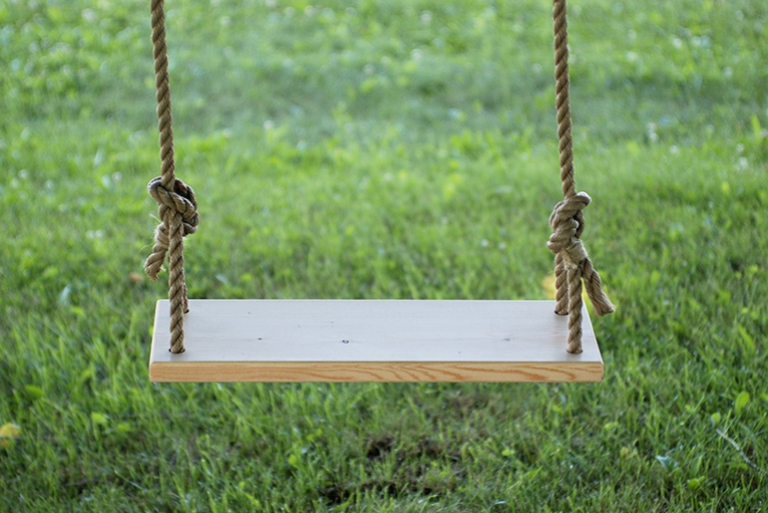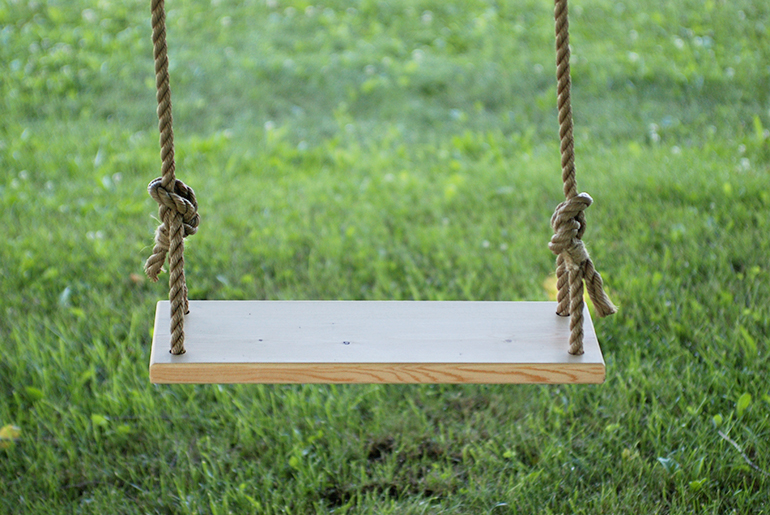 (Oy…we're having some internet issues at our house today – meaning we have none! So I'm quickly posting this while I can, while trying to control some boys who seem to be at their craziest right now, so excuse the abruptness of our "chat"!)
We're in the process of updating the play area in our backyard.  The swings that we had had broken and I wanted some nice wood swings that could be used by both kids and adults!  Making your own swings is really pretty simple and doesn't take very long.  Once I told Mike what I had in mind, he whipped up two swings quickly – slowed down only by his wife stopping him to take pictures. 😉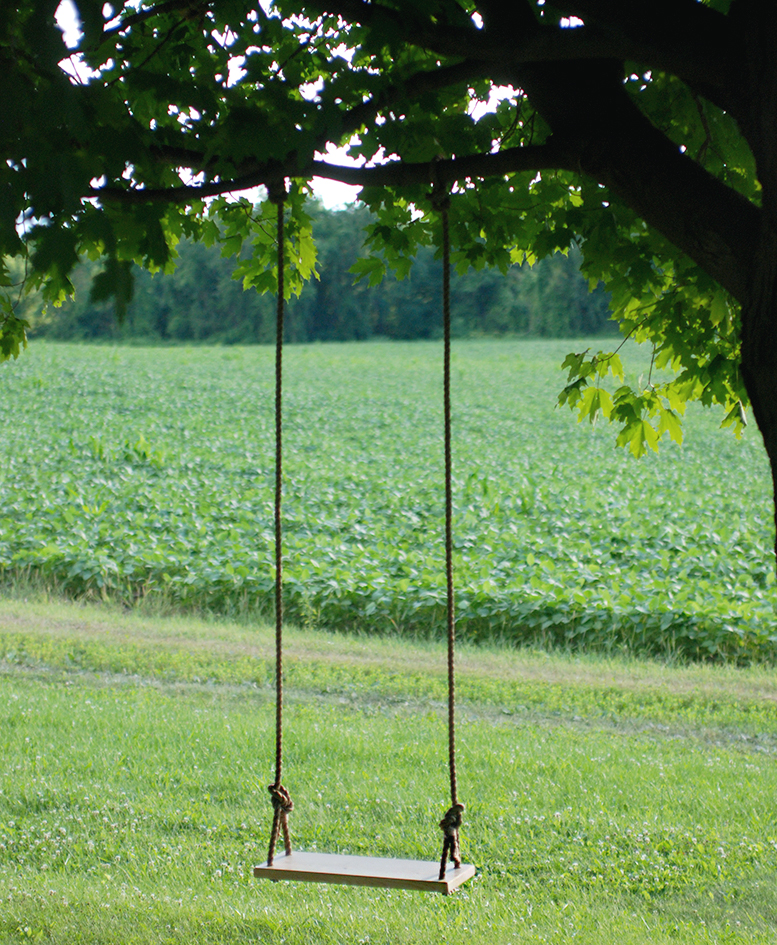 What you need:
Wood (we used pine wood)

Rope (we used ¾" nylon rope – make sure the working load limit is a high enough weight for whomever will be using the swing)

Saw

Drill

Router/Sand Paper
How to do it:
Measure the length you want your swing to be and cut the board that length. Using sand paper or a router, round the edges of the cut board (Mike has a router so he used that…if you don't have one, you can use sandpaper – it just will take a little longer). Sand any rough spots along the swing. Measure and mark the holes that your rope will go through. Drill holes, making sure to use a drill bit that's as big as the rope you're using.
To attach the rope: leaving the rope as one long length, slide one end of the rope though a hole starting on the top side of the swing. Run rope along the bottom of the swing and up through the next hole (see picture above). Tie a knot. Take the remaining rope and thread it through the holes on the opposite side, starting on the top side of the swing and running it along the bottom and up through. Tie another knot. The rope of the swing should now be a giant loop; find the center of the rope and cut apart so that your rope is now separated. To make sure the cut ends of the rope don't unravel/fray – you can melt the bottoms with a lighter or wrap them with twine. Hang from tree branch or swing set, making sure all knots are very secure.
For more info on different knots and how to tie them, you can always search the web for how to tie knots. Watching videos is helpful you're a newbie knot tier. This site has a lot of different knots, what they're useful for and how to tie them.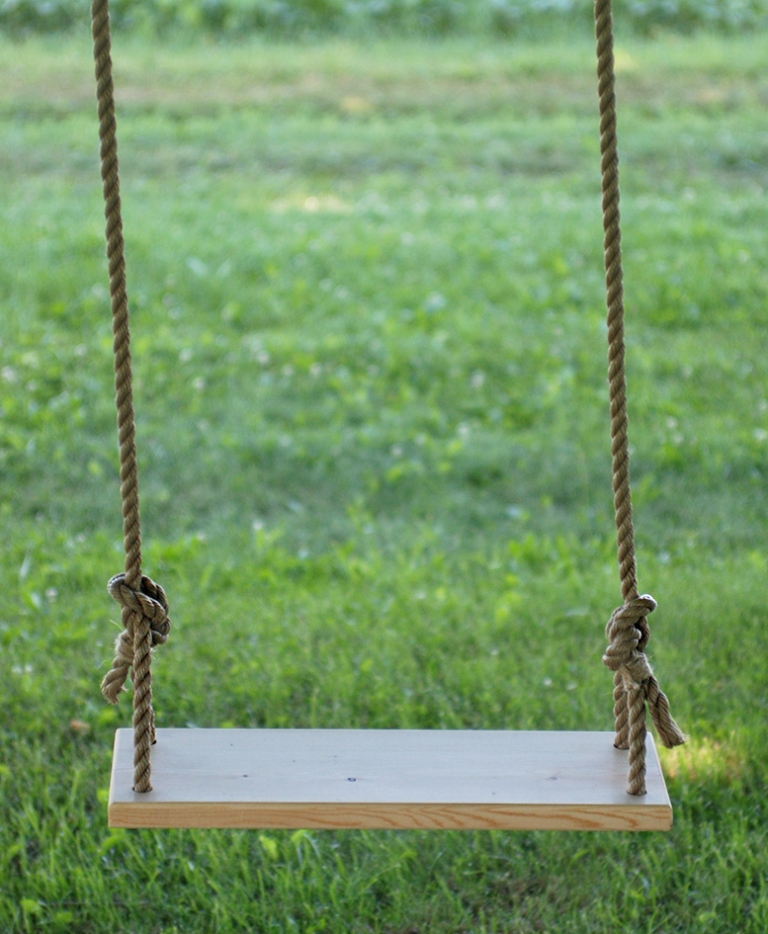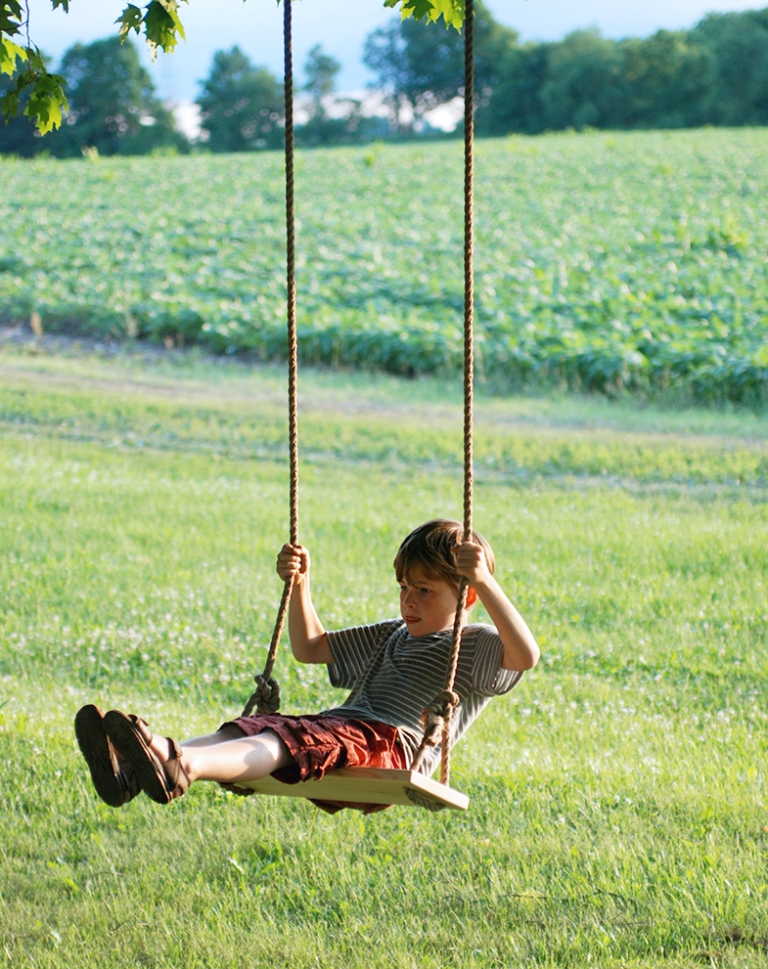 Happy swinging!
– Manda