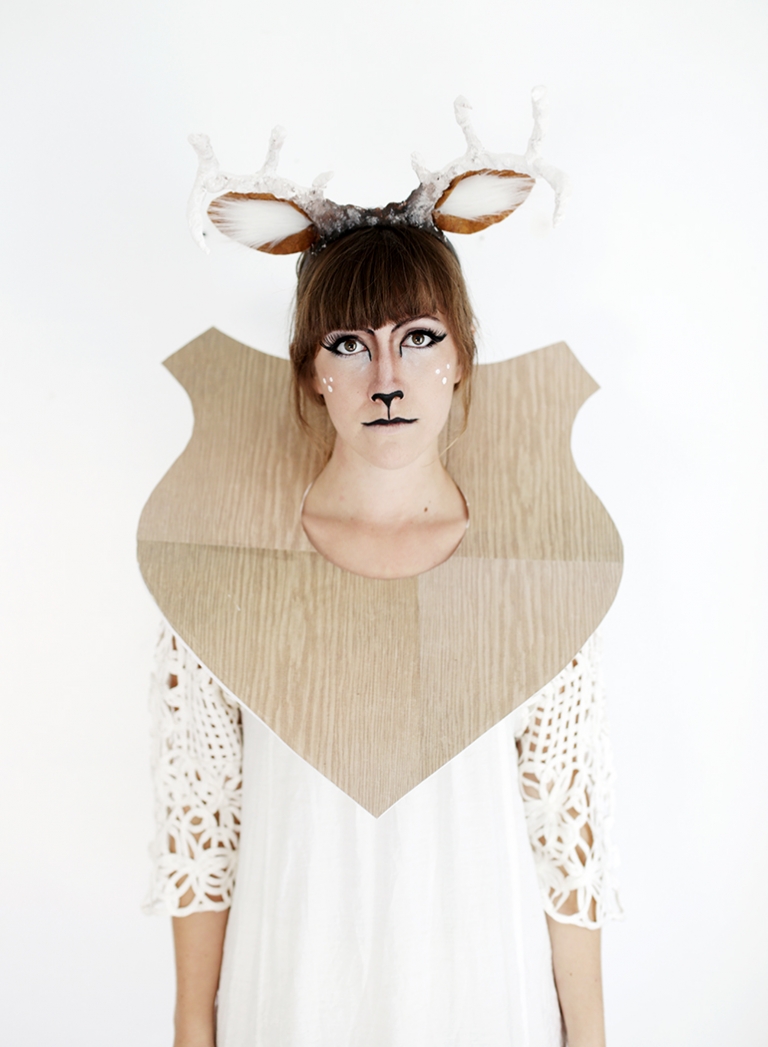 First day of October is here and it's appropriately 50 degrees out today so we're getting into the full swing of fall. And we're not going to spend anytime messing around on here either… we're kicking off the month with a DIY halloween costume as part of the Michael's Makers challenge!
It seems like everybody has a faux taxidermy animal head on their wall these days – so why not turn yourself into the trend for Halloween this year! I love how this turned out and it was surprisingly easy to put together. And if you're from around here, you'll appreciate that you can wear this with a cute dress OR layer up a bunch of cozy clothes when it's 30 degrees out on Halloween!

Materials Needed:
-headband
-aluminum foil
-plaster wrap
-brown felt
-white faux fur
-hot glue gun
-paint
-paint brush
-foam board
-wood grain scrapbook paper
-mod podge
-x-acto knife
-pencil
-makeup or face paint

Directions:
Fold aluminum foil into large strip. Wrap strip around headband and then twist and shape into antler shape. Repeat for second antler. Add smaller spikes to the large ones by using the same steps with smaller pieces of foil. Once antlers are the shape/size you'd like, cover foil with pieces of plaster wrap (following the directions on package). Allow to dry. Cut two ears out of the felt and cut smaller pieces of the fur to fit inside of ears. Glue the fur to the inside of the felt, then fold and glue the bottom of the felt to create ear shape. Once plaster is dry, paint the antlers as desired. When paint is dry, glue ears to headband.
Apply the woodgrain paper to the foam board using mod podge. Once dry, draw out a plaque shape. Cut the plaque using your x-acto knife. From the top, center of the plaque, draw out a 1/2″ wide section down to a circle where your neck will go. Use the x-acto knife to cut out this section. You will need to slightly bend up the sides around the 1/2″ you cut out so you will be able to slide the plaque around your neck.

The most difficult part for me was probably the makeup because I'm just a mascara and go type of girl. When I came out with this makeup on, Levi was slightly terrified and Lincoln said, "You look better with that stuff on your eyes." Ha!! So there's that! I used this deer makeup video as a basic guide to do my makeup.

xo. Caitlin & Manda
Be sure to check out all of the other amazing costume ideas here.