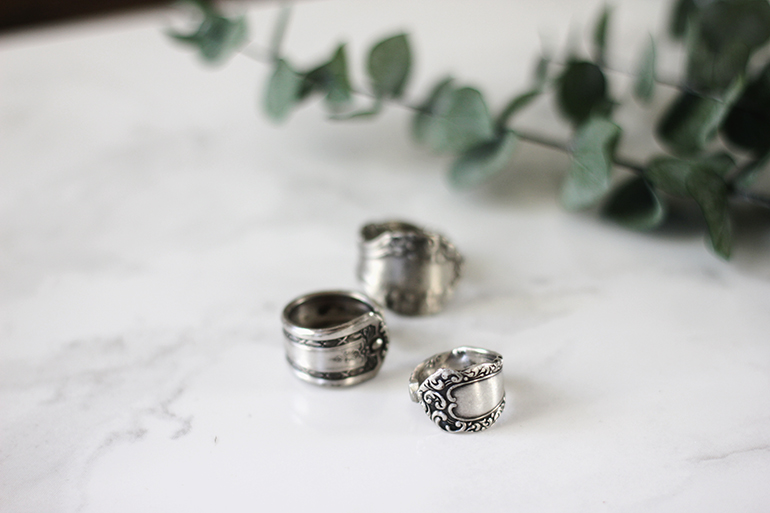 This is honestly one of the most emotional DIY projects that I've ever shared here on the blog. I know that seems kind of strange, so I'll explain. Don't worry there really is a tutorial included below so feel free to scroll through this part. 😉
After my mom died, my dad gave me her jewelry box full of all the things that she used to wear. I can remember looking through it after he gave it to me and finding so many things that I could remember my her wearing or remember the stories that she shared about them when we sat on her bed and cleaned out her jewelry box while doing spring cleaning.
I found little pins that Zac and I made her for many-a-Mother's Days, a ring that my dad gave to her on a Christmas when they promised not to exchange presents, a charm bracelet from her teenage years, a pearl necklace from my grandma… and tucked in there was a spoon ring, which had wrapped perfectly around her finger. It was one of the many jewelry items that my mom made back when she was an art teacher. She taught a jewelry making class at the high school she taught at! (Where was that class at my high school?!)
Because of this little ring, I've wanted to make spoon rings for years. I've even attempted a few times and then given up pretty quickly. But this time it went up on the blog schedule and there was no backing down!
I grabbed a few pieces of silverware from my mom's old collection and went to start the project. I found myself wanting to call my mom for some tips on how to make these. And although having the urge to call up my mom and ask her about something is not a rare one, this struck me pretty hard. So I sat on my apartment floor crying over a crooked spoon.
Even though asking how to bend a spoon isn't too important, knowing that I could have been sitting in the living room making a batch of rings and laughing with my mom that afternoon, had life worked out a little different, shook my heart up a bit. But after a bit of crying, I got to it and finished up these rings so now I can share the tutorial with all of you!

What you need:
-Sterling Spoon (or other sterling silverware)
-Ring Mandrel
-Hack Saw
-File
-Rubber or Rawhide Mallet (if you don't feel like buying one, just a regular hammer with felt or leather and a rubber band does the trick)
-Muscles!
How to make it:
-Measure your finger (you can use paper or string) and make a mark on the ring using this measurement to show where you will cut it after you bend it.
-Use your strength to bend your silverware around the mandrel. (Make sure you're bending it near the end that you want use for your ring.)
-Use the saw to cut off the excess at the measurement you marked earlier.
-Use a file to smooth out the sharp edge.
-Wrap your bent ring around the mandrel and use the mallet to pound it into a circle. (Start trying to make it round on the mandrel at a larger size than you need. Then work your way to a smaller size, using the mallet, it makes the process a bit easier.) Be patient with this step – it takes patience and muscles!
-Polish it up and wear it!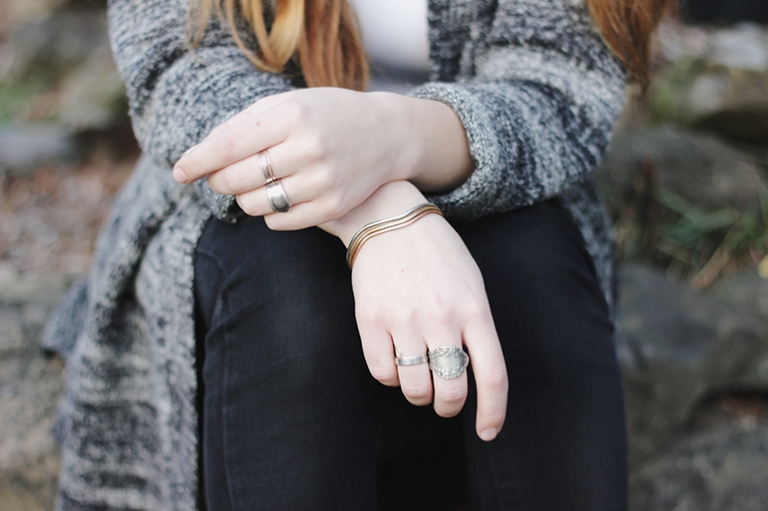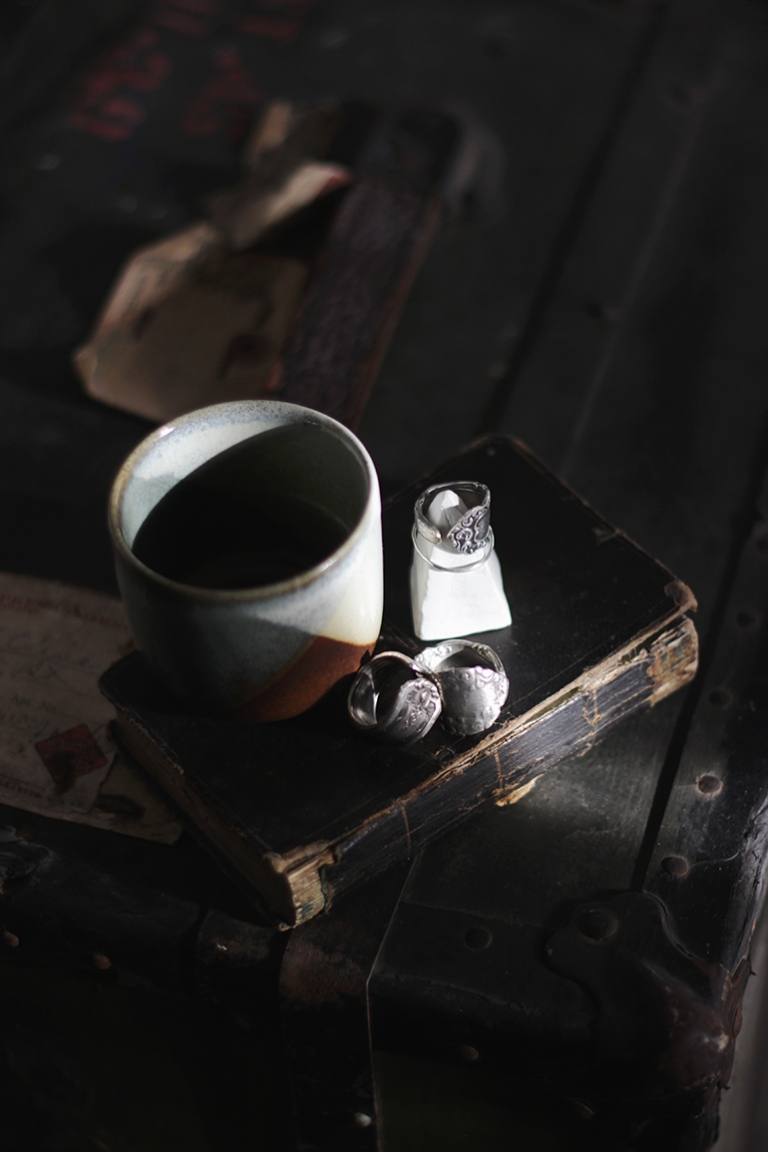 And then all three on one hand… because that's obviously how you'd wear them. 😉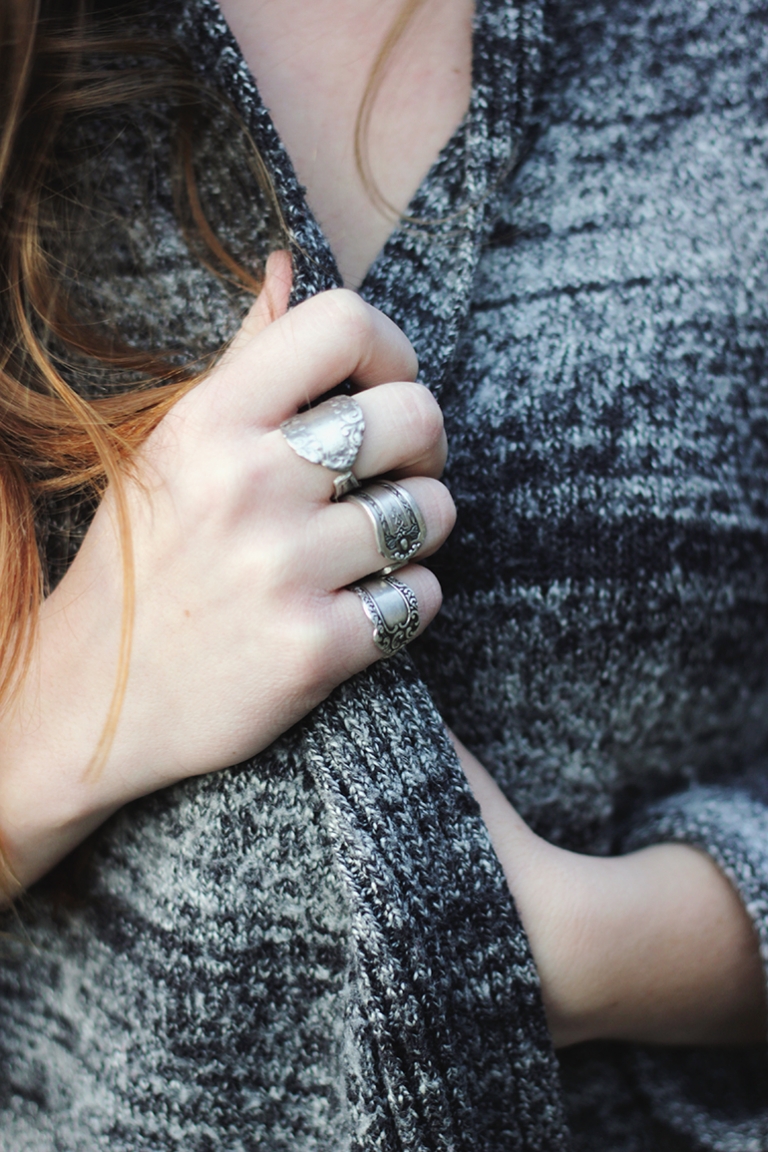 Obviously I'm feeling quite proud of myself and I'm excited to make my next batch with a little less crying next time… 🙂
xo. Caitlin