A little penny laying heads up on the sidewalk is too much for many superstitious walkers to pass by. We may have found one that's a little more irresistible… this handsome little penny! Plus, with a name like Lincoln, I'm not sure there's a better costume for him out there!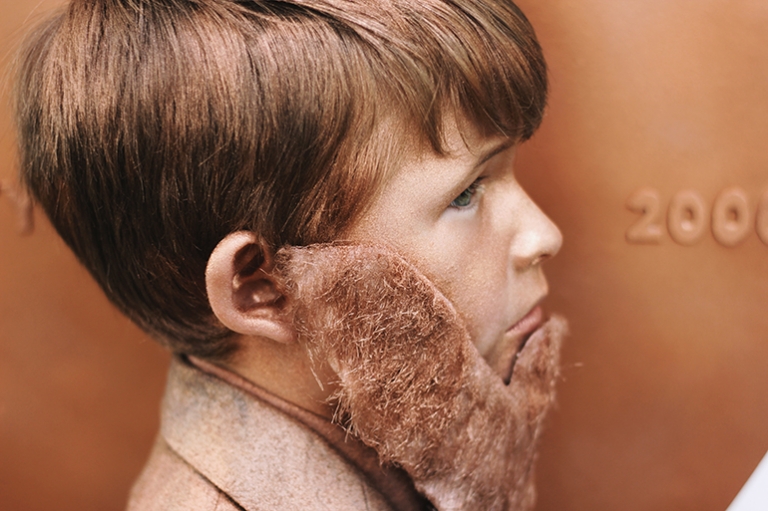 What you need:
-Faux Fur
-Scissors
-Old Clothes (pants, jacket, button-up, bow-tie)
-Copper Paint
-Sponge Brush
-Foam Board
-X-acto Knife
-Craft Foam
-Glue
-Copper Spray Paint
–Copper Costume Make-up

-Spirit Gum
How to make it:
-Cut a beard out of the faux fur. (Make sure it will fit the face of the costume wearer.)
-Use the sponge brush to apply a coat of paint over the pants, jacket, shirt, bow tie, and beard. Let dry and repeat if needed.
-Draw out a large circle on foam board and cut it out using an x-acto knife.
-Cut a U-shape out of the bottom of the circle so it will fit tight over their shoulder.
-Trace or draw out the letters for "In God We Trust", "Liberty", and a year (I chose the year Lincoln was born!) in the craft foam and then cut them out.
-Glue the letters in place on the foam board and let dry.
-Spray paint the entire "penny" copper.
-Put the clothes on.
-Apply the copper make-up to any exposed skin.
-Use spirit gum or lash glue to attach the beard.
-Slide the penny over the shoulder and you're done!

A milkshake may have been exchanged in order for these photos to be taken… 8 year olds are too busy for blogging!
xo. Caitlin