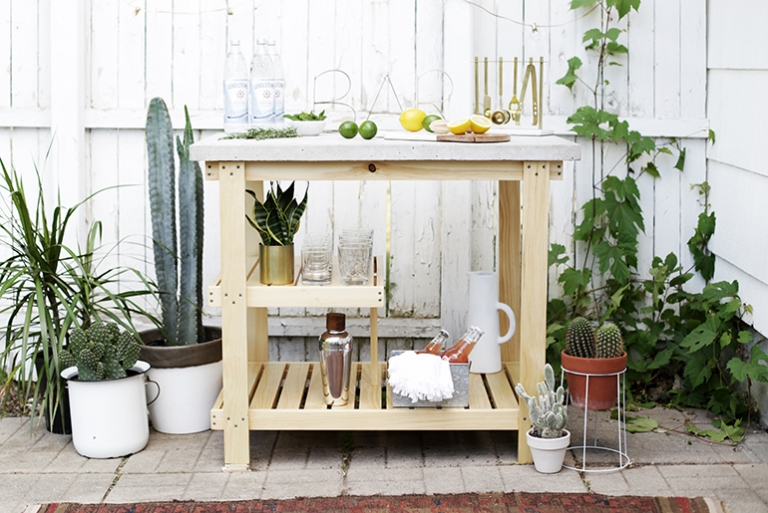 With our love of mocktail making, it seemed only fitting to make the perfect spot for all that mixing, shaking & serving to happen! This little outdoor bar features a concrete top and would make the perfect companion for the outdoor pallet couch!
Materials for Concrete Top:
melamine board (for concrete mold frame)
circular saw
measuring tape
drill and screws
painters tape
silicone caulk
level 
wire mesh
olive oil
concrete mix
water
concrete mixing tub
hoe (for mixing the concrete)
plastic gloves
orbital sander
2×4 scrap wood
mason trowel
plastic sheeting
concrete sealer
Materials for Wood Base:
1x8x6 pine boards – 2
1x8x8 pine board -1
1x12x8 pine board – 1
miter box 
measuring tape 
pencil
table saw
drill w/ countersink bit
screws
wood glue 
nail gun
nails 
square
sandpaper
indoor/outdoor finish 
Directions:
Step 1: Build the Concrete Mold Frame
Cut melamine board to create side pieces & bottom of mold frame. The side pieces should be the thickness of the melamine board plus the thickness you want your bar top to be (our side pieces were 2-1/4″ because we wanted a 1-1/2″ thick bar top).
Cut side pieces to length so that they form a square around the bottom, two of the sides will be the same length as the side of the bottom where they attach, the other two sides will be 1-1/2″ longer so that they overlap the other two sides. 
Drill holes 3/8″ up from the bottom edge of the side pieces to attach them to bottom of form. Also drill holes in the ends of the sides which are longer than the bottom. 
Line side piece along the edge of the bottom piece and pre-drill holes thru so the wood doesn't split. 
Put in screws and screw together. Repeat with all 4 edge pieces. 
Step 2: Prepare the Concrete Mold Frame
Wipe inside of form to remove any saw dust. Place painters tape around around inside edge leaving a gap big enough for a bead of caulk. (Concrete can react with silicone changing the color of it, the tape keeps any smeared caulk off the inside of the form, leaving just the thin line along the edge.) Caulk along the inside edges, going up along the corner seams too. Smooth out the caulk with your finger to remove any excess and round the corner. Let caulk dry according to directions on tube. Once dry, remove tape, make sure to pull tape back toward itself not sideways. Set the mold on a flat surface and make sure it is level. Coat the inside (bottom & sides) of the mold with olive oil (this is to keep concrete from sticking to the mold). 
Step 3: Mix and Pour the Concrete
Tip: this part can get a little messy, so it's helpful to lay down a tarp or drop cloth to catch any extra concrete that spills.
Pour concrete mix into concrete mixing tub. Add water a little at a time and mix until the concrete is about the consistency of oatmeal. You don't want it too watery as that can make a weaker bar top. 
Once smooth, use an orbital sander along the outside edge to vibrate the mold – this gets air bubbles out. 
Pour concrete into mold, it should be about half full, and smooth out. 
Cut the wire mesh so that there will be a 3/4" gap between it and the sides of the frame.Place the wire mesh in the center of the frame on top of the wet concrete. 
Mix more concrete and place over the mesh. The concrete should be level with the top of the mold. Smooth out and repeat the step with the orbital sander. 
Using a 2×4, firmly press the board across the top of the form to smooth and level the concrete. 
Warning: extra concrete will spill out during this process, so be sure it's on a surface that can get messy.
Step 4: Let Concrete Dry and Remove Frame
Let dry for a couple hours, then go over the concrete with a trowel to help smooth it out. 
Cover with plastic and let dry according to the directions on the bag. We let ours dry for 3 days. Once dry, remove the screws from the frame and pull off sides (they will stick a little from the silicone). Carefully lift the concrete top to it's side and pull away the bottom. Sand off any rough edges. We let ours dry for another day outside of the form.
Step 5: Cut Wood to Size for Bar Base
Cut List:
For the legs:
4 pieces at 2 -1/2" x 31-1/2"
For the shelf frames (2 frames are 36"x22" and 1 frame is 18"x22")
4 pieces at 2" x 36"
2 pieces at 2" x 18"
6 pieces at 2" x 20-1/4"
For the middle shelf support:
1 piece at 1" x 12-1/4"
Slats:
18 pieces at 2-1/4" x 20-3/16"
Slat Supports:
2 pieces at 1-1/4" x 34-1/4"
2 pieces at 1-1/4" x 16-1/4"
Using a miter box and table saw, cut all boards to length using cut list. 
Step 6: Build Shelf Frames
On a 36″ and 18″ length board, measure & mark drill holes for screws – 5/8" in 3/8" from end. Using a counter sink bit, drill holes. 
Spread wood glue on end of one of the 20-1/4″ boards, place board against the 36″  board with screw holes and screw together. Repeat with remaining pieces to create frame. 
Repeat process with remaining 20-1/4″ & 36″ boards to create second frame and with 18″ & 20-1/4" to create the third frame.
Step 7: Attach Slat Supports
Place wood glue along the 1-1/4" side of longer slat support, line up inside one of the large frames. Use a 3/4″ spacer, lined up flush with the top edge of the frame, and nail in slat support. Repeat on other side. 
Repeat with the small frame and short slat supports.
Step 8: Attach Legs to Shelf Frame
On the legs, measure and mark three screw holes for connecting to frame on both top & bottom of leg. (For the top: two holes at 5/8″ down from top and 1/2″ from edge and one hole 1-3/8 from top and centered on leg. For the bottom: one hole at 4-1/8″ and centered on leg and  two holes 1/2″ from edge and 4-7/8″from bottom end). 
Repeat with all the legs. 
Countersink and drill holes. 
Draw a line on the side of the leg,  3-1/2″ from bottom. Repeat with all legs. Mark on frame an 1-1/2″ from edge for leg placement. Apply wood glue on backside of screw holes on leg, line up leg on frame at the 1-1/2″ mark, and screw in one screw. Use a square and make sure the leg is square with the frame. Screw in remaining two screws. Repeat with bottom of leg and the large frame.  Repeat with remaining legs. 
Step 9: Attach Slats to Bottom Shelf
Starting in the center with a space, nail slats onto slat support. Use a 1/2″ spacer between each slat as you set each slat in. 
Step 10: Attach Middle Shelf Support
Measure and mark where middle shelf support will go on the bottom shelf slat, 16-7/8″ to center from end and 10-7/8" to center from side. Drill hole. Screw in shelf support. 
Step 11: Attach Middle Shelf to Legs
On the two legs on one end, measure and mark three screw holes for middle shelf. (Measuring from the top of the leg, come down 13-5/8″ and mark for the two outside screw holes, coming in 1/2″ from sides. Then come down 14-3/8″ to the center screw hole, centered on leg. Repeat on other leg. 
Mark a line at 13″ from the top on the side of the leg. That is where the top of the shelf will be. 
Countersink and drill hole in the shelf frame, 10-7/8″ and 5/8″ up. Mark a line 1-1/4″ down from the top of the shelf support, that will be where the bottom of the shelf goes. On middle shelf frame, mark 1-1/2″ from end where shelf will line up with leg. Set shelf in place and screw in to legs and shelf support. 
Step 12: Attach Slats to Middle Shelf
Add slats to middle shelf, starting in the center with a space, nail slats onto slat support. Use 3/8″ spacer between each slat as you set each slat in. 
Step 13: Sand and Apply Finish
Sand all wood as needed. 
Apply finish to wood, following directions on can. 
Step 14: Set on Bar Top and Seal Concrete
Apply silicone caulk to the top boards where the concrete top will sit. Set the concrete top on the silicone. Apply concrete sealer to concrete, following directions on can.