I always love a good leather project but this one is just so simple and tiny and sweet – I can't get over it! It makes me smile every time I grab my keys.
You just need a few minutes and you can make an adorable cover for your keys too. It's the perfect project to use up those leftover leather scraps! And it's easy to make and customize a batch for gifts! Stocking stuffers! Wait… is it too early to be thinking about Christmas presents?

What you need:
-Leather
-Ruler
-Pencil
-Scissors
-Leather Punch
-Sewing Machine

How to make it:
-Measure and cut out a 1 1/4″ x 2″ piece of leather. (My keys were 7/8″ wide – measure your key to make sure this will work.)
-Fold in half and cut corners off of the top side.
-Use leather punch to punch a hole in the top – through both sides of the leather.
-Use sewing machine to sew sides closed. Sew about 1/8″ in from each side. Make sure you reverse sew over the line to secure it.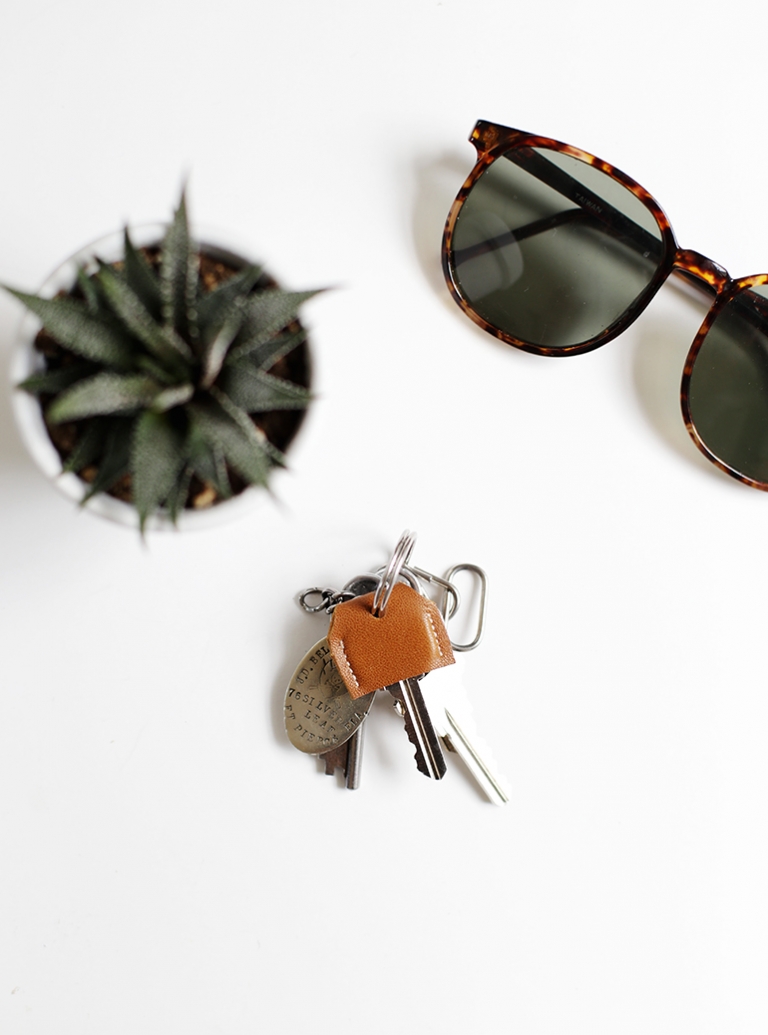 Most nights I get home from work – it's dark out and I find myself fumbling through my keys trying figure out which one is the key to my door (and still try the wrong one first 50% of the time) so I use this leather cover just on my apartment key so I just have to feel for that and I'm good to go! I also think it'd be fun to cover all of the keys on a keychain and use a leather stamp to put the letter to whatever the key is to on each one.
Make some and send us some pictures!
xo. Caitlin