This weekend I did way too many leather projects. Every project I was working on I thought, "this would look better with some leather." And then that branched off into creating a few other leather projects and this is one of them…

What you need:
-A piece of leather
-A piece of fabric
-ModPodge
-A large embroidery needle
-String
-Scissors
-Paint brush
*Optional -Sewing Machine
How to make it:
-Cut out a piece of leather – it should wrap most of the way around your wrist but not overlap.
-Cut out a piece of fabric that 1″ longer than the leather.
-Use the ModPodge on the back of the fabric on the part that you want showing on your cuff and place along the top of the leather.
-There should be 1/2″ of extra fabric on each side, cut a line in each that is in line with the top of the leather and fold in the bottom part of each side. Secure with ModPodge.
-Then cut an angle in each of the corners of the top part of the fabric, use ModPodge and fold and secure in place.
-Let the ModPodge dry and use the sewing machine to run a straight stitch across the fabric to make sure it stays in place. (This is optional.)
-Use the wide embroidery needle to push holes through both ends of your cuff. I put 5 holes in each side.
-Then loop your string through the embroidery needle and use it to lace up your cuff.
-Leave extra string at the end and tie knots at the end of each. Make sure you leave enough room so that when you loosen it, it will go on and off your wrist without a problem.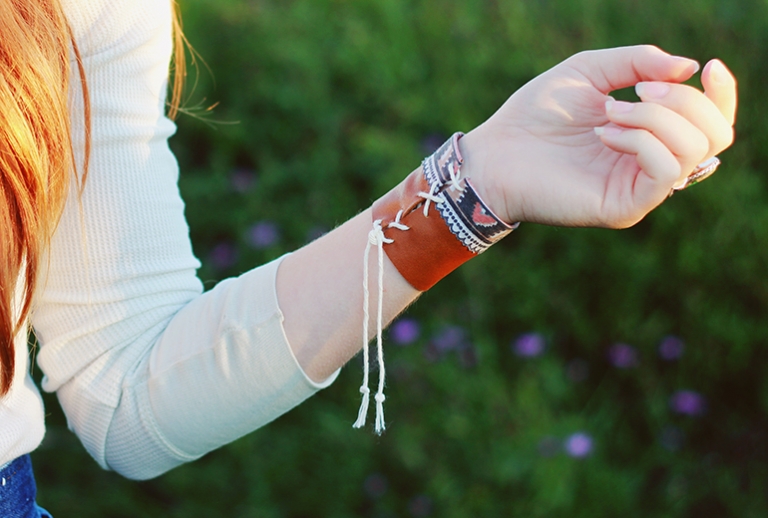 There you go!
Happy Monday!
xo. Caitlin