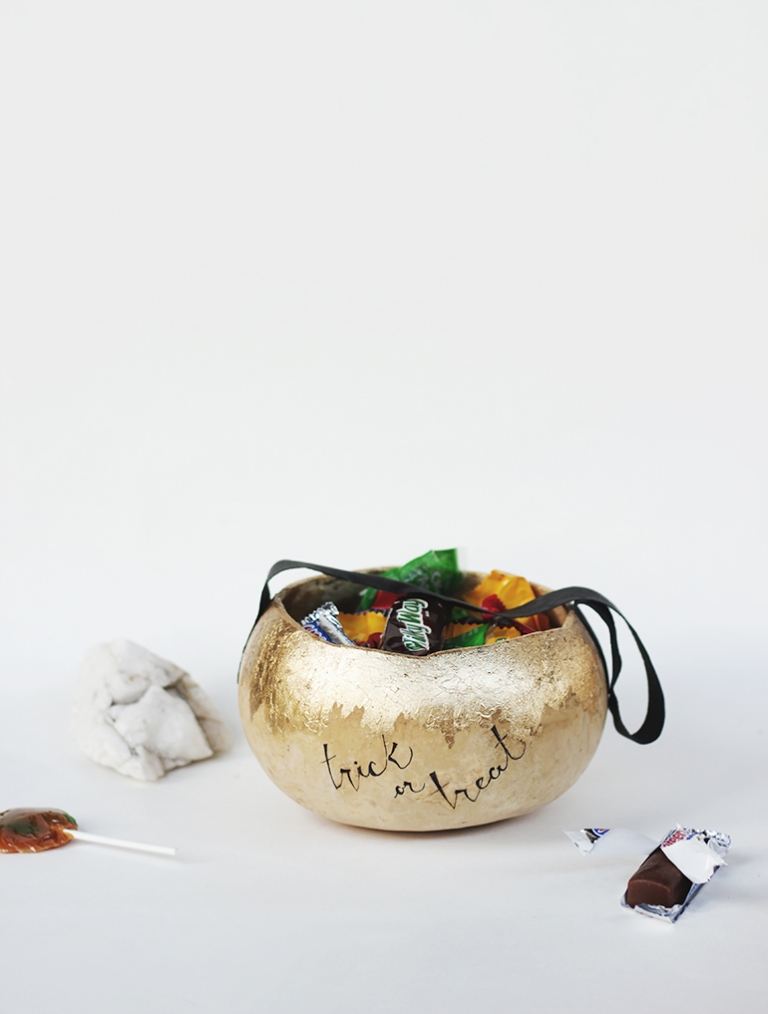 Last year I did a couple projects using dried gourds and I just loved them! So last month when I saw a bunch of dried gourds for fifty cents at a rummage sale, I had to snag them up to use this year. I decided to try out a natural trick or treat basket and finally attempt to use gold leaf. I love how it turned out! I filled it with candy and was swinging it around for pictures so it's definitely strong enough to hold a lot of halloween loot!
What you need:
-Dried Gourd
-Saw
-Sandpaper
-Gold Leaf Kit
-Mod Podge
-Leather
–Super Glue
-Permanent Marker
How to make it:
-If you can't find a pre-cleaned gourd, you will have to soak your gourd in water for 15-20 minutes and scrub off the dirt and dark mold with soap and a wire pot scrubber. And let it dry completely before beginning your project.
-Use a pencil and bowl (or anything round) to draw a line around the top of the gourd. (You may have to cut the thin top part of the gourd off first.)
-Cut along the line using the saw and remove the dried seeds and membrane. Make sure that you are wearing a mask during all of the cutting processes, gourd dust can irritate the respiratory system.
-Sand down edges and inside of the gourd.
-Apply a couple coats of Mod Podge to the inside of the gourd to seal it.
-Follow instructions with gold leaf kit to add gold around the top of the gourd. (I used Mod Podge to seal the entire outside afterwards instead of using the sealer with my kit.)
-Attach a leather handle of desired length using super glue on the sides of the gourd. Let dry completely.
-Use a permanent marker to write out "trick or treat."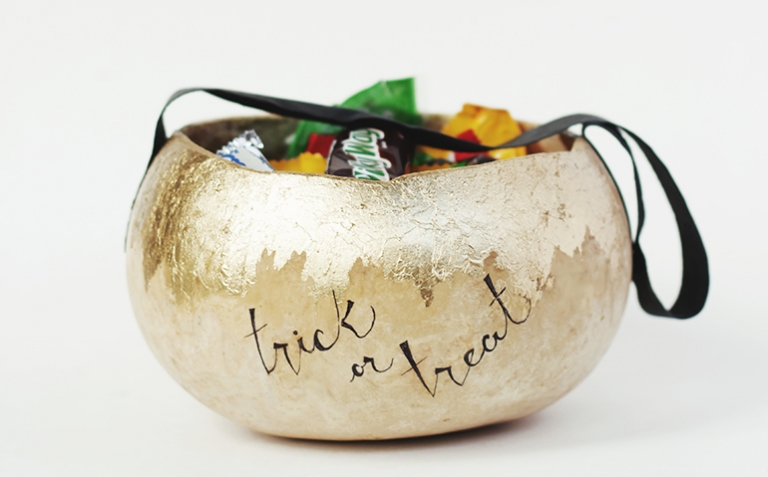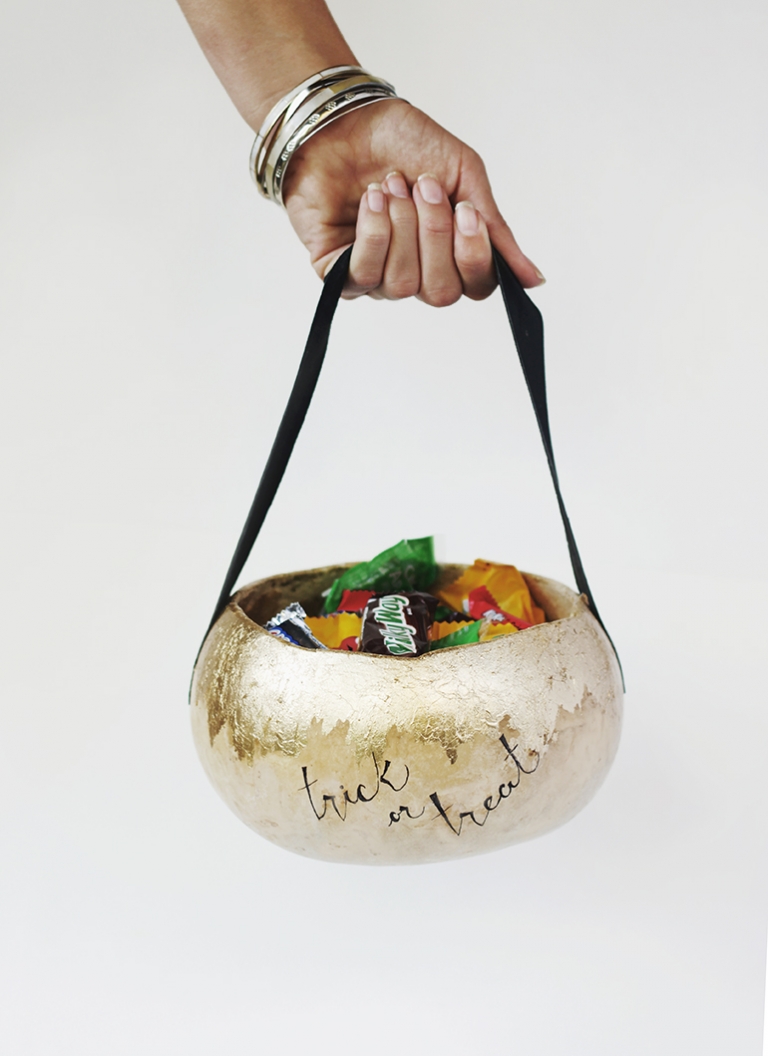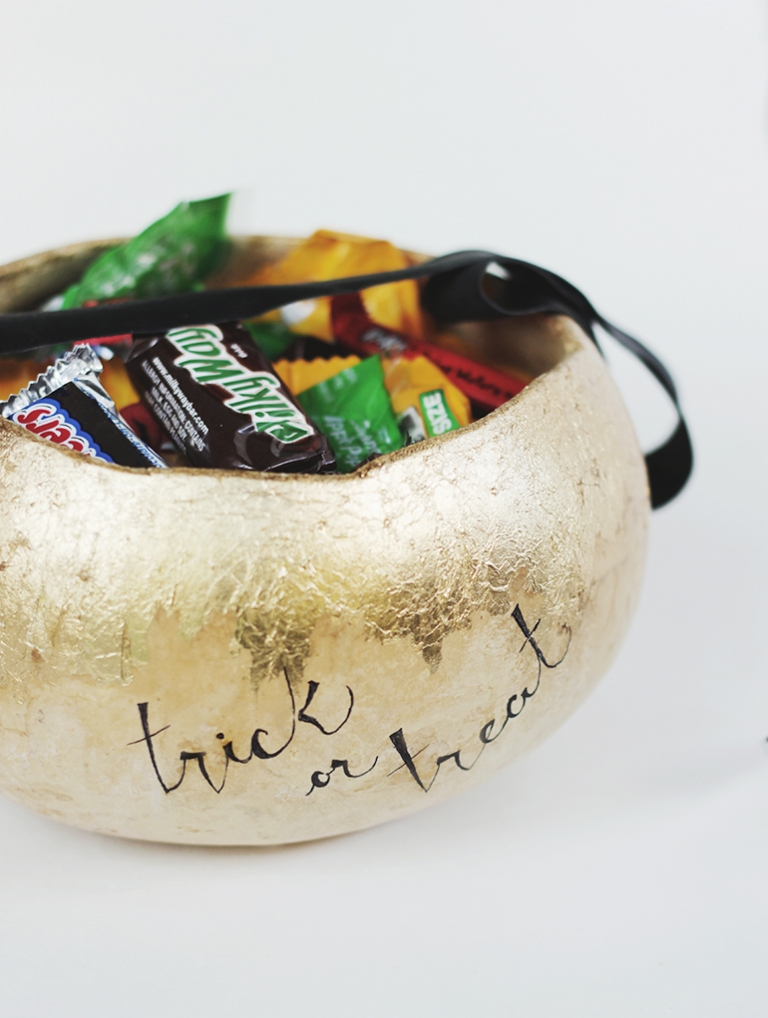 You can also skip the leather handle and just use is as a candy bowl!
xo. Caitlin