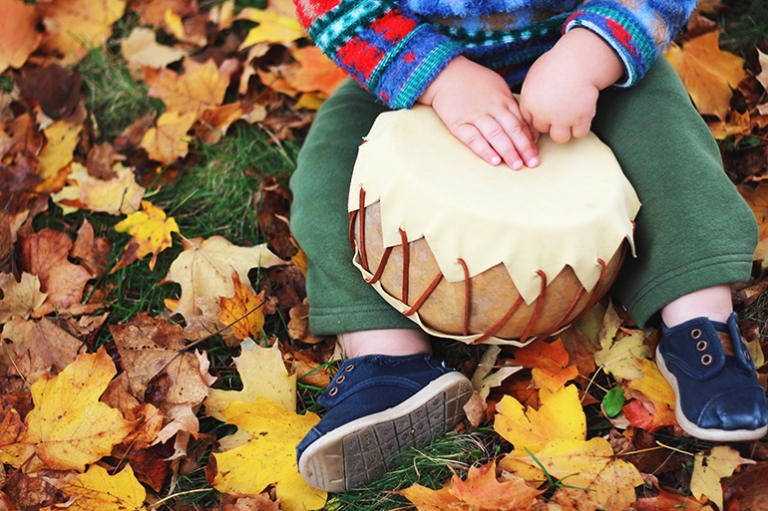 I had a lot of dried gourd leftover after making those gourd bracelets I shared on Poppytalk yesterday. And I had so much fun making the bracelets that I knew I needed to come up with another gourd project to put the leftovers to a good use! So I came up with this little project – a gourd drum!

What you need:
-Dried gourd
-Leather
-Leather lace
-Scissors
-Dust mask
-Pencil
-Miterbox saw
-Super glue
-Shoe polish
How to make it:
-If you can't find a pre-cleaned gourd, you will have to soak your gourd in water for 15-20 minutes and scrub off the dirt and dark mold with soap and a wire pot scrubber. And let it dry completely before beginning your project.
-Use a pencil and bucket (or anything round) to draw a line around the top and bottom of the gourd.
-Cut off both ends along the lines using the saw and remove the dried seeds and membrane. Make sure that you are wearing a mask during all of the cutting processes, gourd dust can irritate the respiratory system.
-On the back side of your leather, trace around each side of the gourd. For the bottom, cut out a circle about 3/4″ larger than the circle you traced. For the top, draw some triangles – making sure the inside points are 3/4″ from the traced circle – and then cut them out.
-Use shoe polish to cover over the outside of your drum. Follow the directions according to the brand you buy.
-Use superglue along the top and bottom edges of the gourd and attach the leather. Be sure to stretch it out so it will be tight enough to be hit and make noise.
-Use a leather punch (or scissors if you don't have one) to punch a hole in the middle of each triangle and a hole in the bottom leather in between the two triangles of the upper.
-Lace the leather lace through the holes and tie the ends together once you've laced all the way through.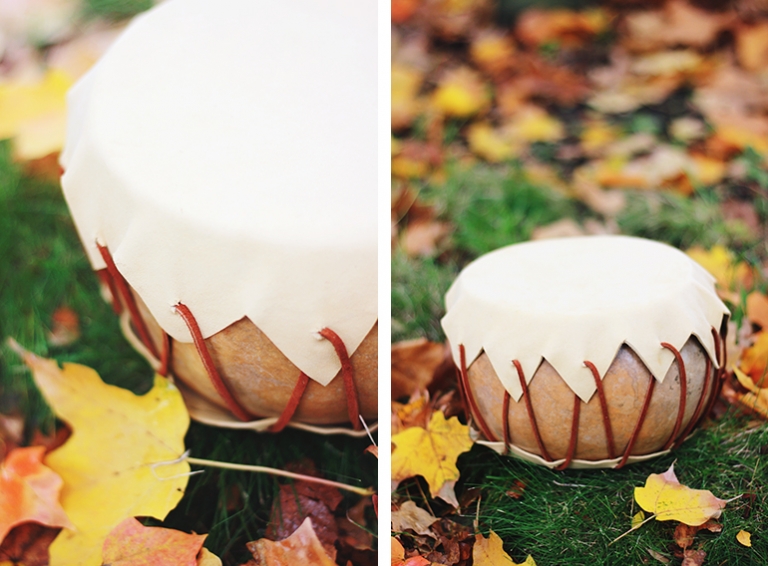 I stole little Abey to shoot these photos and he was the perfect little model and he was loving the drum! How can you not love this sweet little pudge?!
Go make one for a little sweetie in your life!
xo. Caitlin