For our family Christmas, we do "crafty/thrifty" Christmas.  We draw names and you're supposed to try to craft or thrift for your person as much as you're able to.  Some of us stick to this a little better than others (ahem – dad!  Although secretly everyone is hoping dad gets their name because then he'll buy you something fabulous from your list! 😉 ). This year I had Marla as my Christmas person to craft/thrift for (there may or may not have been some cheating – Marla & I both had each other…hmmm).  One of the things on her list was a chevron necklace so I decided I would craft one up for her. I loved how it turned out and decided I should probably make one for myself too.  My favorite thing about this necklace – it's two sided, so I get two necklaces from one.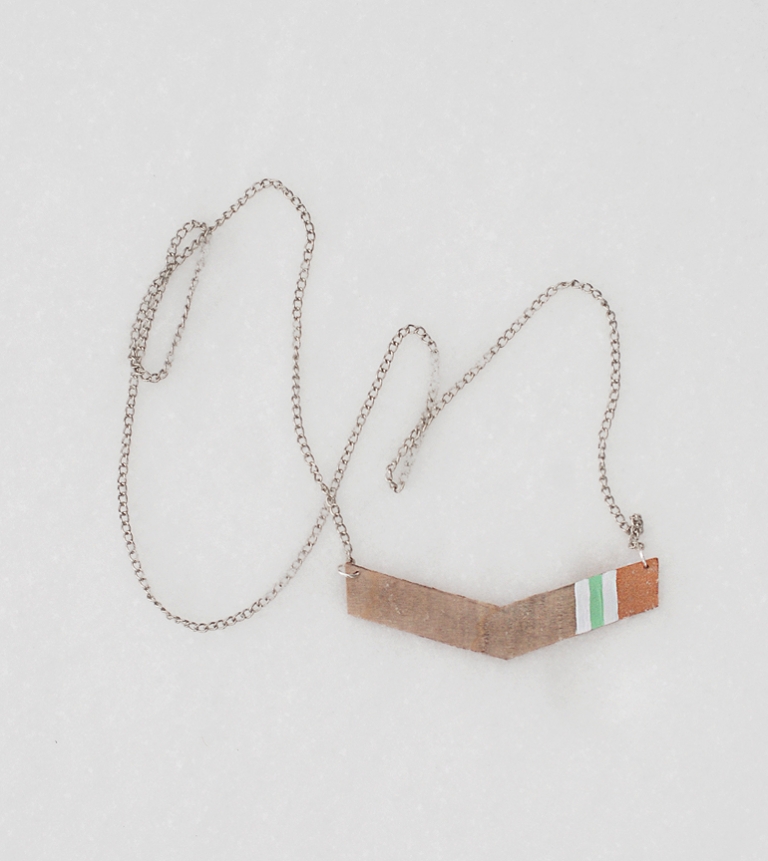 What you need:
1/16-inch sheet of birch plywood (I got mine at Michaels – use those coupons!)

wood veneer (look for wood veneer samples to get a variety for cheaper)

scissors

super glue

clamps (or something heavy)

pencil + ruler

drill bit

necklace chain*

jump rings (make sure they are big enough to fit through both the chain and the wood chevron)

needle nose pliers

sand paper

paint + paint brushes
How to do it:
Cut your two pieces of wood to size. I knew I wanted my chevron shape to be about 3 inches long and about 1/2 inch wide, so I cut my wood into a rectangle a little bigger than that.

Super glue the two pieces together.

Once glued, put the glued piece in a clamp (I put mine in-between two chunks of wood, lined with wax paper, and then clamped the pieces of wood) – or set it under something very heavy, until the glue is dry and set, about 15-20 minutes.

Using a ruler & pencil, measure out and draw your chevron shape.
Cut shape out and lightly sand smooth any rough edges.
Using a small drill bit (or something else that can make a small hole), make two holes where the jump rings will be.

Paint desired shapes/colors on wood.

Cut the necklace chain to size using the needle nose pliers.

Use the pliers to attach the jump rings to both the necklace chain and your chevron piece.
* I made my necklace chain long enough to slip over my head. If yours will not be that long you will need to use a clasp.
You can make this just using the one piece of wood if you'd like. The necklace will be pretty thin and might break easily though.


Yes, my necklaces are sitting pretty on a snow bank…so much snow and coldness here right now. I tried getting some photos while wearing the necklace but the wind chill was -8 and I was freezing and the snow and the wind were too much! Those will have to come at a later date…
Enjoy your weekend! Manda