I spent last week down in Nashville (after car troubles made me a day late, of course) and it was incredible. It's definitely one of my favorite places that I've ever visited. We met so many genuinely kind people, had delicious food, explored some parks, gawked at mansions, went into way too many adorable shops. I just can't get enough! Super thankful for my friends that hosted me while I was there and showed me the city – I'll be back soon!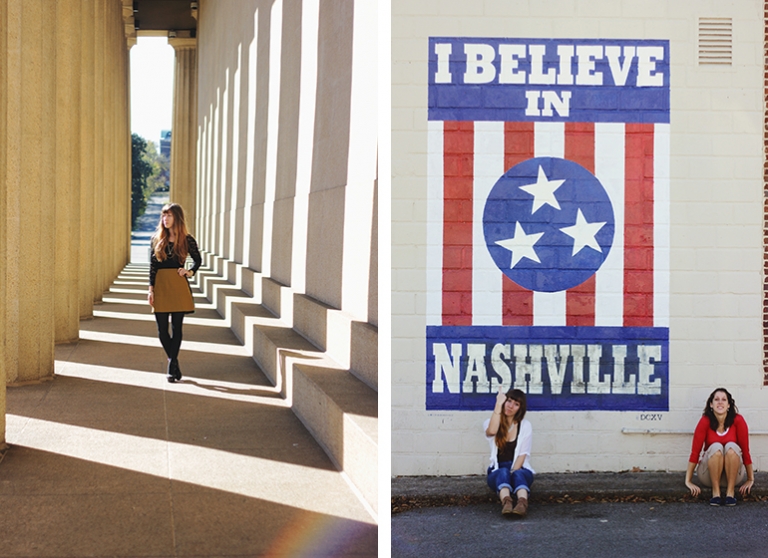 If you happen to be going through Nashville any time soon, here are a few places I loved:
Shops:
–Imogene + Willie (of course) – Incredibly adorable. Amazingly friendly workers. Just so good.
-All of the shops in Liepers Fork – Such a sweet little village.
-Shops in Franklin – Rock Paper Scissors, Philanthropy Fashion, and Anthropologie (obviously) were a few favorites.
Eats & Drinks:
-Fido – I had the Hot Apple Cider. So. dang. good.
-Fox's Donut Den – We had the glazed, maple bacon, apple pie, chocolate dipped, and apple fritter. They were all delicious.
-Loveless Cafe – I had fried chicken, fried okra, mac & cheese, hashbrown casserole (which was my favorite thing) and wayyy too many of their biscuits. It was a long wait but totally worth it!
-Crema – I had a Hot Chocolate which was great but they're rumored to have some incredible coffee too.
-Mas Tacos – I could write an entire post about how incredible this place was but I'll spare you. Just know it has me wanting to drive back just for another bowl of soup. I had the fried avocado taco which was so great and I had a bowl of the chicken tortilla soup which was out of this world delicious.
Walks & Such:
-Radnor Lake – Beautiful trails and views. The deer were just walking all around right next to us.
-Nashville Public Library – So much to explore. I could spend hours in the old magazine section. Home magazines that date back to the late 1800's… unending DIY home project inspiration!
-Love Circle – Most incredible view of Nashville at night. I put a picture up on my IG.
Those are just a few favorites and I'm so excited to go back and add to this list!
xo. Caitlin