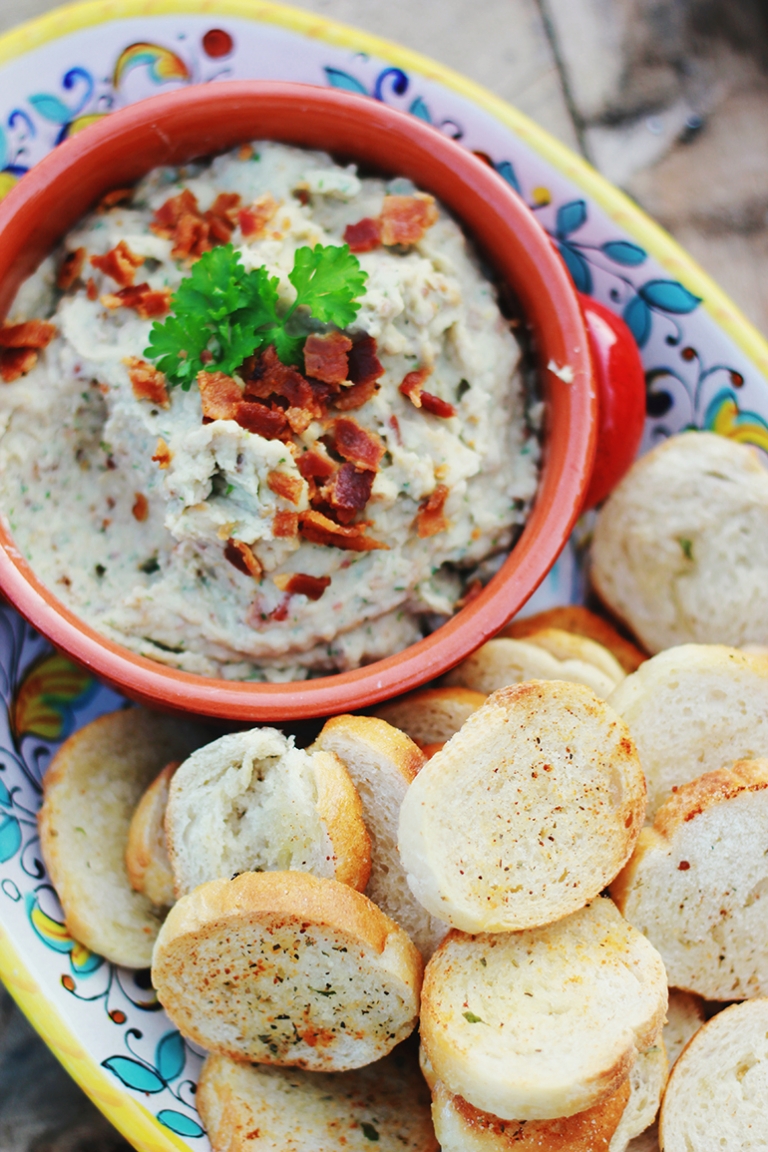 Some of you may remember seeing this dip a few months back at our Farewell Summer S'mores Party. We hosted a little get together with our family and my lovely cousins all volunteered to bring some appetizers to share. We've had a lot of requests for the recipes for the two appetizers in the photo and we finally got on top of tracking these recipes down.  Our apologies for taking so long to do it!  My cousin Jen made this amazing dip and it was fantastic.  In fact, Caitlin's been daydreaming a lot about this dip and I think she's probably the most excited to finally have the recipe.  This dip is fabulous and should probably be on your appetizer menu for one of your holiday parties!  Thanks so much for making & sharing this recipe with us Jen!
White Bean and Bacon Dip
4 slices bacon
1 can white beans (cannellini beans, butter beans, navy beans…)
1 clove garlic, minced
1 tbsp lemon juice
1 tbsp fresh parsley, minced
3 tbsp olive oil
salt and pepper to taste
Cook the bacon until crispy, set aside on paper towel to drain and cool. Drain and rinse the white beans, then add to a food processor with the garlic, lemon juice and parsley. Break the bacon into small pieces (save some to add as garnish on top if desired) and add to the food processor. Blend until combined, about 10-15 seconds. With the food processor on, slowly pour the olive oil until the mixture is smooth.  Put into serving dish and garnish with bacon crumbles and parsley. Serve with toasted baguette slices, pita bread or vegetables for dipping.
Dip can be made in advance and kept in an airtight, refrigerated container for up to a week.
Enjoy! Manda, Caitlin & Jen 🙂
We'll be sharing the other appetizer recipe as soon as we can!
Barely adapted from Fork Knife Swoon