We're definitely feeling some fall-like temperatures around here (finallyyy, although the cold can stay away, I was desperately looking for a break from that vicious heat wave that lasted all summer! I joked that we went to
California
to catch a break from the heat! [but for real, we did – it was so nice to have perfect weather out there!]); which finally has me thinking more about fall foods now – like these whipped feta and pear crostini!
Since pears are currently in abundance around here, I wanted to make a recipe featuring this delicious fruit. One of my current favs for easy and delicious appetizers are crostini. And of course whipped feta, because I'm still thinking that's the bees knees! These little gems are easy to whip up and are soo good! Rosemary has become one of my favorite herbs (mainly due to mocktails) and I love the combination of these flavors! (PS – the little bunches of rosemary on the crostini in these photos were just for looks, unless you're a hardcore rosemary lover, just sprinkle on the chopped rosemary!). These are perfect for fall parties and would be great for all the holiday gatherings in a couple months as well!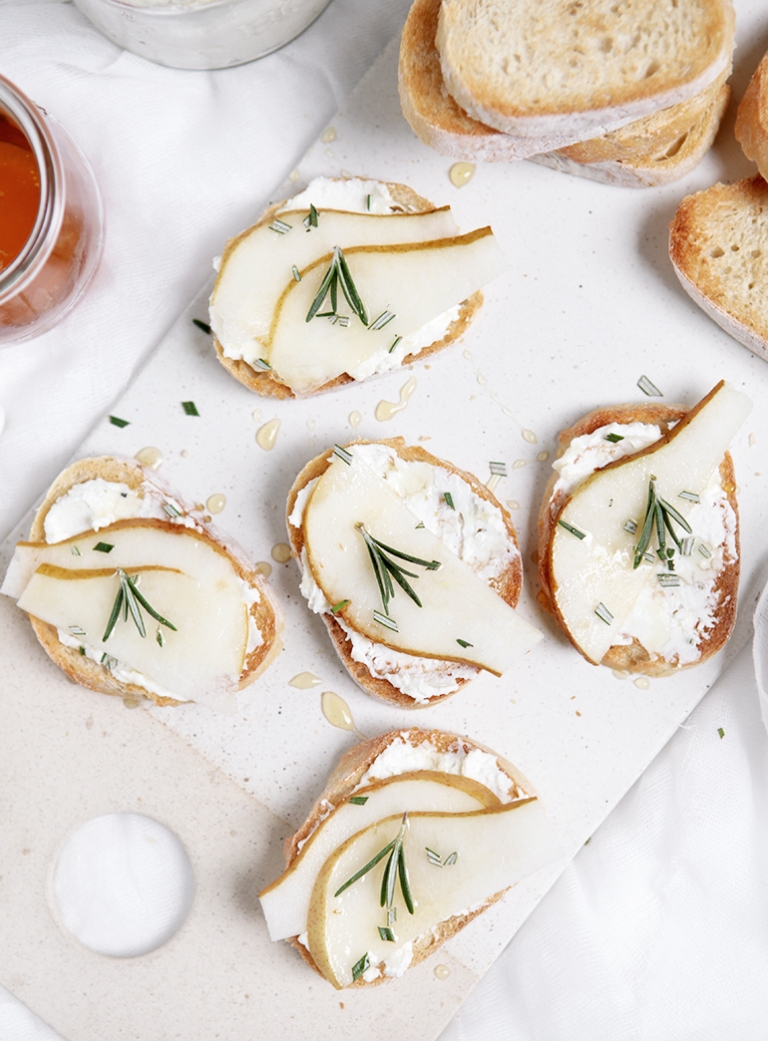 Whipped Feta, Pear & Rosemary Crostini
baguette, sliced & lightly toasted
whipped feta (recipe below)
pears, thinly sliced
rosemary, chopped
honey
Spread whipped feta on toasted baguette slices. Top with pear slices and rosemary. Drizzle with honey and enjoy!
Whipped Feta
6 oz crumbled feta
2 oz cream cheese, softened
1-2 tablespoons of olive oil
salt & pepper to taste
In a food processor, whip together feta, cream cheese, olive oil and salt & pepper. Blend until smooth and creamy (drizzle in more olive oil if you'd like a creamier consistency), about 3-5 minutes, scraping the sides of the bowl as needed.
-Manda