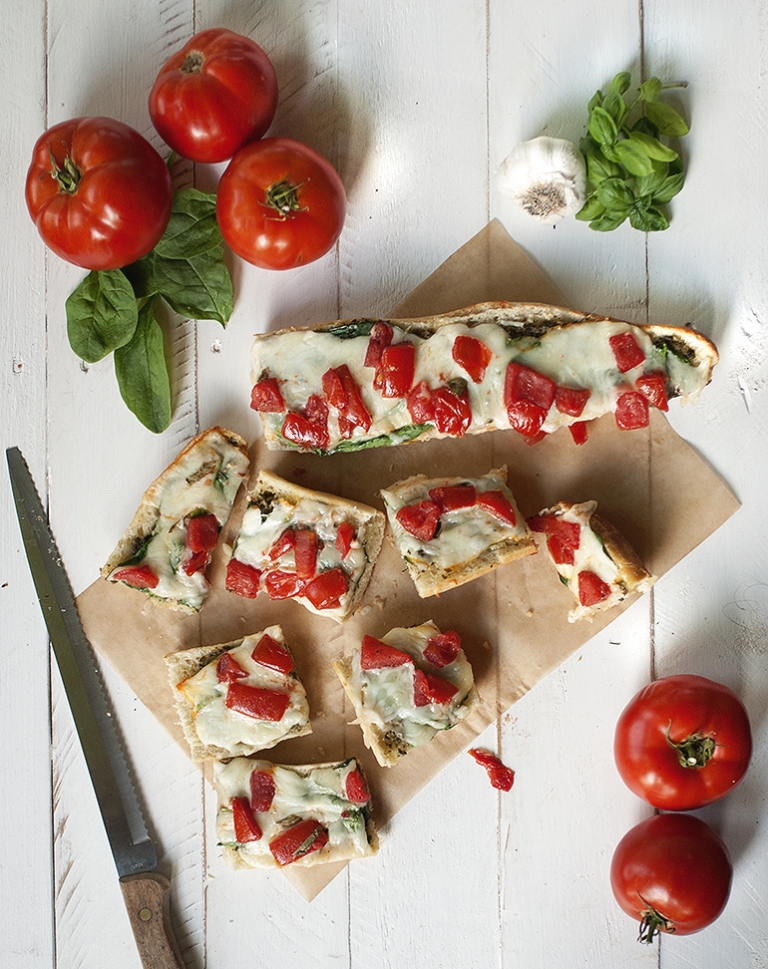 It's tomato season here! My mom's garden is overflowing with tomatoes right now and she's bringing them over to me by the basket full.  I'll gladly take some off her hands to make tomato sandwiches (have you had these before??  For some reason I spent my entire life not eating tomato sandwiches until I read about them on Bleubird's blog a while back; and apparently everyone else in my family has been enjoying them without cluing me in…they are my Gramma's favorite sandwich!), a batch or two of fresh salsa and this bread!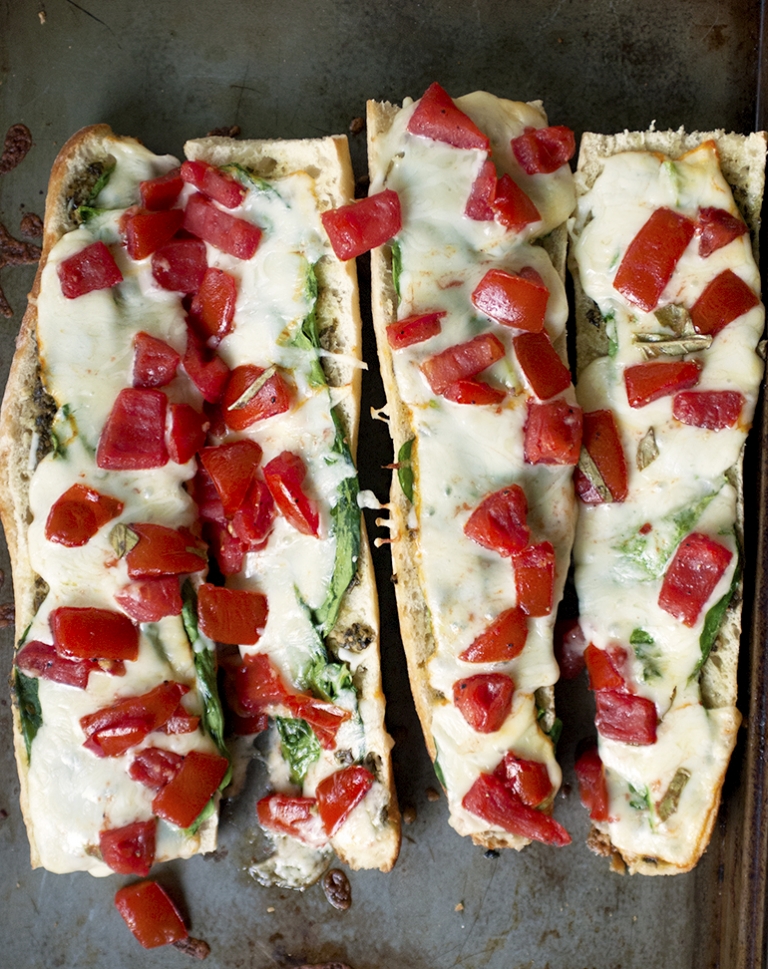 Years ago Mike and I went to Pizzeria Uno for dinner. We ordered the Tuscany Bread for an appetizer and it was love at first bite! Crusty bread, pesto, spinach, melty cheese, tomatoes! The restaurant near us took it off the menu shortly after that, and I'm so glad they did because I began making my own version at home based off the ingredients listed on the menu. And it's so, so good! And pretty quick & easy to throw together! It's become one of my favorite appetizers (and it makes a nice lunch too!).  I'm not sure if any of the restaurants have this on their menus anymore (it's been years since I've been to one), but with this homemade version, I'm perfectly content to make my own! (But forever grateful for the inspiration Uno's!)


I did my best to come up with specific measurements, however I never measure anything for this. So if something seems a little off, that's why!  (I just wanted to give you a basic idea of how much you would need for those that need it for a grocery list.)  I just throw on what looks good, and I recommend doing that. Make a few loaves, figure out what you'd like a little more of or a little less of on yours.  It's an easy, forgiving recipe so you don't need exact measurements.
Tuscany Bread
all measurements are an approximation…use what looks good to you
loaf of bread – ciabatta, Italian, French (pick your favorite – I love it on ciabatta)
2 tablespoons melted butter
2-3 cloves of garlic, minced
2 medium size fresh tomatoes*, diced
a few leaves of fresh basil, thinly sliced
salt & fresh cracked black pepper – to taste
1 tablespoon olive oil
basil pesto sauce
baby spinach leaves
5 slices muenster cheese
3/4 cup shredded mozzarella
Preheat oven to 350º. Stir one clove of the minced garlic into the melted butter, set aside. In a small bowl combine diced tomatoes, 1 or 2 cloves of the minced garlic, basil, salt & pepper and olive oil. Stir gently and set aside. Slice your bread horizontally. Brush a thin coat of the garlic butter on the bread.  Spread a layer of basil pesto sauce on that.  Top pesto with baby spinach leaves, covering the bread generously.  Top spinach with muenster cheese slices and sprinkle shredded mozzarella on top.  Top the cheese with the seasoned tomatoes.  Bake for 10-15 minutes or until cheese is good and melted!
*If you'd like to take a shortcut and used diced canned tomatoes (try to find ones that are seasoned), I won't tell and it will still be delicious!

-Manda