When it comes to good coffee, I tend to geek out a tiny bit + sound like a little bit of a coffee snob. It's what happens when you've been drinking really good coffee for years…you just can't settle for anything less. Here in the Rochester area, we are extremely lucky to have so many great coffee shops, which roast their own coffee beans and know how to brew up a really good cup. Even though I do love all of our amazing coffee shops, savoring a really great cup of coffee every morning at home is a must for me, so we've been perfecting that over the last few years. And by we, I mostly mean Mike, because he's our official coffee roaster/maker. (But I do make sure to keep up to date on all the methods & how-to's, because a girl needs to be able to fend for herself…I just let him make my coffee every morning because that's what a smart wife + good husband do! 😉) We were so excited to be able to partner with OXO to try out their new line of coffee products,
OXO Brew
, and see how these could help make our coffee experience a little easier and taste even better.
Really, it's so easy to make good coffee at home, so we wanted to share a few things that we do & love that will help give you a better cup of coffee. A few years ago, we shared a
DIY
for roasting your own coffee beans. We're still roasting our own beans and yes, this really helps give you great coffee, but even if you don't want to put in quite that much work, you can still have delicious coffee. Just make sure you're buying fresh coffee beans, I'd recommend checking your local shops and seeing if they roast/sell their beans.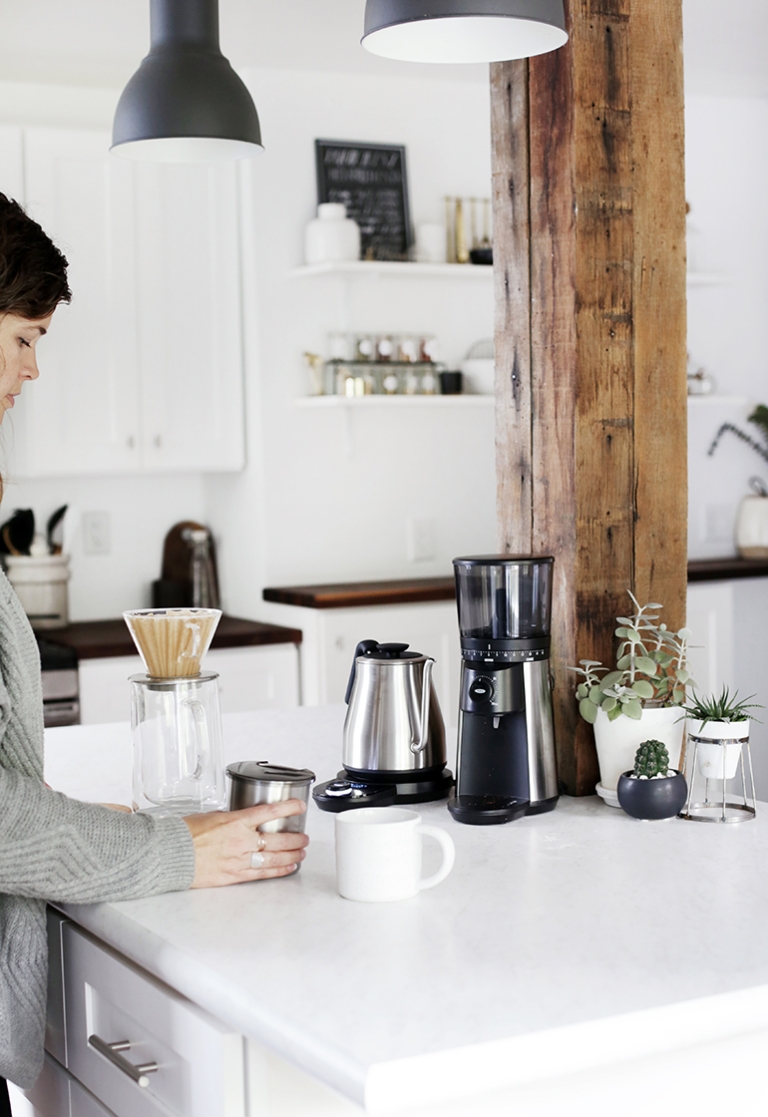 Besides roasting our own coffee beans, grinding whole beans is another must for us – it just gives you a more delicious, fresh tasting cup of coffee. We've been using a burr grinder for a few years, but were having a few issues with the one we were using, so I was excited to try out the
OXO Brew Conical Burr Grinder
. A burr grinder grinds the beans more uniformly, which will give you a more balanced (ie: better) cup of coffee. So, if you're trying to up your coffee game at home, it is definitely worth it to splurge and pay a little more for a burr grinder. Trust me. With this grinder you can choose from 15 different size settings, from fine for espresso to coarse for French press – which comes in really handy since we use a variety of brew methods here at home depending on what kind of drink/recipe we're creating. Two other things about this grinder I love: it's quieter than our old one (yay!), and it's slightly smaller in size, so it takes up less counter space (yay!).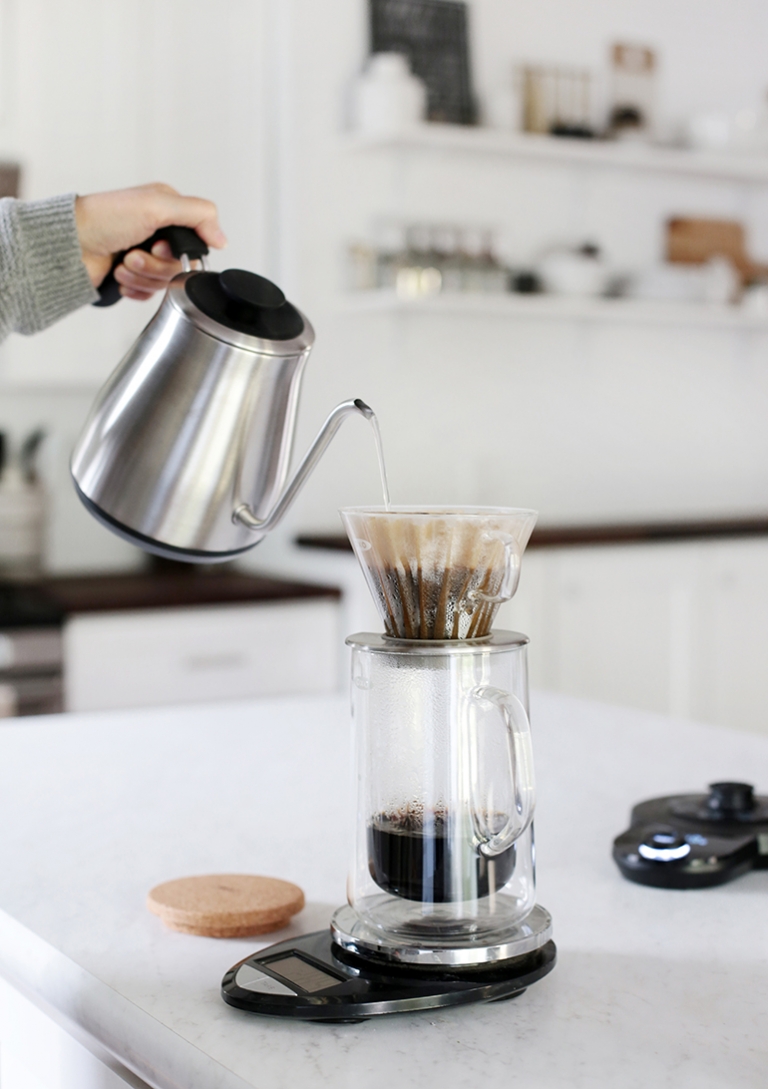 For brewing coffee, our favorite method is pour-over. It gives a clean, good cup of coffee, and even though some view it as more work/more time, the taste of the coffee is so worth it! It's what we do for our everyday coffee and even for company. I immediately fell in love with the
OXO Brew Glass Pour-Over Set
because of the pretty, simple design and because you can make up to 4 servings in it. Perfect for company! You can also use the hand-blown borosilicate glass dripper to brew right into your mug.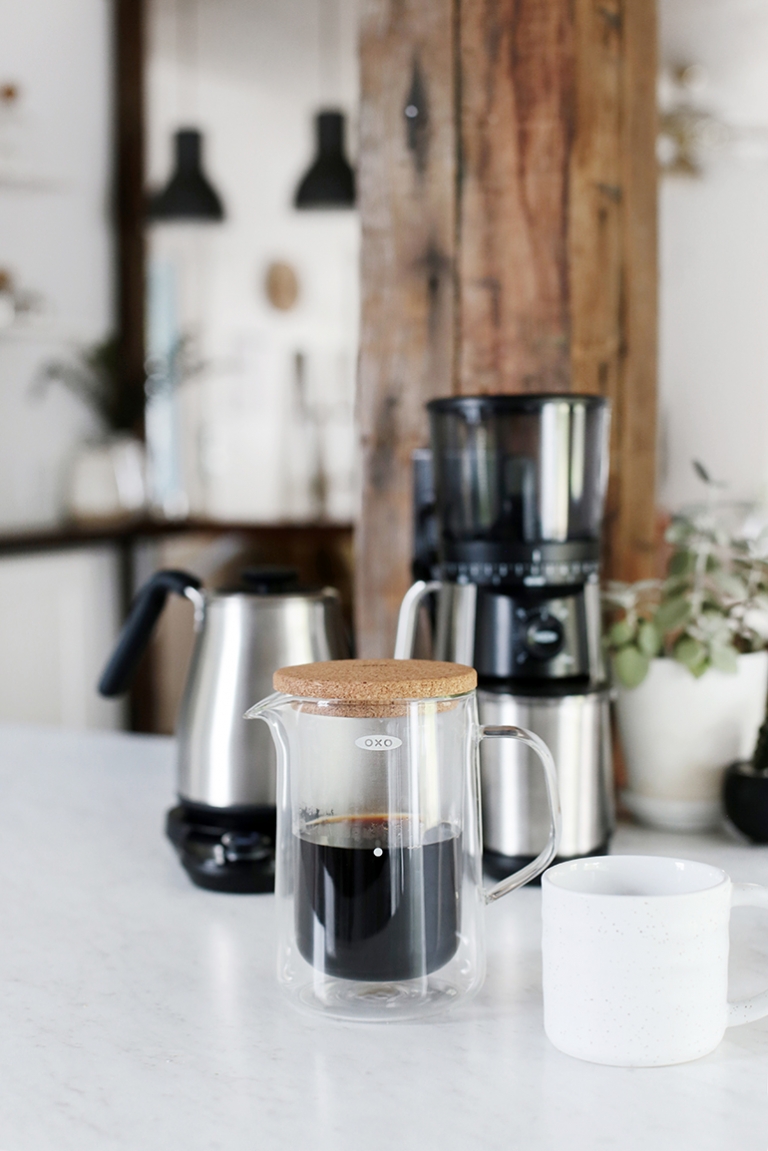 With pour-over, using a gooseneck kettle makes pouring so much easier and gives you more control. The
OXO Brew Adjustable Temperature Pour-Over Kettle
is quickly becoming one of my favorite kitchen gadgets. Not only can you choose and set your water temperature (the right water temperature is important for brewing that perfect cup – you want it somewhere between 195ºF-205ºF for pour-over) there's also a timer feature so you can time your pours. One of the things I love about this kettle is there's a handy guide on the base of the kettle that tells what temperature works best for what kind of drink you're making – for teas and coffee! It will also keep your water heated to your set temperature for up to 30 minutes, which is sooo nice, especially for all the parents that have kids coming in and distracting them at the exact minute the water is heated & ready, not that we know from experience or anything! No more need to keep reheating the kettle – yay!
One of the other things that I love to do with coffee is create specialty drinks at home. While nothing beats a mug of hot coffee with a touch of cream in it for me, I like to treat myself to specialty coffee drinks now & then. I usually end up never liking the ones they sell at coffee shops because they're too sweet; and the price of these drinks is always 😳. And while we do have an espresso machine at home, I actually don't ever use it; Mike does and will make us drinks with it sometimes, but I'm too lazy to learn how and then to deal with all the things that will need to be washed after, ha! So, I come up with ways to make my specialty coffee drinks in the simplest ways possible. I thought I'd share a recent favorite recipe, so you can enjoy it with the new coffee making skills/equipment you just learned about. 😉 And, while this drink isn't a true latte because there's no espresso or steamed milk, the taste and texture of this drink is so good, you won't even mind!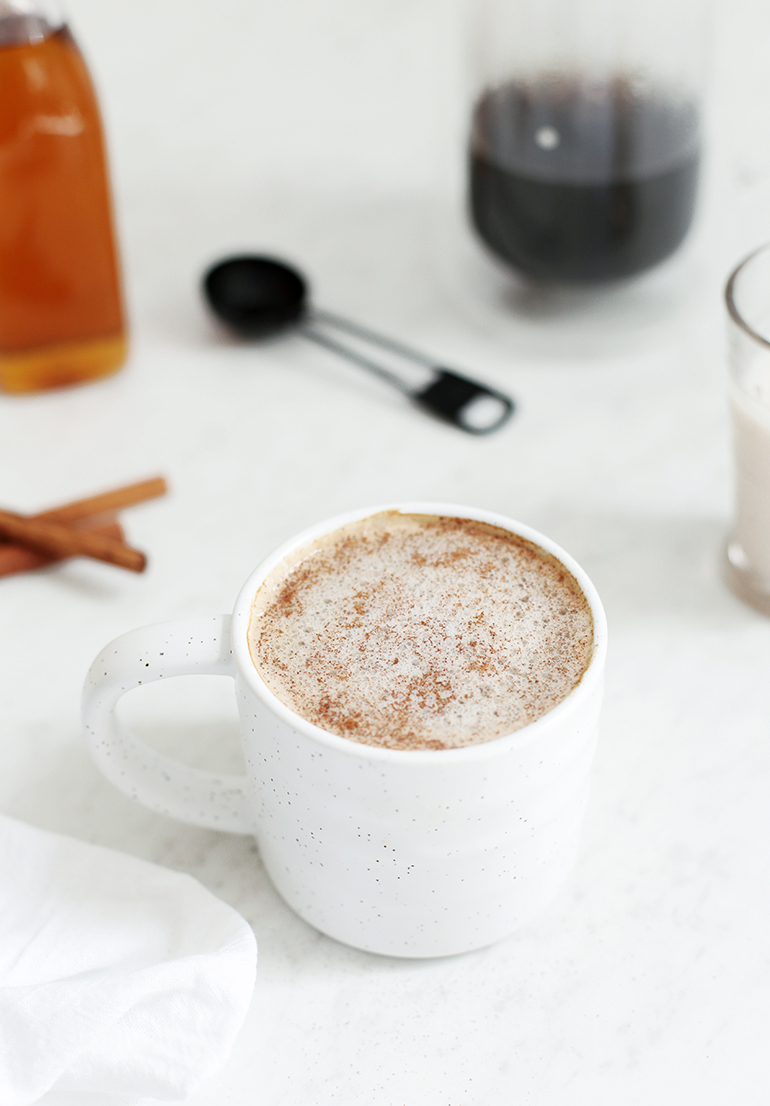 Simple Maple Latte
A simple recipe for a delicious, creamy maple latte at home (no fancy equipment needed)! 
Ingredients
1/2

cup

milk

1

tablespoon

maple syrup,

more or less depending on taste

3/4

cup

strong black coffee

pinch

of ground cinnamon,

optional
Instructions
Heat milk and maple syrup until almost boiling.   

Use immersion blender to whip milk until frothy. (If you don't have an immersion blender you can just whisk it vigorously for a minute or so).

Pour hot coffee into a mug, top with frothed milk.

Garnish with a sprinkle of cinnamon if desired.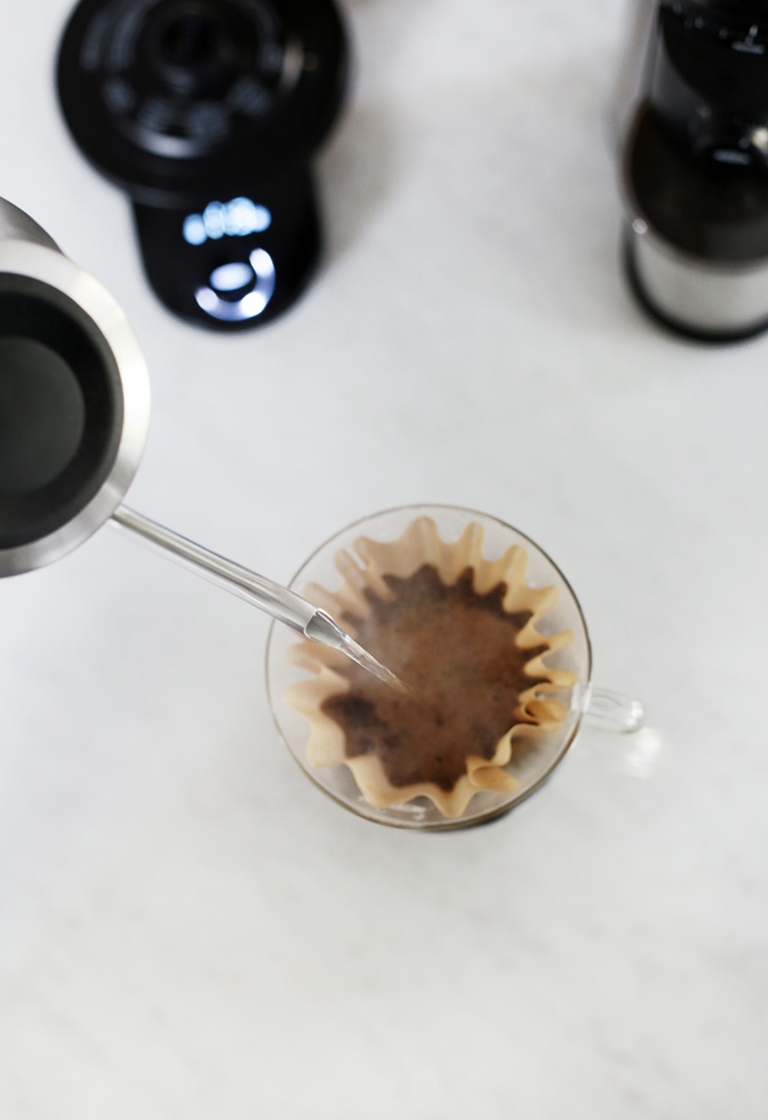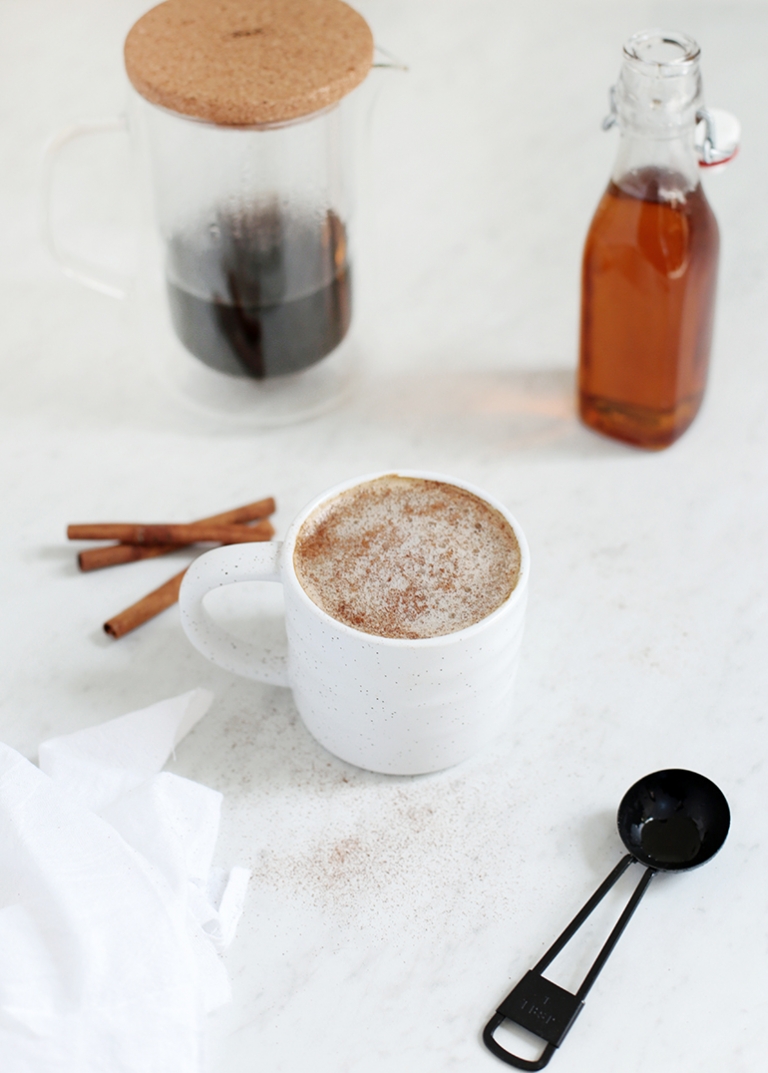 So, tell me about your perfect cup, because I'm a coffee nerd and love to hear all about it. How do you prefer to brew your coffee? And would you do any of the above methods or do you think we're a bit crazy with our coffee rituals? 😉 Don't worry, you won't hurt my feelings, you'll just need to stop in for coffee sometime to see how worth it it really is!
Sponsored by OXO. All ideas, thoughts and opinions expressed are our own. Thanks for supporting the brands that keep us bringing fun, new content to you!