We're deep into spring at this point so it's finally gardening season in New York! My asparagus plant that I planted 5 years ago is finally giving us a thin little harvest. I never knew how long it took asparagus to start producing enough for you to eat! Thankfully, at my aunt and uncle's garden the asparagus has to be harvested every day and there is a BUNCH! So we've been making a bunch of asparagus lately! I tried to make some roasted sesame asparagus this week and it turned out so good so I'm going to share the recipe! I even had my cousin's boyfriend try it who isn't an asparagus fan, and he said it wasn't bad! Ha!
Roasted Sesame Asparagus Ingredients:
fresh asparagus
sesame oil
low sodium soy sauce
fresh garlic
fresh ginger
brown sugar
red pepper flakes
salt and pepper
sesame seeds
I like to mix all the ingredients up together besides the asparagus and sesame seeds. Then I start the asparagus on a pre-heated pan over medium heat and add the sauce to the pan, mixing everything up to make sure the asparagus is totally coated in the sauce. I cook it until it has some browned spots but still has a bit of crunch to it.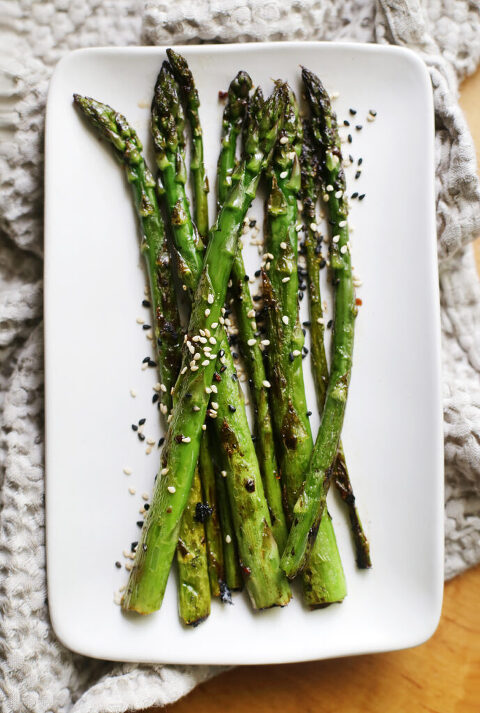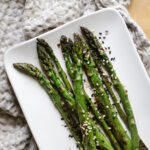 Roasted Sesame Asparagus
Ingredients
1/2

lb

asparagus

1

tbsp

sesame oil

1

tbsp

low sodium soy sauce

2

cloves

fresh garlic, minced

1/2

inch

knob of fresh garlic, grated

1/2

tsp

brown sugar

pinch

of red pepper flakes

salt and pepper to taste

1

tbsp

sesame seeds as garnish
Instructions
Combine all ingredients in a bowl except the asparagus and sesame seeds.

Heat pan over medium/medium-low heat.

Stir to fully coat asparagus.

Cook until asparagus has some browning and remove from stove.

Sprinkle with sesame seeds and serve immediately.