Every year around this time I start craving lemon desserts. I want everything I eat to taste like spring! Especially this year, when it seemed to take so long for any kind of spring-like weather to show up around here. (And we still have snow predicted in our upcoming forecast…nooo!). If we can't get mother nature to bring spring to our doorstep, we can at least have it on the table!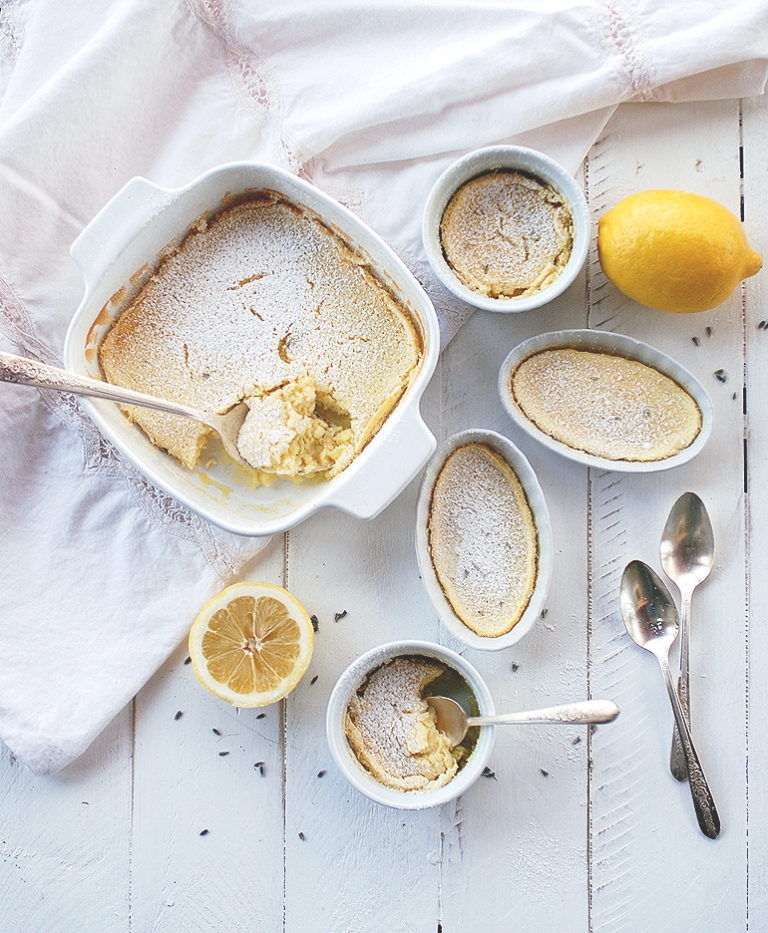 I spotted this recipe in Better Homes and Gardens and thought it sounded like a perfect spring-y dessert. I've been wanting to try lavender in a recipe and I've never made pudding cake before.  The texture of pudding cake is not exactly my thing, but the flavor of these cakes is delicious and tastes like spring on a spoon!  The lavender was pretty subtle, although I did add extra lemon juice to mine, so that may have over-powered the lavender more than it should have, but I just can't get enough of that sweet, tart lemon flavor, so I had to add more!  These would make a perfect addition to your Easter menu!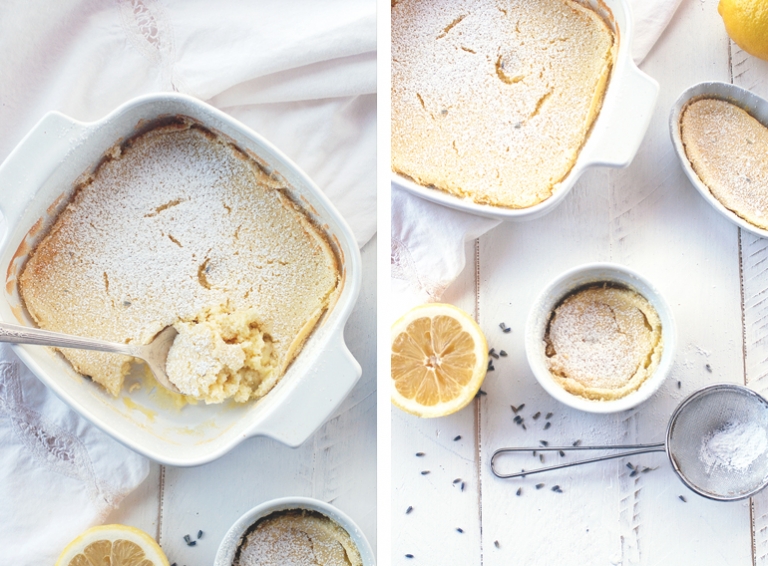 Lavender Lemon Pudding Cakes
1 cup milk
1 tablespoon dried lavender
2 lemons
6 tablespoons granulated sugar (+ more for baking dish)
1/4 cup all-purpose flour
1 tablespoon butter, melted
3 eggs, separated
coarse or rock sugar + 1/2 tsp. dried lavender – optional
powdered sugar – optional
Preheat oven to 350 degrees F.
In a small saucepan combine milk and 1 tbsp. lavender over medium heat until just simmering. Remove from heat; let stand for 15 minutes. Strain; discard lavender.
Finely shred 1 tbsp. peel from lemons. Juice lemons (about 1/4 cup, I used a little extra). Set aside. Grease ramekins, custard cups, or baking dish, sprinkle each with sugar tapping out any excess. Set aside.
In a large bowl combine 2 tbsp. granulated sugar and the flour. Whisk in lemon peel, lemon juice, and melted butter until smooth. In a small bowl whisk together egg yolks and strained milk. Whisk milk mixture into flour mixture until smooth; set aside.
In a small bowl beat egg whites with an electric mixer on medium speed until soft peaks form (the tips will curl). Gradually add remaining 4 tbsp. sugar, beating on high speed until stiff peaks form (the tips will stand straight). Stir a small amount of the egg whites into the lemon mixture to lighten. Fold in remaining egg whites (batter will be thin).
Pour batter into prepared dishes, filling each three-fourths full; place in a shallow baking pan. Bake 20 minutes or until tops spring back when lightly touched. Remove pan from oven and cool cakes on a wire rack for 5 minutes.
Optional – Place remaining dried lavender and rock sugar in a blender. Cover; blend until fine. Sprinkle over cakes. Dust with powdered sugar. Serve warm.
Barely adapted from: Better Homes and Gardens

What's your favorite spring treat?
Happy Monday!
-Manda