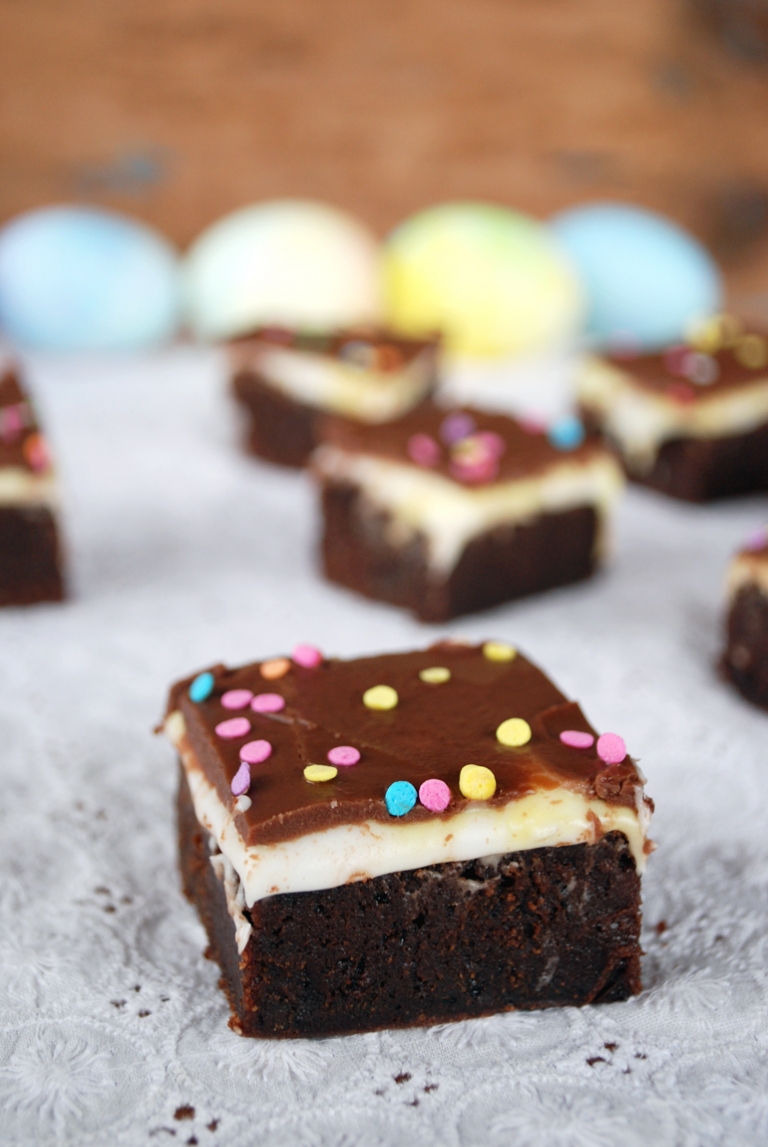 Last week was a pretty rough week around here.  I won't go into details, but it was up there with bad weeks.  And then on Monday, on my to-do list, was buy Easter candy (I'm an Easter bunny in case you didn't know).  And that little trip to Target, to the back corner of the store, made everything seem a little bit better after such a rough week.  Mini cadbury eggs, peeps, cadbury creme eggs, robin eggs, jelly beans…every bag tossed into my red cart made my heart feel a little lighter.  And I knew, this was going to be a better week.  Easter candy…how do I love thee!


My friends, if you happen to be a Cadbury Creme Egg lover and a brownie lover, you should probably drop everything and go make these now (unless you're holding a small child, then please hold on tight!). I know not everyone's a fan of creme eggs, if that's you, make the brownies without the topping, so worth it! I've had these brownies on my to-make list forever. And now I'm wondering why I took so long to try them out. They are amazing.  Amazing.  And adding a bit of creme egg filling goodness and milk chocolate to the top, well, pour me a tall glass of really cold milk and call me content. Of course, if you're in a hurry and need a fun, yummy Easter dessert, using a box brownie mix with the topping will do just fine too. Nothing wrong with box brownies. But at some point, you need to make these brownies!

CREME EGG BROWNIES
For Brownies:
1¼ cups all-purpose flour
1 teaspoon salt
2 tablespoons dark unsweetened cocoa powder
11 ounces dark chocolate, coarsely chopped
1 cup (8 ounces) unsalted butter, cut into 1-inch pieces
1 teaspoon instant espresso powder
1½ cups granulated sugar
½ cup packed light brown sugar
5 eggs, at room temperature
2 teaspoons vanilla extract
Preheat the oven to 350 degrees F. Butter the sides and bottom of a 9×13-inch glass or light-colored baking pan. Line the pan with parchment paper, leaving some hanging over the sides (this will make it easy to lift out and cut).
In a medium bowl, whisk the flour, salt, and cocoa powder together.  Set aside.
Put the chocolate, butter and instant espresso powder in a large bowl and set it over a saucepan of simmering water, stirring occasionally, until the chocolate and butter are completely melted and smooth. Turn off the heat, but keep the bowl over the water and add the sugars. Whisk until completely combined, then remove the bowl from the pan. The mixture should be room temperature.
Add 3 eggs to the chocolate mixture and whisk until combined. Add the remaining eggs and whisk until combined. Add the vanilla and stir until combined. Do not overbeat the batter at this stage or your brownies will be cakey.
Sprinkle the flour mixture over the chocolate mixture. Using a rubber spatula (not a whisk), fold the flour mixture into the chocolate until just a bit of the flour mixture is visible.
Pour the batter into the prepared pan and smooth the top. Bake in the center of the oven for 30 minutes, rotating the pan halfway through the baking time, until a toothpick inserted into the center of the brownies comes out with a few moist crumbs sticking to it. Let the brownies cool completely.
For Cream Filling:
1/2 cup light corn syrup
4 tablespoons unsalted butter, room temperature
1 teaspoon vanilla extract
1/4 teaspoon salt
3 cups powdered sugar
milk, as needed
yellow food coloring
For cream filling, beat together corn syrup, butter, vanilla, and salt on medium-high speed until smooth. Add powdered sugar, a little bit at a time, mixing until creamy. If filling seems too thick, add milk, a little at a time, until it is a consistency you can spread (but don't make it too thin!). Pour 3/4 of the cream mixture on top of cooled brownies and spread into an even layer. Add a drop or two of yellow food coloring to remaining cream mixture and stir until evenly colored. Drop dollops of yellow cream on top of white layer, and then swirl gently with a spatula. Refrigerate for at least 2 hours or until set. (I put mine in the freezer till it was set and it turned out just fine and saved a lot of time! I think I had it in for about 15-20 minutes.)
For Glaze:
6 ounces milk chocolate, chopped
4 tablespoons unsalted butter, cut into cubes
Gently melt chocolate and butter together in a double boiler or a small saucepan set over low heat. Stir until smooth. Pour over cream filling, carefully spreading into a thin, even layer. (Add sprinkles at this point if desired). Return to refrigerator and chill until set, at least 30 minutes. (Again, used the freezer for this part…I'm so impatient!) Using a large sharp knife, cut into squares and serve.
(Recipe adapted from: brownies: Brown Eyed Baker, creme topping: Love & Olive Oil)
Have a wonderful Easter weekend friends! He is risen!  Manda