Did you know tomorrow is Pi Day? March 14th … 3.14… And now it's turned into an actual celebration with pie, and I can get on board with that! Math stuff, not so much – but an excuse to bake a pie, sure thing! I've never remembered on time, I usually see photos of delicious pies the day of, or day before, and think, "shoot, another year has gone by without remembering!". This year though, I remembered!


I've also always been wanting to join in our friend, Rebekah's, Friday Pieday series she does on her blog, A Bit of Sunshine, with her kiddos! I think it's such a sweet idea to bake a pie every week (or at least every now & then 😉 ) with your kids. Rebekah recently shared her story on dealing with Post Tubal Ligation Syndrome on her blog and my heart just ached for her. You can read her story here. I so admire her courage & vulnerability in sharing such a personal story and bringing light to a topic that most of us haven't even heard of. Having gone through a scary situation involving hormone-related medications last summer, my heart just goes out to Rebekah. So my friend, this post, this pie, is for you! I'm praying that God brings healing and relief to you!


Levi and I made this delicious chocolate chip cookie pie together. It was actually the second time I made it (within a week!) – I wanted to change a couple things to be sure that it was just perfect. And this pie, served warm with a couple scoops of ice cream on it, is just that – perfect! It's like a cookie fresh from the oven, warm & gooey with melty chocolate, in pie form!  It's definitely going to be one that I make again & again!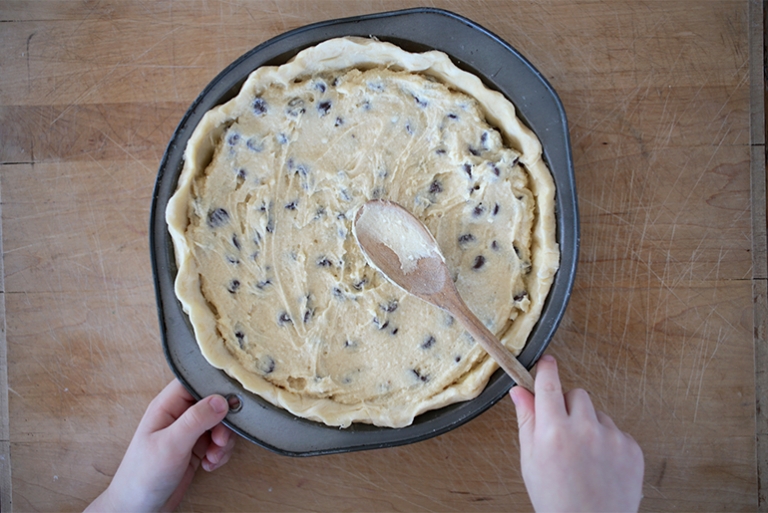 Of my boys, Levi is usually the most likely to wind up in the kitchen wanting to help me bake. But I think you can tell from the photo below why he's always begging to helping mommy…
I had fun with my little helper – it was nice to have a time when I knew things would be going a little slower and be a lot messier, so that it wasn't as frustrating for me!  Hopefully we'll have some more Friday Piedays in our home to share here with you!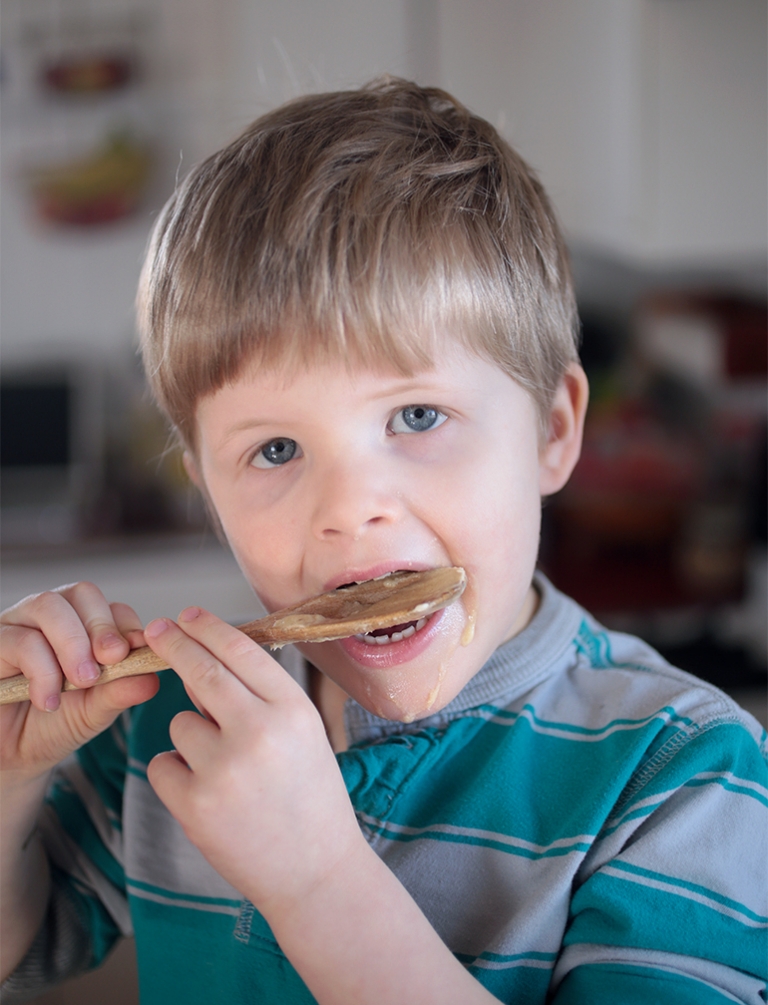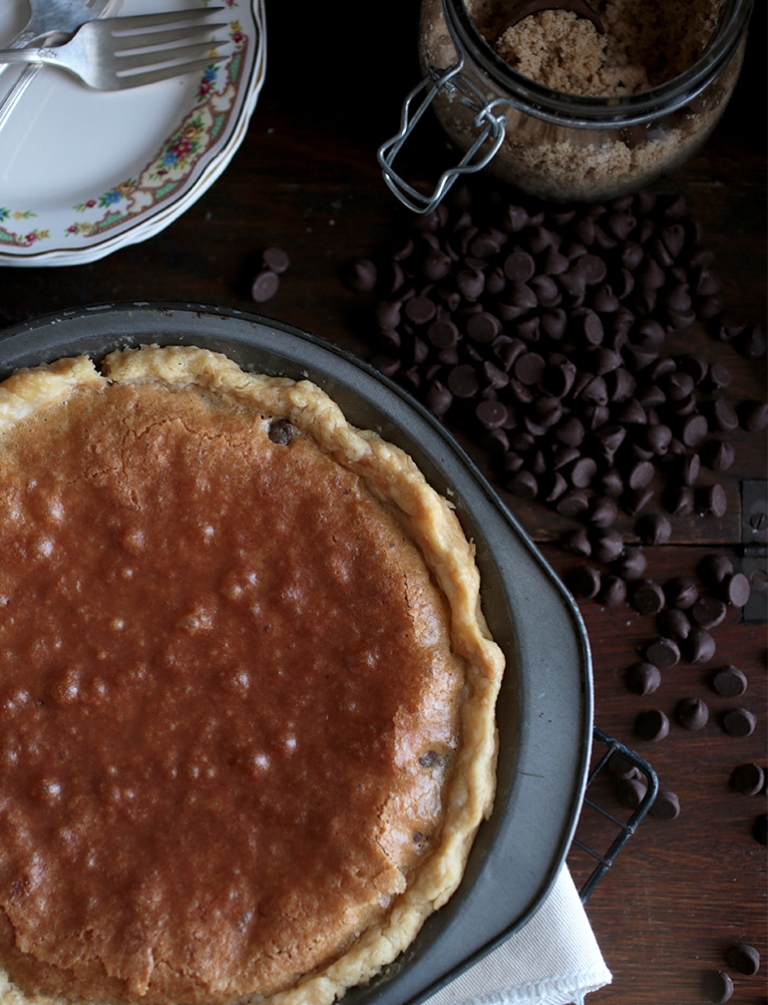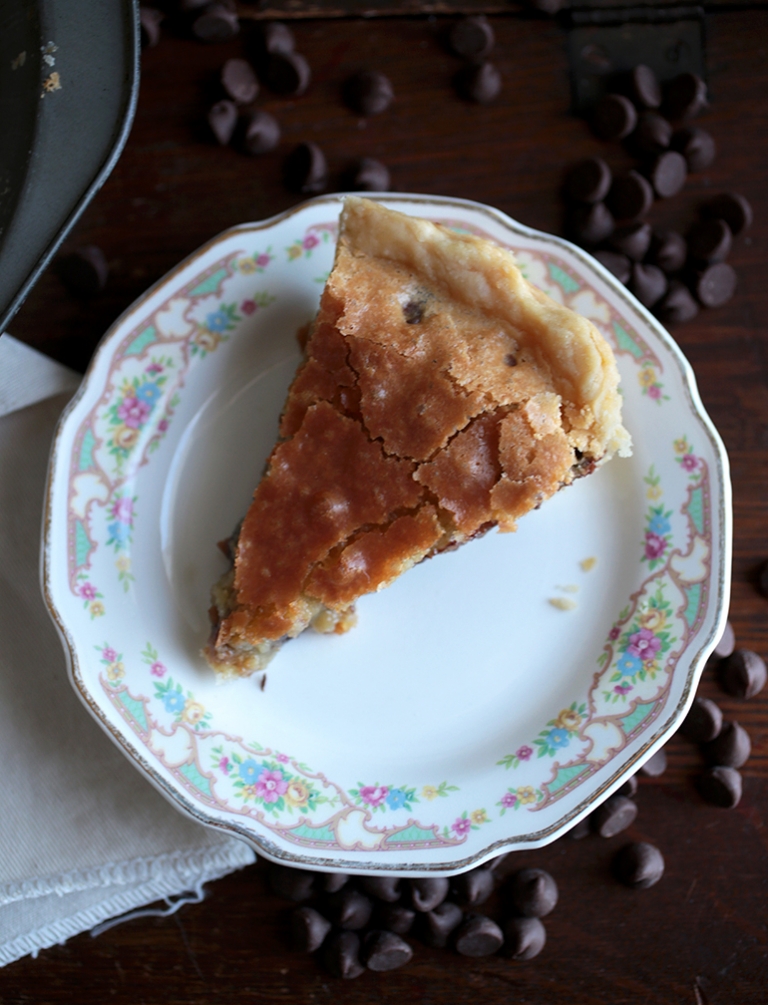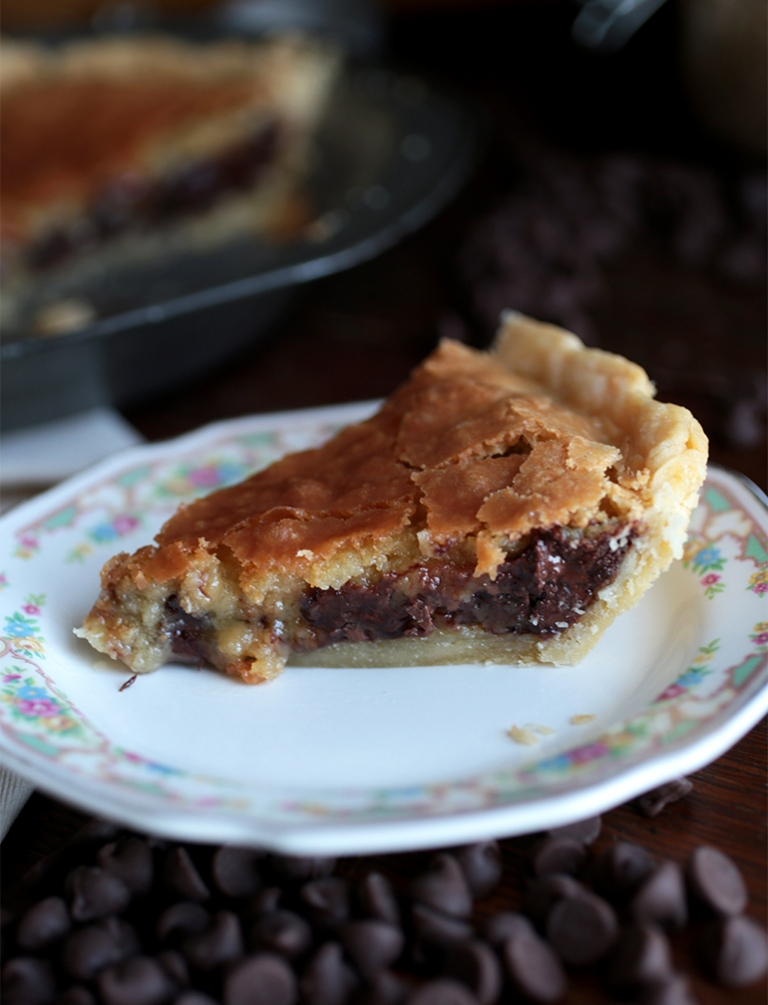 Chocolate Chip Cookie Pie
For the crust:
1 cup flour
pinch of salt
1/2 cup butter flavor shortening*
1/4 cup water
In a medium bowl, stir flour and salt together. Add shortening and blend with pastry blender until mixture is crumbly. Add water a little at a time until dough sticks together (you may not need it all), shaping dough into a ball. Place dough ball on a well floured surface and flatten slightly. Roll out dough. Carefully place dough into a 9-inch pie plate. Lightly press into pan and trim edges, shaping crust as desired. Set aside while you make the filling.
*Yes, really do use shortening for this and not butter…it's good & makes a perfect crust, trust me!
For the pie filling:
2 large eggs
1/2 cup all-purpose flour
1/2 cup granulated sugar
1/2 cup packed brown sugar
1/2 teaspoon vanilla extract
1/8 teaspoon salt
3/4 cup (1 1/2 sticks) unsalted butter, softened and cut into chunks
1 cup semi-sweet or milk chocolate chips (I used both)
Preheat oven to 325° F. Beat eggs in large mixing bowl on high speed until foamy. Beat in flour, granulated sugar, brown sugar, vanilla and salt. With mixer on low speed, slowly add in butter, beating until mixed in. Stir in chocolate chips. Spoon into prepared pie crust, spreading and smoothing the filling evenly.
Bake for 50 minutes or until knife inserted halfway between edge and center comes out clean. Cool on wire rack. Serve warm or at room temperature (it's best warm though!) – with a scoop or two of ice cream!
Pie filling adapted from Nestle Toll House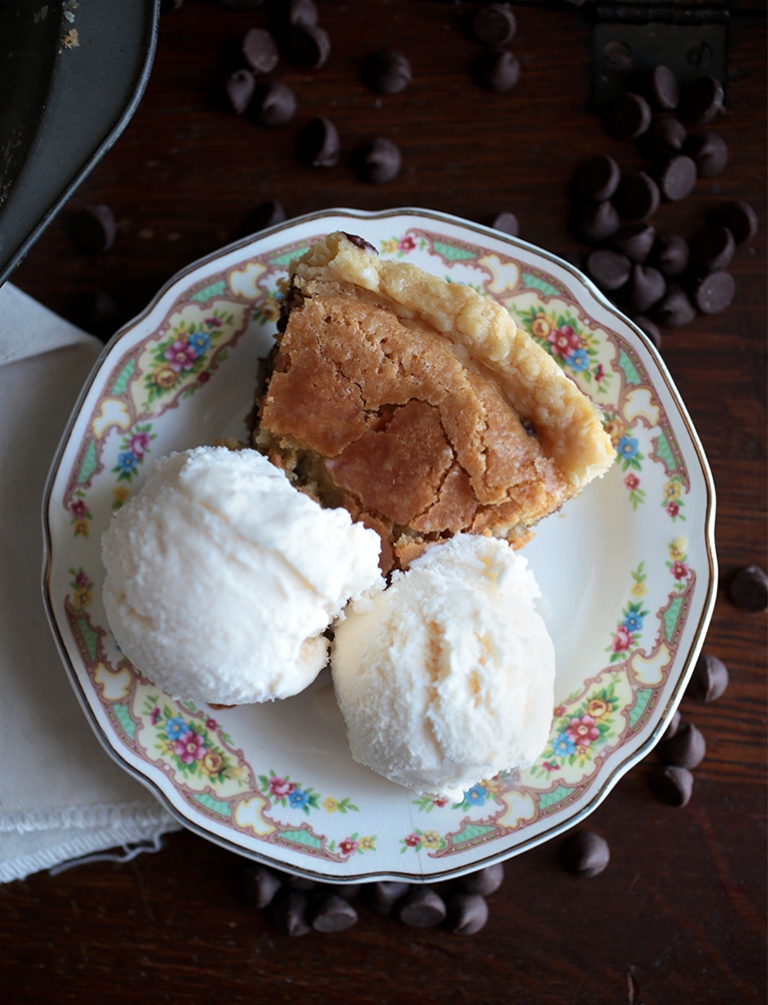 Will you be enjoying some pie tomorrow in honor of Pi Day? What's your favorite kind?
Happy weekend!
-Manda