Confession: I think I make some sort of Tex-Mex inspired dish at least 3 times a week. I never get tired of it. You know how people will ask that very random, icebreaker-type question, "if you had to eat only one thing for the rest of your life, what would it be?"…my food choice: rice and black beans (yes they count as one food).  And when I refer to food, I'm talking about meal food. Desserts and sweets, they're in a category of their own. So now that we're in "soup season", I'll be doing my best to try out as many Tex-Mex style soups as possible.
Over the weekend I made a double batch of this soup and took it over to my parents house.  Everyone loved it.  (Well, not the kids…it was a little spicy for them!)  You can adjust the heat to your liking by using a mild enchilada sauce and not adding any cayenne pepper.  This would also be great as a vegetarian soup, just leave out the chicken and add another can of beans.
Chicken Enchilada Soup
1 10-ounce can enchilada sauce (I used medium)
1 10.75-ounce can condensed cream of chicken soup
1 1/2 cups milk
1 clove garlic, minced
1/2 tsp. cumin
1/2 tsp. chili powder
dash or two cayenne pepper – optional
1 15-ounce can black beans, rinsed and drained
1 14.5-ounce can diced tomatoes (try fire roasted or Mexican Ro-Tel tomatoes)
1 10-ounce package frozen whole kernel corn, cooked & drained (or use a can of corn, drained)
1/2 cup chopped onion
1/2 cup chopped bell pepper (any color will do – I used orange)
1-2 chicken breasts, cooked and shredded
In a large pot over medium heat, whisk together enchilada sauce and soup. Gradually whisk in milk until smooth. Whisk in minced garlic, cumin, chili powder and cayenne pepper (if using). Stir in beans, tomatoes, corn, onion, bell pepper and chicken. Simmer over medium low heat for about 20 minutes.
Top with avocado, shredded cheese and sour cream if desired.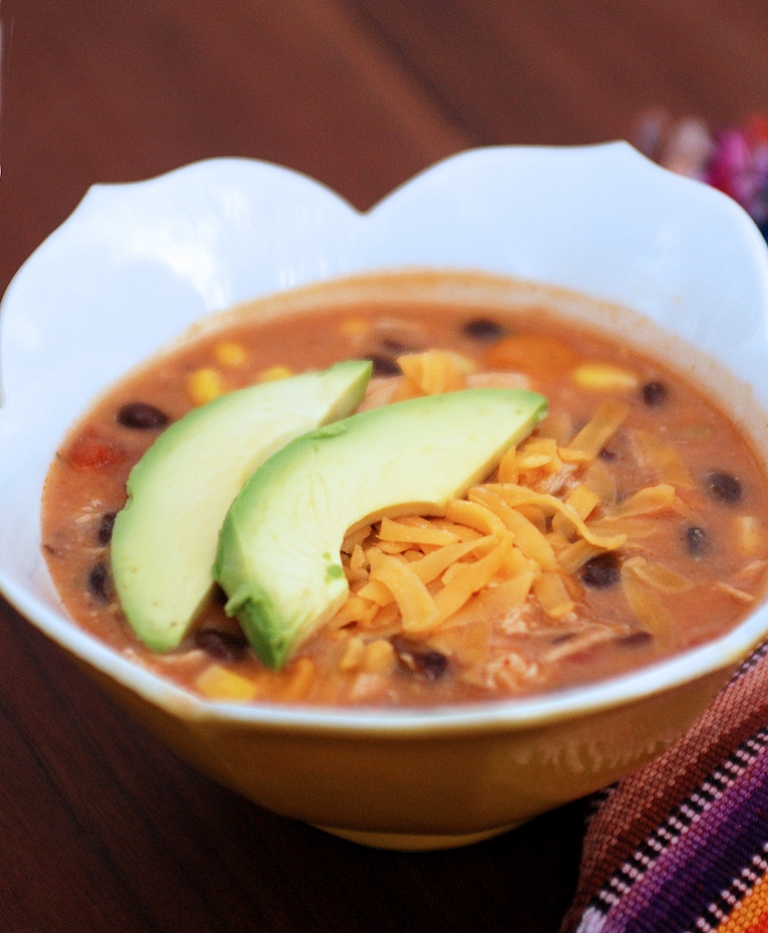 Adapted from …And a Cookie For Dessert
Enjoy!  Manda