We're partnering with
Rust-Oleum
again to share another quick & easy project that has made such a big difference in our space! We love making changes and updates to the spaces in our homes. It's so fun to dream about what you can do and then actually see some of those plans and dreams come to life! Sometimes though, it can feel a bit overwhelming when you're in the midst of bringing those changes to life – projects always seem to end up being more work or cost more than you thought! So when a project that you thought was just going to be a couple small changes, ends up becoming a lot more than that 😳, it's nice to have a part of it that is easy and quick to do! Like making over the light fixture in our small downstairs bathroom.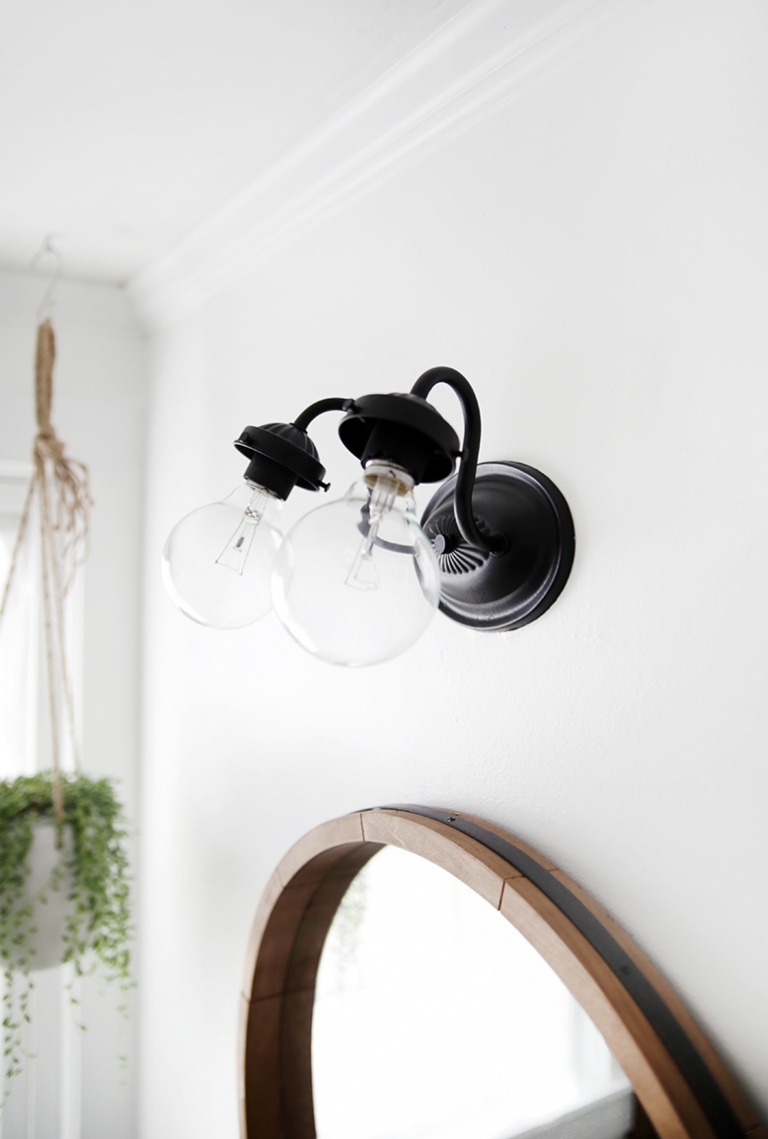 The original plan for this bathroom was just to update the mirror and sink…but it somehow ended up turning into almost a full bathroom renovation! 🤭 (One change lead to another, which made another change necessary, and then another…sorry Mike!). With the changes that happened, we really needed the light fixture updated to fit the new space better. However, I didn't want to do anything that would cost a lot and I wanted at least one part of this slightly unplanned renovation to be easy! By using a can of spray paint and removing the dated glass light shades, we gave our light fixture a whole new look!
We used Rust-Oleum Universal Flat Spray Paint – it has fast, efficient coverage and it's fade and chip resistant as well. I'm loving the look of our new light – it now feels updated and modern and cost under $10 to do! Such a relief to have one part of this bathroom project be so quick and easy to do. I'm thinking about tackling a similar light fixture we have in our kitchen next!
What you need:
– 
Rust-Oleum Universal Flat Metallic Spray Paint
 (we used black)
–
painter's tape
– tissues or paper towels
Watch the video below to see how easy it is to update a light fixture.
So have you tackled any projects with spray paint yet? We want to hear about them/see them! And if you have a spray paint project to share on Instagram, you can use the hashtag #spraynewlife and be entered to win a $500 gift card to Home Depot! Rust-Oleum will be giving away one a month at random, now – September 1st. See more details here.
Sponsored by Rust-Oleum. All ideas, thoughts and opinions expressed are our own. Thanks for supporting the brands that keep us bringing fun, new content to you!