We're happy to have
Lynn
back again sharing another gorgeous crochet project with us:
Recently, a friend asked what I was crocheting (during a faculty meeting 😳). When I replied that it was a laundry delicates bag, she exclaimed about how I always seem to be making beautiful, useful things. How many laundry bags have been described as beautiful? I've been reading The Life Changing Magic of Tidying Up which has started me thinking more deeply about the value of possessions. There is so much beauty in simple hand-made home goods and they inspire their own kind of joy when used. I made my first delicates bag about 5 years ago and it has withstood hundreds of washings, making it not only prettier but also more rugged than my store-bought mesh bags.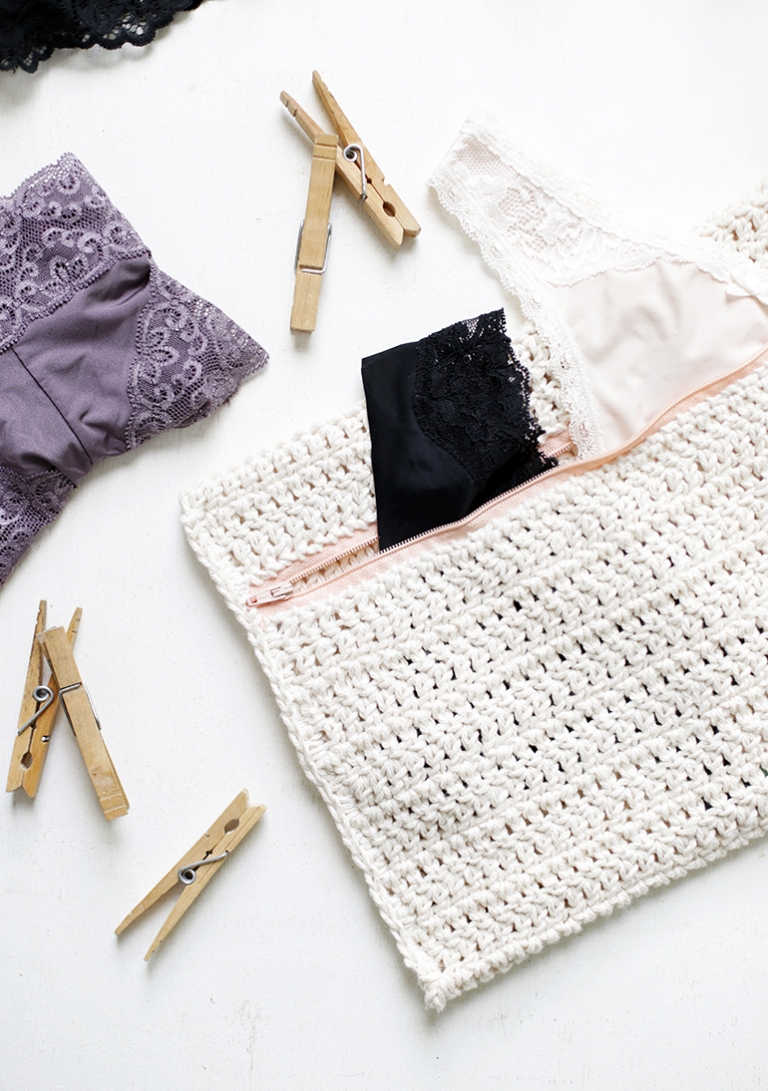 What you need:
-Size I (5.5mm) Crochet Hook
-12" long polyester zipper
-2 balls Sugar n' Cream yarn (I used ecru)
-Pins
-Chenille Needle
How to make it:
-Chain 39
-Row 1: half double crochet (hdc) into 3rd stitch from hook, hdc in each stitch, turn. (38)
-Row 2: chain 2, hdc in each stitch, turn. (38)
-Repeat Row 2 until the bag is the desired length (mine was 18" total length) – remember it will be folded in half!
-Fasten off yarn by pulling the tail through the loop on the hook. Remove hook and pull tail to tighten.
-Lay the work flat, fold down the top 3 rows and pin to the zipper (right side up).
-Fold the bottom up to meet the zipper and pin.
-Cut a long tail for sewing the zipper in place. Using whip stitch, sew the zipper to the crocheted work with a chenille needle. Be careful to avoid sewing through the back of the back of the bag as well (I may have done that at least twice…)
-For the last whip stitch, sew through the 1st crochet stitch along the bottom corner of the zipper. Pull yarn through to the wrong side of the zipper, knot, and cut.
-With the zipper side up, pin the sides of the bag closed and single crochet along the edge of each side, crocheting between the 1st and 2nd hdc of the row. To prevent bunching, I recommend single crocheting into 3 rows, then skipping a row (repeat this to the end of the bag).
-Reinforce the ends of the zipper by sewing them to the single crochet edging using yarn and chenille needle.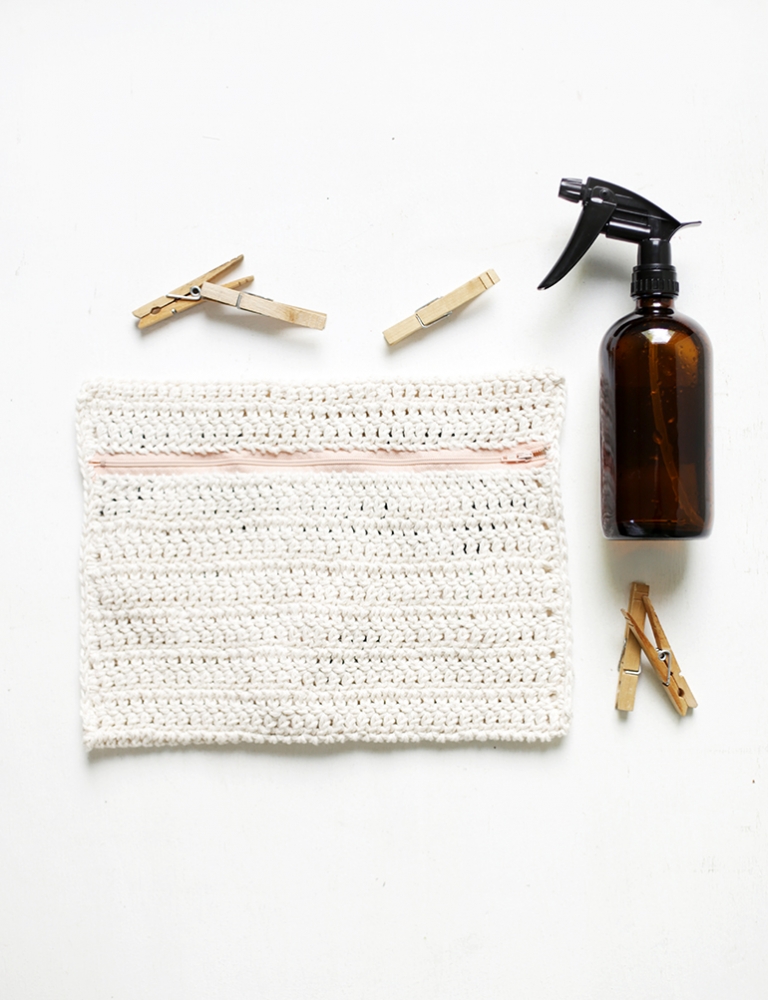 If you are like me, you have a constantly full hamper ready for laundering so you won't have to wait long to get some use out of this project. After a wicked cold spell, the spring weather is back on track here in Vermont, meaning I can hang my clothes out on the line to dry!
xo. Lynn
Lynn Brennan :: Originally from Caitlin & Manda's neck of the woods, I now live in Vermont in an off-the-grid cabin with my husband and our Alaskan Husky.  I'm a farm girl born and raised – my upbringing instilled in me a strong value for labor (both manual and artistic), frugality, and simplicity.  I teach Calculus at a progressive education high school, where I also coach the Cross Country Team & lead the outdoor program.  In my free time I love exploring the mountains of the Northeast & Northwest.  When indoors, I can be found knitting, crocheting, & sewing. Find Lynn on Instagram: @ramble_lynn
Photography & Styling by The Merrythought