This time of year, it's actually fun to check your mail – because you might find sweet cards and pictures of family & friends, and not just bills & junk mail! As the Christmas cards keep arriving, the question becomes, what to do with them?
Growing up, my mom hung the Christmas cards she received around the doorways in our home (and she's still doing that and I love it!). I've tried a few different ways to display cards in our home over the years, but never really loved any of them. This year though, I think we've finally come up with a display idea that I love! We're partnering with
Kodak Moments app
to share this simple, fun way to display all those Christmas cards!
This display is simple and doesn't take too much time to put together. I love using natural wood around our home, so we found some old boards and put them to good use! I think the best part of the display is that you can keep it up year round, and display your favorite photos, switching them out whenever you feel like it. You can also use thumbtacks to hold the clips, and then you can easily rearrange the clips to fit the different cards/photos you're displaying (this is especially helpful with Christmas cards since they come in so many different sizes!).
Materials:
– wood (we used reclaimed wood, but any will work, and you can paint the boards too!)
– miter box
– sandpaper
– sawtooth hangers
  & nails (if hanging on wall)
– hammer
– bulldog clips

– thumbtacks or nails
– greenery, optional


Directions:If needed, cut wood to size using miter box. Ours is 3.5" wide by 37" long. Sand the boards smooth. If you're hanging the boards on the wall, attach sawtooth hangers on the back of the boards. (Or if they're just going up for the holidays, you can just lean them against a wall and save yourself a nail hole!) Attach the bulldog clips to the front of the board – you can do this with thumbtacks or nails. (Thumbtacks are nice if you'd like to be able to easily rearrange your pictures). Hang your Christmas cards from the clips and add a few sprigs of greenery for a festive touch!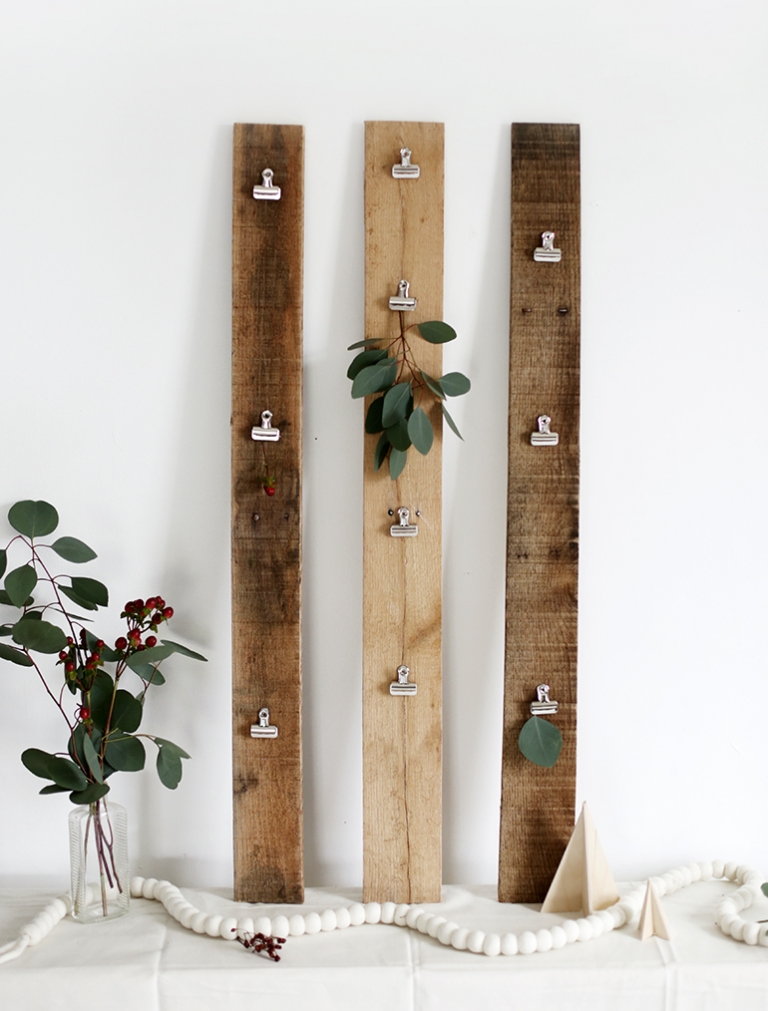 The Kodak Moments app is great for getting Christmas cards printed if you haven't done that yet! You can have your cards shipped to your home or sent to retail for pickup (they will be there ready for you – we like to send our photos in before we leave to run errands, and then they're ready & waiting to pick up when we're at the store!). Or you can go into the store and use the app to wirelessly connect to the kiosk. You can also order fun photos gifts like canvas prints, mugs, ornaments, photo books and more! You can download the free Kodak Moments app here for iOS and here for Android.
Do you have somewhere special you display Christmas cards? And what about after Christmas is over – do you keep your cards, or toss them? (I have such a hard time getting rid of photos cards – I've been storing them in a container that's quickly filling up and I don't know what to do with them!)
Sponsored by Kodak Moments. All ideas, thoughts and opinions expressed are our own. Thanks for supporting the brands that keep us bringing fun, new content to you!