Another super simple wood project comin' atcha! You will need a table saw for this, but if you have that, this should take 5 minutes to put together! The lighting in my apartment leaves a lot of be desired… besides having poorly placed windows, there is no overhead lighting and I basically have no lamps in the house. My bedroom literally has no light in it. Haha! So I find myself doing my makeup sitting in front of the mirror by my door or in my car most days. This beauty dock is perfect to set on the ledge near the window in my room so I can get ready with a little natural light shining in on my face. Plus… it's just one of the cutest mirrors ever and a little extra storage never hurts!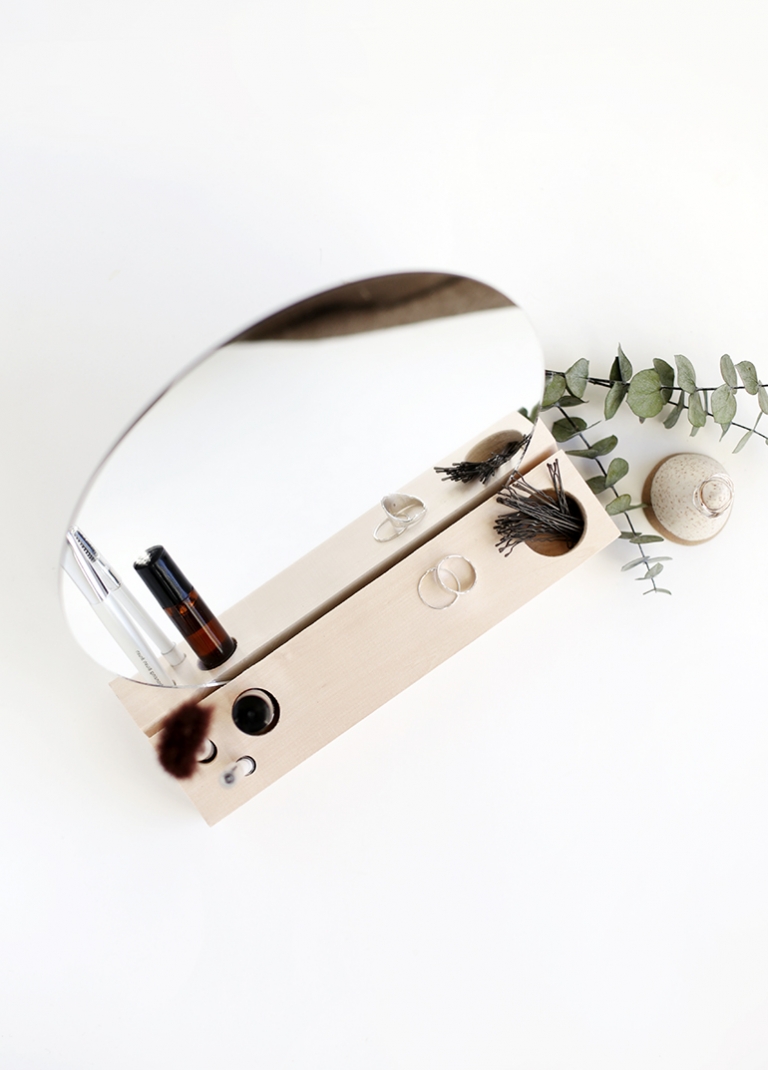 What you need:
-Block of wood
-Table saw
-Various sized forstner drill bits
-Drill or drill press
-Round mirror
How to make it:
-Set your table saw to 25 degrees and make sure that the height of the blade is at least 1/2″ lower than the thickness of your wood. (Or you'll cut completely through the wood and maybe chop off a finger while you're at it… just overall not a good idea.)
-Run your block of wood through the table saw upside down, leaving about 1″ of wood behind where the mirror will go.
-Use various sized forstner bits to drill holes in front of where the mirror will go. Be careful not to drill too close to the slot cut for the mirror.
-Put mirror in the slot. Mine fit pretty securely but you can always put some glue into the slot before adding the mirror for some extra security.
xo. Caitlin