Bagels are one of my favorite foods. I could easily eat one everyday…if my body would go for it. Unfortunately too much bread and I'm left feeling blah, so I limit my bread intake and only eat a bagel every once in awhile. My favorite kind of bagels are everything bagels…paired with some veggie cream cheese and ahh, perfection! Or making a veggie sandwich with them – yum!!
Years ago I saw recipes floating around the internet for bagels made with just some flour and greek yogurt, I was intrigued but never got around to trying them out. I guess like everyone else during these crazy times, spending so much time at home, I felt inspired to try new things in the kitchen! Plus, we somehow ended up with some large containers of greek yogurt that were not getting used up quickly enough, so these easy everything bagels were moved up the must-try list!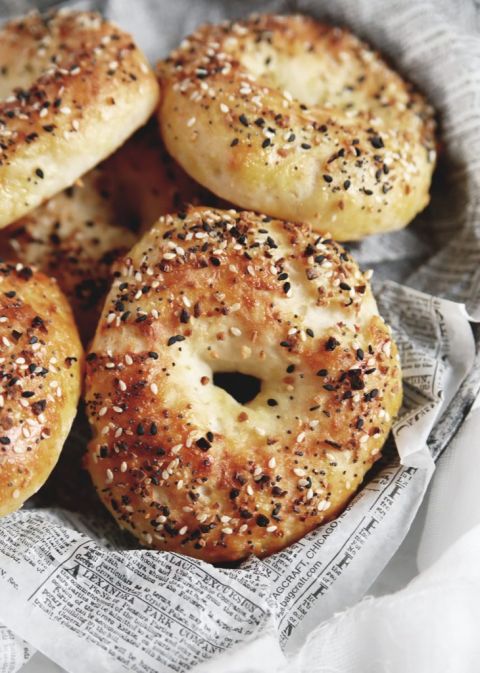 Quite a few of the recipes out there are made using self-rising flour, but I didn't have any on hand, and was just trying to use up things I had. It's super easy to make your own self-rising flour though, just add a little baking powder and salt and you're good to go. But if you have self-rising flour, you can use that instead. I went with everything bagels since they are a favorite in our house, but you can top them with anything you'd like, or just leave them plain. (Just be sure to still use the egg wash on top, that helps with the browning!).
So how do these compare with regular bagels? The texture is different, it's a little chewer. The bagels are little more dense and thinner. But overall, they are very good, especially considering how easy they are to make. Plus the added protein from the greek yogurt is a definite plus too! Two of my boys said they like these better than regular bagels!
Easy Everything Bagels
You can make these everything bagels with a just a few ingredients – and no rise time! So quick & easy!
Ingredients
For Bagels:
1

cup

all purpose flour*

1-1/2

teaspoons

baking powder*

1/4

teaspoon

salt*

1

cup

plain greek yogurt,

(make sure your yogurt is not liquid-y)
For Topping:
1

egg, beaten

everything bagel seasoning
Instructions
Preheat oven to 375ºF.  Line baking sheet with silicone mat or parchment paper.

In a medium size mixing bowl, mix together flour, baking powder and salt. Stir yogurt into flour mixture, stirring until combined and dough is crumbly. Shape dough into a ball, using more flour if dough is too sticky or a little more yogurt if it it won't stick together. 

On a floured surface, knead the dough about 15 turns. 

Divide into 4 equal size balls. Poke hole in center of one dough ball and gently stretch the hole until it's the desired size. 

Repeat with remaining dough balls.

Place on prepared baking sheet and lightly brush the tops of each bagel with beaten egg. Sprinkle with everything bagel seasoning (or any desired topping). 

Bake for 20 minutes. To brown the top of bagels: remove cooked bagels from oven, increase oven temp to 450ºF, once heated, return bagels to oven and bake for another 3-4 minutes until the bagels have browned; or heat oven to broil, and broil 1-2 minutes, watching closely so they don't burn!
Recipe Notes
*you can just use 1 cup self-rising flour and do not need to include the baking powder and salt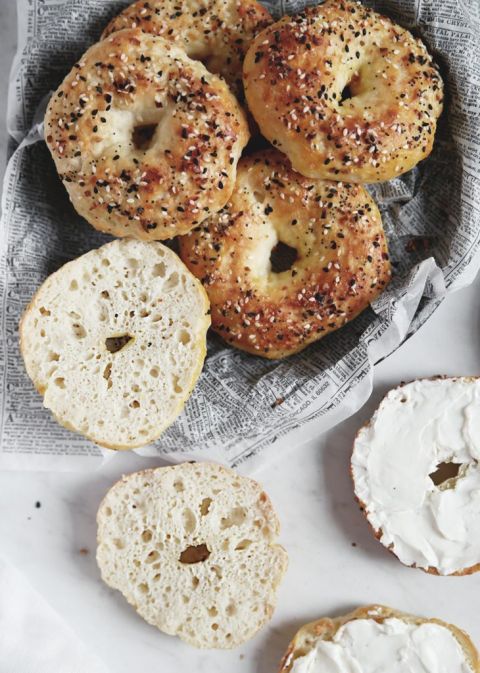 If you're looking for some more delicious baked breakfast treats, you should definitely try our homemade cinnamon rolls or the French breakfast puffs!
-Manda